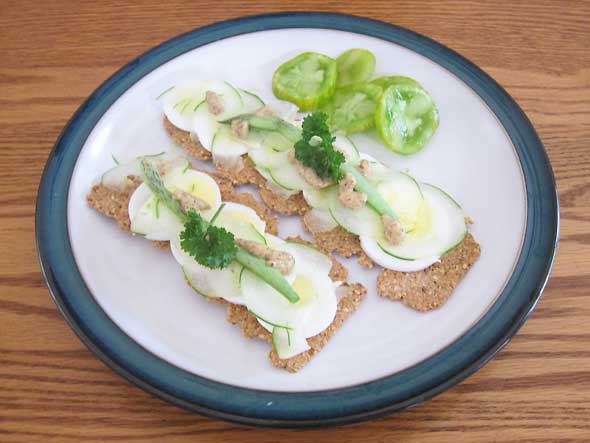 BLOG-Stripes and Rattlesnake Snacks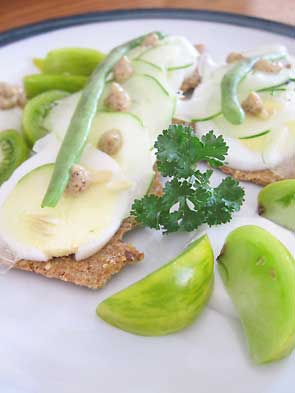 Give me a choice between the exotic and local, and I choose local. Naturally disposed to hand-picked freshness and the simply produced, I feel I have landed in an enviable spot here in Yellow Springs. Whether fruit or vegetable, baked good or raw, meat or dairy, Southern Ohio producers offer a remarkable bounty of foods that both inspire and remain enormously practical in their accessibility and nutritional punch.
My camera can attest to all of this. My computer hard drive is busting with pictures from our area farms and village gardens. Local doesn't mean plain and uninteresting. Heck, no. Often the most eye catching elements on my plate traveled less than 5 miles to get there.
Take last Saturday. I had come home from the morning farmers market with a favorite tomato: green zebra. I had never tried this variety before coming to Yellow Springs and discovered it among the market's many heirloom varieties. Michele Burns of Flying Mouse Farms recommended the green zebra for its low acidity and refreshing pulp, and I found it made the perfect salad tomato. The green zebra is also highly photogenic. A standard red tomato is difficult to photograph, its monochrome red gives little for the camera to focus on. In contrast, the green zebra has vivid stripes of greens, one tone turning towards yellow as it ripens. Inside its pulp practically glows.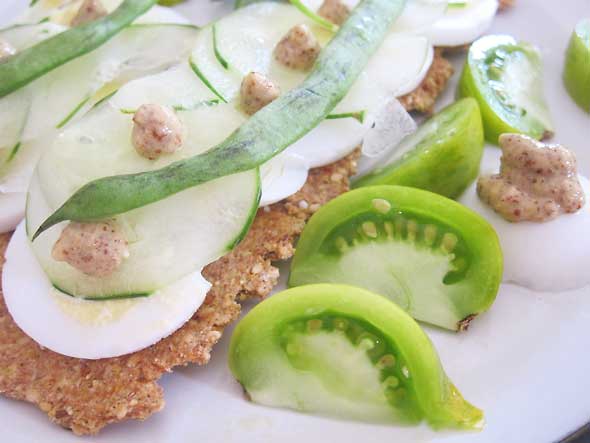 For lunch, I mixed favorite local finds—green zebra, rattlesnake beans and duck eggs—with fresh pickings from our share in Smaller Footprint Farm—cucumbers and parsley. The most exotic items in the dish I picked up at Tom's Market: Crumbs Bakery garlic spelt crackers from Athens, Ohio and a spicy horseradish mustard from Koops' in Wisconsin.
In a simple layering, I loaded the spelt crackers with hard boiled duck eggs, thin sliced cucumber and a rattlesnake bean, then dotted the cucumber slices with the mustard. My husband's plate got a side of green zebra slices, but then I chose wedges to fill my plate as the cut better showcased the brilliant interior of the green tomato.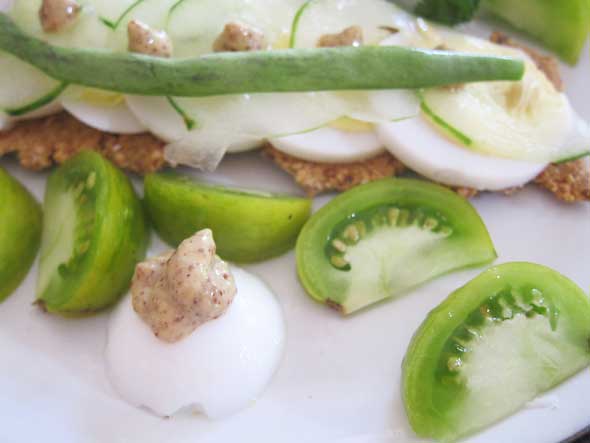 The kid's plates got all these goodies individually presented so they could enjoy the special crunch of cucumber boats and snapped beans and the creaminess of the egg separately. I want their experience with food to be more like my parent's in their youth. Back in the 1940's, variety was essential to secure enough success on the family farm to surmount failures due to the unpredictable weather of any given summer. Variety also assures many happy surprises in the family meal. And after all, the most important element of beauty is surprise.