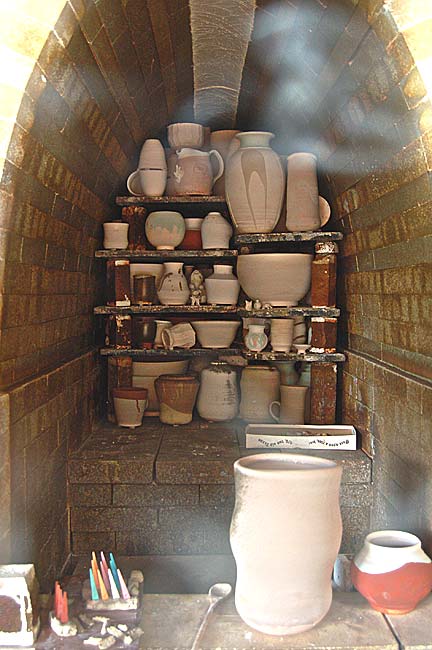 Community focus of new Pot Shop leader
When Allison Paul created a mosaic with schoolchildren for her final project as a fine arts major at Earlham College, she experienced firsthand the value of community-based art projects. Although extremely challenging, the process of working with a diverse group of children to create a mosaic for a community center in Richmond, Ind., helped her "imagine the possibilities of ways to connect people through art."
Over the years, she has explored these possibilities as a visiting artist with Project Jericho in Springfield, a teacher for a summer arts program at the LeMoyne Art Museum and Foundation in Tallahassee and more recently as a visiting artist for workshops with Denver's Center for Visual Arts. After receiving a master of arts in art education from Florida State University and spending time as the art teacher for an elementary school in Colorado, she realized that her main passion was extending art beyond the classroom and finding ways to connect communities through art.
According to John Bryan Community Pottery (or the Pot Shop) board member Lisa Wolters, it was this strong background in art education, along with her eventual goal to pursue a Ph.D. in art education with a focus in community art, that made her such an ideal fit as the Pot Shop's new studio director.
"Her goals for her Ph.D. in community art match the Community Pottery's mission, which is to educate the community about the ceramic arts. She's a perfect match," said Wolters in a recent phone interview.
When describing her previous experiences, Paul also emphasized their educational nature. She has taught a variety of media and makes it clear to potential employers that "you're not hiring an artist. You're hiring an educator who sees art as a tool for learning and bringing people together."
This perspective on art is founded on her personal commitment to social justice, in which art is one of many tools for creating change and inspiring communities. In graduate school, she edited the anthology Art for Social Justice, which provided her with international examples of precisely this kind of work, and fueled her "passion for social justice through art." This is also one of the reasons Paul is particularly drawn to ceramics, since the form is "really good for engaging people of all ability levels," thus making it accessible to people from a variety of backgrounds and with a wide range of experiences. With mosaics, for example, "each person can go and adhere their little tile on the wall and [together] create something beautiful."
The current exhibit on display at the Pot Shop, which Paul recently put together, reflects these ideals. Combining testimonials from past and present members of the Pot Shop with a display of their work, the show demonstrates how the center has affected and inspired its members. "It is so thrilling to me to hear people's stories," she said, "to be a facilitator of that kind of process — it's what I love best."
The story and history of ceramics itself is one of the things that initially attracted Paul to the medium. An ancient art with materials that "come from the earth," in college she saw ceramics as a "link to the past" and was excited by its long history. As someone who is "happiest when I can take things really slowly" the process-oriented nature of ceramics is also appealing to her. In college, she made large pots by hand, burnished them with a small spoon and eventually pit-fired them—the entire process taking the larger part of a semester. In graduate school, she worked more with mixed media, though place and process, two qualities that characterize ceramics, continued to be important themes for her. For one of her most complex pieces, she created a ceramic, cast aluminum, and plywood topographic map of the sinkholes in the panhandle region of Florida. As one of only three regions in the world with that particular kind of limestone formations, the area is both geographically unique and personally meaningful to her.
"The art I did in grad school was very much about where I'm from, and celebrating that part of Florida…We've chosen to live here because of the community, but the natural environment of Florida still resonates with me," she said.
Reflecting on her new position, Paul is excited about working with an organization that has such a strong history of community. It is a place where "people are learning from each other and growing in new ways" and where the informal learning of working in a shared space with fellow artists can be just as valuable as the classes and workshops that are offered. Looking ahead, Paul is focused on the upcoming transition the Pot Shop will be making to official non-profit status. This will allow the organization to apply for grants, which will in turn diversify the educational opportunities the Pot Shop can offer. It will increase the variety of classes and allow for more scholarships while also adding educational workshops. This last item, according to Paul, is an important way of improving access, since many people may want to try ceramics or learn a particular technique but are unable to make the time commitment a typical class requires. She is also looking forward to building partnerships with other area arts organizations such as Rosewood in Kettering and Funky Fired Arts in Cincinnati and increasing outreach efforts, which entails finding ways to bring ceramic art experiences to people who cannot come to the Pot Shop. Ultimately, Paul says, "ceramics is a broad art form" and she hopes to see the Pot Shop cultivate and nurture that breadth.
"Some people love to create functional pieces for their homes and others are interested in pushing our traditional definitions of what pottery is," she said. "You can do both here."
Anisa Kline is a freelance writer for the News.