BLOG-A Tale of Two Chicken Dishes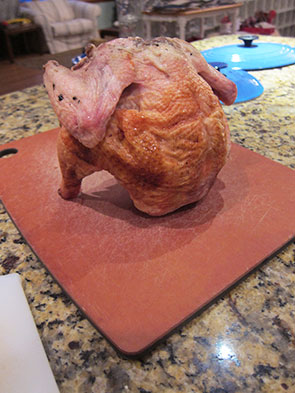 It was my daughter's idea to get the chicken. I had expressed a desire to cook fish for dinner, but she demurred expressing a sudden distaste for all seafood. She's five and testing her influence. I'm 45 and hungry.
After a snack at the Emporium, I was able to coax her through the doors of Current Cuisine, 237 Xenia Ave, in an effort to move us closer to the supper table. I was peering through the deli case at Current's collection of side dishes when she gasped in delight. At the far left hand side of the case, she discovered a pile of 4 and 5 pound chickens from Ed Hill's farm. She literally clucked her pleasure and promised to help me bake the bird.
In this instance, I was swayed easily. I had little experience cooking flounder or Mahi Mahi—this Thursday's offering of fish—and at home I had a packet of sweet curry spice that I was itching to use. Curried chicken suddenly sounded lovely. I bought a 4 pound bird.
Knowing my daughter would prefer the chicken simply prepared, I roasted the bird, breast side down, stuffed with onion, apricot, sprigs of thyme and rosemary and surrounded by mushrooms, potatoes, carrots, and the chicken parts—neck, liver, and heart. Dusted with salt and pepper, splashed with sherry and apricot juices and set in the oven at 375 degrees, the bird demurred next…cooking slowly until almost 10pm. No matter, the kids wore themselves out with play and coasted to sleep on their earlier nibblings, and the parents raided items I bought at Current for my lunch on Friday: split pea soup and spinach filled crepes.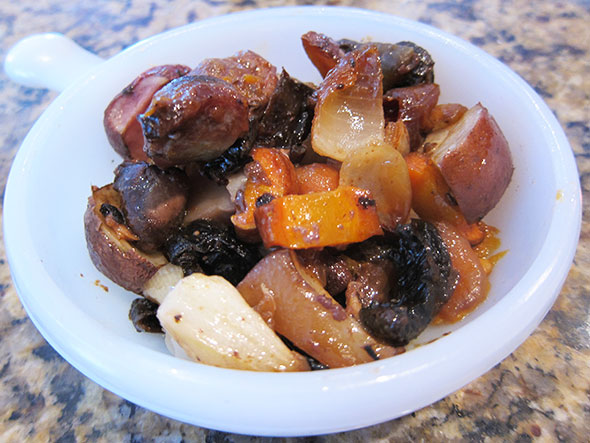 For Friday lunch, I remained well provisioned and ate the roasted vegetables, apricot, and chicken heart. My son made up for eating light the night before by requesting three egg omelets. He likes cracking the eggs and flipping the omelet and, after three straight goes, was feeling well accomplished at both skills. I felt the same way about the preparation of my roasted vegetables which were infused with the gravy of the chicken drippings.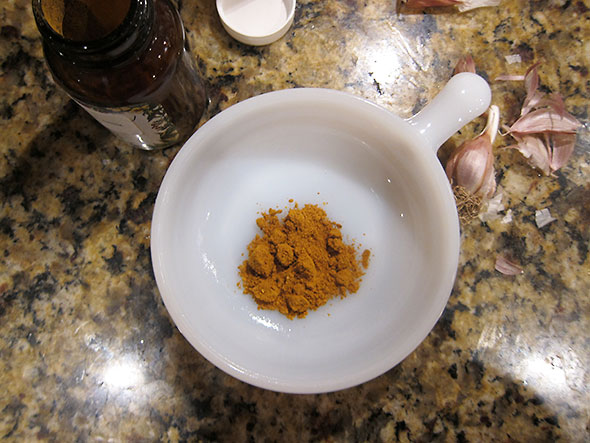 For Friday supper, I opened the sweet curry spice offered by Beth Bridgeman at the Winter Farmers Market, 202 S Winter St, 9am-noon on Saturdays. The spice is a rich golden color and also richly aromatic. Given its vibrant intensity, I spooned out two teaspoons and proceeded with my recipe.
Sweet Curried Chicken

1 Tbsp walnut or olive oil
1/2 medium white onion
2 tsp sweet curry powder
1 portobello mushroom diced
1 cooked chicken breast diced
1/2 cup frozen lima beans
Salt to taste

Place the oil in a skillet on medium to medium low heat. Toss in onion and stir fry to tenderness. Add the crushed garlic cloves and about a 1/4 tsp salt. Once the curry powder nicely coats the onions, add the diced mushroom and chicken in turn. Stir fry until the mushroom becomes tender. Add the frozen lima beans, stir in, and cover the skillet to cook the beans and preserve the dish's moisture. When the beans turn bright green and before they turn yellow, remove the dish from the heat and serve.

Serves 2.
To dress our plates, I added a favorite salad from Current Cuisine—their wheat berry salad. Its raisin-dappled medley complimented the Indian-styled curry dish perfectly. I added a teaspoon of Blue Jacket Dairy's Silver Lake Chèvre to counter to the dish's warm tanginess.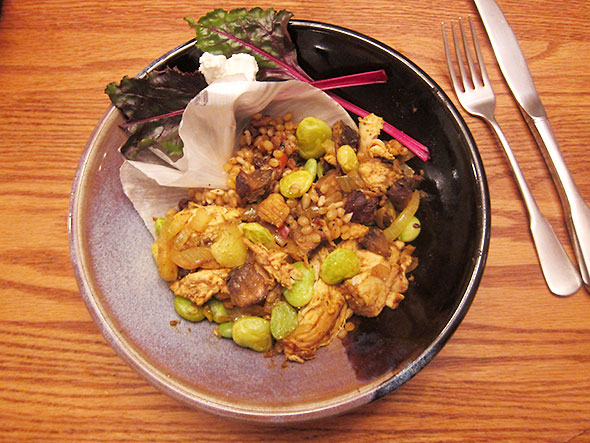 Since the chicken was my daughter's idea, I baked her a separate simplier dish. Layering tomato sauce and cheese with the chicken's dark meat parts—the thighs and drumsticks—I heated up the children's chicken in the oven at 350 degrees before preparing the stir fry. By the time the stir fry was done—about 30 minutes—the cheese topping had melted and the sauce showed a touch of browning.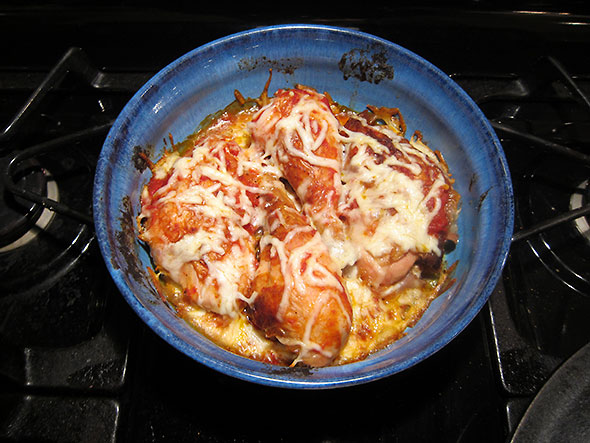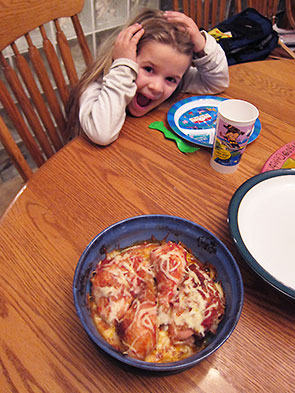 The secret for this Happy Children Chicken is minimal sauce—like the lesson I learned in making pizza recently. A mere tablespoon or two will suffice for the bottom layer of tomato sauce, and I brushed on tomato sauce on the chicken before layering with cheese. The bottom layer of shredded cheese becomes a treat in itself; it melts and crisps infused with both the mingling essence of the tomato sauce and chicken.
While making the children's dish, I remembered my first experience cooking chicken cacciatore. I was very young when I began cooking for my parents and siblings. It's charmingly welcome to have my children help out in the kitchen—not only help out but assert themselves. My journey to cooking and a love of fresh foods started in this way, and my present journey continues enhanced by their influence.