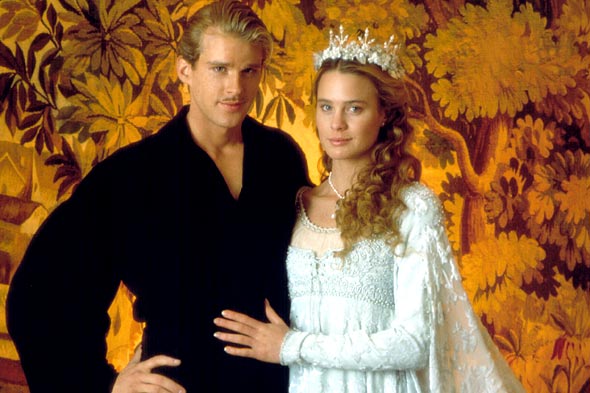 Cary Elwes, as Westley, and Robin Wright, as Buttercup, in the 1987 Rob Reiner-helmed film,
The Princess Bride
.
A movie night fundraiser? Inconceivable!
The Yellow Springs Bahá'í junior youth group will host an outdoor screening of the film The Princess Bride on Saturday, June 22, as a fundraiser for the Senior Center.
An important aspect of the junior youth group is empowering young people to make positive contributions to society, so every few months, the members plan and execute a service project based on the needs they perceive in their community.
"We chose the Senior Center because we wanted to help out people in our community.  We knew that they were in need of money to keep up their center and do different activities, and we just thought we would help out," says Greta Kremer, a member of the group.
Knowing that young people are often perceived as self-centered and disinterested in the elderly, members of the group also felt that it would be particularly meaningful to reach out to the senior residents of Yellow Springs.
"We wanted to make a connection with older people because young people don't talk to older people that much," says Lucas Mulhall, another group member, and the fundraiser seemed like a good way to show their interest.
The group chose to do an outdoor movie night, in part because the Little Art Theatre is closed for renovations, and they thought villagers might appreciate having a "big screen" experience in the meantime.  If the fundraiser is successful, they may have another one to collect donations for the local food pantry.
"Doors" open at 8:30 p.m. at the "theater," located at 625 Green Street.  There is a $2 admission fee and there will also be concessions for sale. 
The Princess Bride is rated PG. Enjoy the film's original 1987 trailer below, and have fun storming the castle.