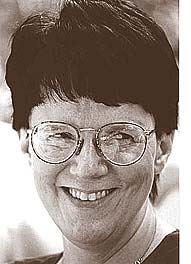 Mary A. Hendrickson, of Mt. Vernon, Ohio, died Saturday, June 7. She was 75. Her sudden passing was the result of a fall sustained while doing what she loved — working as the executive director of New Directions, the domestic violence shelter of Knox County. She helped to found the organization in 1983 and had been its only executive director.
Mary was quiet, kind, modest and deeply empathetic, and her unassuming presence could belie the deep passion and drive she had for her calling. Her sustained commitment to violence-free futures has made a lasting impact in countless lives — both of shelter clients served locally, as well as colleagues in the local nonprofit community and peers in Ohio's domestic violence network. Sensitive to the perspectives of diverse cultures, religions and LGBTQ issues, her style was inclusive and respectful of individual differences. She had a knack for inspiring a larger vision while always being pragmatic. She was a member of the Soroptimist Club and became an Honorary Member of Family, Career and Community Leaders of America in 2005. Mary was the first recipient of the Elaine Mayhew Award in 2010, given by the Knox County Democratic Women to honor local women who exemplify community service. She will be honored posthumously for her pioneering contributions to the field at the Ohio Domestic Violence Network conference later this June.
Her position was demanding work that routinely extended far beyond a 40-hour week, yet she rarely complained. She was never one to let physical challenges deter her and disliked anyone making a fuss over her. She was a breast cancer survivor, had several corneal transplants and had broken numerous bones in recent years.
Mary was born in Evansville, Ind., the middle of three girls, joining older sister Louise and, eventually, followed by Ellen. Her mother, Kathryn E. Hymen, was a teacher. Her father, Charles T. Yoh, was an itinerant minister in the Evangelical United Brethren Church. She married Robert L. "Bob" Hendrickson in 1960 in Winchester, Ind., a marriage that lasted until 1983.
Continued learning and meaningful work were important themes throughout her life. She earned a bachelor's degree in music education from Bethany Nazarene College in Oklahoma in 1962 and a master's degree in music education from Wichita State University in 1968. Her career included teaching music in the public school system in Towanda, Kan., and then at Mt. Vernon Nazarene College until 1975. She also offered piano lessons to local children and young adults for over two decades. In 1982, she earned a master's degree in guidance and counseling from The Ohio State University, and was a licensed professional counselor.
She was an avid reader, and enjoyed attending concerts and simple pleasures like walks in nature and spending time with family. Children were a regular source of joy and renewal. She was a special sister to Louise "Anne" and aunt to Beth, David and Paris. She was a loving and understanding mother to Christy and Karl (and wife Lori Kuhn), and especially treasured time spent with grandchildren Molly, Vaughn and Kira. While her passing was unexpected, it was in some ways fitting for a woman who was passionate, driven and fiercely independent. To honor her legacy, an endowment is being established to benefit New Directions. Contributions in her memory may be made to the Community Foundation of Mt. Vernon and Knox County, 1 S. Main St., Mt. Vernon, OH 43050, mvkcfoundation.org. Condolences at http://www.snyderfuneralhomes.com.