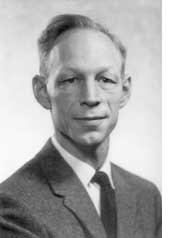 David Adams Case, of Yellow Springs, died peacefully on Aug. 3. He was 92.
David was born in Rochester, N.Y., on March 31, 1922, and lived most of his youth on Staten Island, N.Y. He learned to sail on Conesus Lake in western New York at the family summer home, and spent his teenage years refining and racing his small sloop, the "Bubble," on New York Harbor. He crewed on the second-place winner in the North American Junior Championships and with that came as close as he ever would to qualifying for the America's Cup race.
He attended Antioch College from 1939 to 1943, pushing himself to graduate with a Bachelor of Science degree in electrical engineering prior to being called for duty during WWII. He chose to join the Navy, completing the "90-day wonder" three-month course for naval officer training at Annapolis, and shipped to the south Pacific on the USS Yorktown for the duration of the war.
During post-war years he undertook graduate studies in electrical engineering on the GI Bill at Northwestern University in Chicago, while helping his parents on their newly acquired farm property in southwestern Michigan. He declined the final thesis in order to move on. He also took the opportunity to learn to fly at a small airport on the outskirts of Chicago. To complete cross-country flight hours he would fly back to Yellow Springs to visit college friends, including Hardy Trolander, Dave Jones and John Benedict. By 1949, he joined the new Yellow Springs Instrument Company and moved permanently back to Yellow Springs. He met Barbara Wilcox while eating breakfast at "Dick and Tom's," and they married in September, 1950.
They spent their lives in Yellow Springs. David noted he always appreciated moving to a small town after growing up in the faster-paced New York City environs. Here he was able to pursue his ideas on conservation and sustainability. He was a skilled craftsman, a mechanical tinkerer, and could turn his hand to almost anything to build or repair.
While chit-chat was never his style, he participated fully in the community, serving on boards or volunteering on projects, particularly involving Glen Helen, the Wild and Scenic Rivers movement concerning the Little Miami River, and Yellow Springs Tree Committee. He maintained an ongoing interest in Antioch College throughout his life. He appreciated good music, literature, and theater with Barbara, supporting local organizations especially Chamber Music Yellow Springs.
YSI gained his unending support for 38 years until his retirement in 1987. He brought to the company not only his life-long urge to "be an inventor," but also his ability to listen, to articulate ideas, to treat all with fairness and respect, to lead by example, and manage by observing ongoing successes. He truly enjoyed knowing a wide range of people of many persuasions.
In post-retirement years he enjoyed traveling with Barbara to visit daughters and families, and often to sail on many waters around the world, sometimes with long-time friends Al and Mary Radin, Paul and Eileen Webb, and Bill and Jean Hooper. Some will remember him with his sawmill, bringing in saw logs from around his property or from downed trees in town. He crafted fence boards and posts, benches, desk and table tops, boxes, and shelving from boards milled from his own cherry, walnut, and osage trees. The intensity he applied to projects was notable to younger people with whom he worked or had garnered to help him. He spent countless pleasant hours working on his property to steward a natural woodland from former farmland.
David took life-long inspiration from the words of Horace Mann, "Be ashamed to die until you have won some victory for humanity."
He is survived by his daughters, Janet (Neil) Title, Martha (Bob) Betts, Sara Case and Polly (Klaus) Case-Lohrer, and their children, David and Allison Betts and Ben and Brian Title; and his sister, Katharine Fournier, of Williamsburg, Va., her two daughters, Annie and Susan, and their families.
The family is grateful, as was David, for the attentive care given by the entire staff at Friends Care Community, for many visits paid by old friends and acquaintances while he was a resident at Friends Care, and especially the unwavering support in visits by long-time friend Dr. Carl Hyde.
A memorial celebration for both David and Barbara is being planned for an October date.