Police Chief Pettiford resigns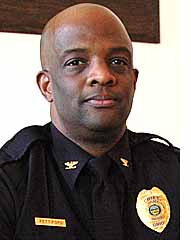 Yellow Springs Police Chief Anthony Pettiford resigned for medical reasons on Monday of this week, Village Manager Patti Bates announced at the end of a Village Council meeting Monday night, following an executive session.
At Monday's meeting, Village Council met with Bates in executive session for an hour and 15 minutes, after which Bates made the announcement around 10 p.m. The Village had been informed of the ongoing issues resulting from a shoulder injury Pettiford sustained on the job early in his tenure, Village Council President Karen Wintrow said on Tuesday, but the decision to resign was Pettiford's.
Pettiford was not present at Monday's Council meeting. He was out on medical leave on Tuesday and did not return calls for comment.
Pettiford's last official day is Friday, Sept. 19. According to Bates, the Village hopes to name an interim chief by next week, selecting from a pool of candidates Bates knows from her former position as director of administration at the Kenton County Detention Center in Covington, Ky., and from a list of the Ohio Association of Chiefs of Police. She chose not to fill the interim position internally because she wanted any potential candidates for the permanent position to "be on equal footing," she said Tuesday. Until an interim chief is named, Bates will rely on the department's two sergeants, Naomi Penrod and Josh Knapp, to report to her daily and continue to complete the duties they had while the chief was on medical leave. However, Bates said she will make any necessary police administrative decisions.
Pettiford was hired by former Village Manager Laura Curliss in November 2012 and sustained the injury in February 2013, when his shoulder got snagged on a car door as he was ushering Mills Lawn students to school. He took a medical leave of absence for several months the following spring and returned at first to part-time duty and then to "light duty," meaning he was unable to be on the road or serve outside of an office environment. Pettiford then took a second medical leave in the spring of 2014 and again returned to a light duty position, which he maintained until this week.
During his tenure, Pettiford established the two sergeant positions and advocated for a fuller staff of officers, which Village Council deemed unnecessary due to cost factors. He also signed the department on as a member of Greene County SWAT, increased officer training and updated the department's records systems.
At the same time, Pettiford faced criticism from both citizens and his own staff members. Villagers complained that he didn't mix with the community enough and get to know the individuals he was dealing with. Officers and staff members voiced concerns about a lack of communication and favoritism that led to internal divisiveness.
Pettiford, 53, grew up in Yellow Springs and raised his family here, moving outside the Village shortly after being named chief of police. Before joining the Yellow Springs police, he spent two years as police chief of Central State University and 27 years with the Greene County Sheriff's Department.
Council President Wintrow did not address the issue after Council's executive session, but praised Pettiford in an interview on Tuesday.
"I appreciate Tony — he's a local guy, he grew up here, raised kids here, and he has a lot of affection and concern for the community," she said. "He was interested and wanted to be a good police chief. I'm sorry the cirumstances of his health forced him to leave."
Village Solicitor Chris Conard will negotiate Pettiford's severence package on the Village's behalf this week, Bates said.
Wintrow expects that the search for a permanent chief will proceed in a manner similar to the previous search. The process included a committee of Village staff and Council members as well as several village citizens, and included a time for public input.