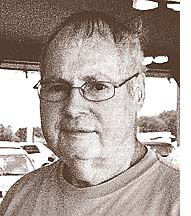 James Kenneth Nealon Jr., of Yellow Springs, passed away on Saturday, Oct. 24, 2015. He was 79.
Jim was born in Gardner, Maine, but spent most of his childhood in Newark, Ohio. He attended St. Francis de Sales and, although eventually graduating from the Tennessee Military Institute, he reunited with his friends from St. Francis yearly. Jim graduated from the Ohio State University with a degree in animal science.
Jim and Jean Louise (Bachmann), his wife of 56 years, were married in 1959. They raised their family on a small farm in Granville, Ohio. There, Jim enjoyed farm life and training standardbred horses for harness racing. Early on, he raced at county fairs; later, he spent long afternoons jogging horses and dreaming of returning to the tracks. Jim shared his passion for horses with his daughter, son and grandson, encouraging them to participate in 4-H programs and the United States Pony Clubs, Inc.
Jim worked at the Ohio Bureau of Employment Services until his retirement in 1996.
Jim and Jean moved to Yellow Springs in 2009, where he was actively involved in Friends Care Community, St. Paul Catholic Church and the Senior Jackets Program at Cedarville University.
Jim is survived by his wife, Jean; sister Patricia Forester; daughter Ginny (Todd) Shaffer; son Jim (Mark French) Nealon; grandson Zach Inscho; granddaughters Sydney and Samantha Shaffer; relatives and many friends.
A mass in memory of Jim was held at St. Paul Catholic Church in Yellow Springs on Tuesday, Oct. 27.
Contributions in memory of Jim may be made to Friends Care Community, 150 E. Herman St., Yellow Springs, Ohio 45387. Please call the finance director at 937-319-8913 for more information.