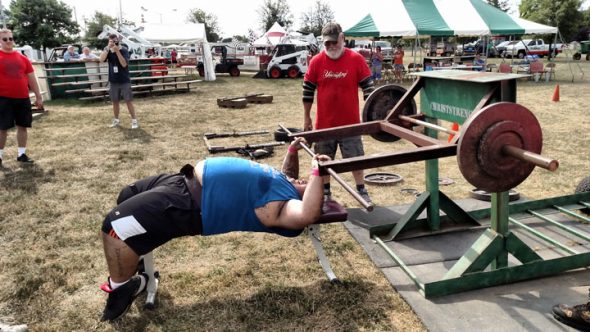 Yarn Registry – at the strongman contest at the Greene County Fair
In addition to the demolition derby and pee-wee goat show (in which little kids were showing – or being pulled around by – equally cute goats), visitors to the Greene County Fair were able to check out a strongman contest. Regional strongpeople competed last Saturday in a contest set up by Xenia's Christ Strength gym. The contest was alongside one of the fairways, between displays of Bobcats and other pieces of construction equipment. Bleachers were set up in a semi-circle around a grassy area, where the fearsome strongmen apparatuses lay waiting. More weight was readily accessed from the backs of pickup trucks pulled up to grassy stage.
Orie Barnett own the gym and was officially in charge of putting on the contest. It was his sixth overall for the fair and his 34th since he began promoting them in 1999. His gym trains people specifically for strongman contests. The clientele are universally the kind of people you'd want around if you ever find yourself pinned under something you can't move. In fact, as the Christ Strength gym is in a garage, they literally do pick up cars. The crew train three days per week, and anyone is welcome to join them.
The contestants competed in five events: pushing up 900 pounds in a wheelbarrow, bench-pressing an increasingly heavy cart, walking around in a circle with a barrel full of cement, lifting stones over higher and higher bar, and holding overhand a barbell with 123-283 pounds. Barnett said he follows a light diet to get into strongman shape. "When it's light – I eat!" he laughed.
Teresa came down from Columbus specifically for the Greene County Fair contest. This year was her fourth year competing in strongman contests. She was wearing singlet and a lifting belt. Her husband picked up the sport when she was pregnant, and after watching him train, she was eager to join in. It felt great hitting benchmarks you'd never thought you'd make, she said, noting that she made it to nationals last year.
Men and women alternated turns. There was genuine excitement when someone requested more weight. "Add another nickel? Another dime?" Five or ten more pounds were added to each side. "We all know this ain't a competition," said the announcer. Everyone was just trying to do their best. Jason, from Xenia, got up from the bench after bench-pressing a few hundred pounds. "I'm going to be sore tomorrow," he said.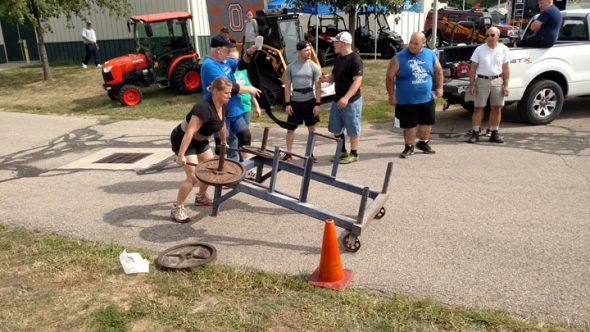 As it turned out, most of the contestants were regular members of the gym, and not many people had signed up. Members of the audience were invited to participate in order to make the contest last a little longer. A few men and women in the audience looked at each other and shrugged, and then walked up to proving grounds. The crowd cheered every time someone decided to give it a shot. (Yours truly politely declined.)
One guy was there with his family, and the announcer called him out. He folded his arms and took a step back. He then looked at his wife and two daughters. He knew what he had to do. "I didn't convince him – his girls did!" said the announcer.
The dad quickly blazed through four or five rounds of increasingly heavy weight. He bench-pressed until he couldn't. He stood up, stretched, and calmly walked back over to his family. He was greeted by his daughters, who stood on one leg to lean over and kissed him on the cheek. "You're so strong!" one said. He may not have been able to lift more than some of the full-time strong men, but his barely suppressed grin showed he impressed the people he wanted most to impress.
Such went the next round of the contest. Men and women, ranging from relative newcomers to masters (50+) continued to do celebrate their considerable strength and the camaraderie their gifts inspire. It was not about ruthless competition, but doing your best and impressing people because you did.