Antioch College cuts costs
Antioch College recently announced the first cuts in what college leaders say is a "multi-phase process" to reduce expenses and secure the college's long-term financial viability.
Under the plan, faculty and staff earning more than $40,000 annually must take the equivalent of 10 days of unpaid leave during the remainder of the current fiscal year, which ends on June 30, 2018. That furlough equates to an 11 percent pay cut during this period, or a 3.8 percent pay cut across the year as a whole. Staff making less than $40,000 annually will not be affected, though they may voluntarily take unpaid leave.
Less than half of non-faculty staff is affected by the measure, according to Antioch spokesperson James Lippincott this week. All full-time faculty are facing reductions, while adjunct faculty members are not impacted. Antioch currently employs 118 staff members and 31 faculty members, according to figures provided by the college in January. (Those figures include full- and part-time staff, but do not include adjunct faculty.)
The pay cuts were announced in a March 1 press release and during campus meetings last week. No positions are being eliminated at this time and student employment remains unaffected, according to the release.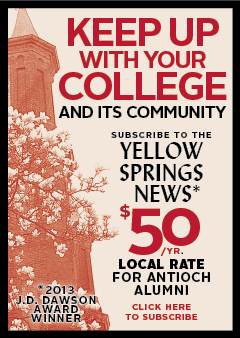 "These things are always difficult," President Tom Manley acknowledged by phone this week.
The cuts are necessary to help close a projected deficit in the current fiscal year, according to Manley. The college has made "tremendous progress" in reducing expenses over the last year, he said. Despite these efforts, he clarified, "we didn't hold expenses to the budget set by trustees last year," triggering the need for further cuts before the end of the fiscal year.
The recently announced cuts address, but do not entirely eliminate, the current budget shortfall, according to Manley. He declined to specify the amount of the deficit or the college's operating budget for the current fiscal year.
Recent financial audits show that the college closed the last fiscal year, which ended on June 30, 2017, with a $1.73 million deficit, substantially down from its previous year's deficit of $7 million.
To address that earlier deficit, Antioch made a previous round of cuts in late 2016. At that time, the college eliminated five staff positions and reduced salaries for senior- and executive-level staff making more than $70,000 annually. Those salary cuts remain in place. However, the salary reductions announced last week represent the first time since Antioch's 2011 reopening that faculty salaries have been directly affected by budget measures.
The furloughs are in place just through the end of June 2018, according to Manley. But he did not rule out other cuts in the future.
"These measures will end in June but our efforts … to reduce operating costs will continue," he said.
The cuts are part of a major budget effort announced Jan. 17 that college leaders have said is needed to address Antioch's long-term financial viability. With a total enrollment of 133 students, most of whom receive substantial financial aid from the college, Antioch netted just $1.7 million in tuition and fee income during the previous fiscal year, financial audits show. Total operating expenses last fiscal year were $17.6 million, while total revenues came in at $15.9 million.
The college remains heavily dependent on philanthropic gifts, most of which come from alumni. At the end of the last fiscal year, the college reported $12.75 million in contributed revenue.
President Manley said in a January interview with the News that the board of trustees had initiated the current budget effort, including hiring a higher education consultant, Stefano Falconi, to assist the college in analyzing its finances and recommending budget measures. Falconi, whose professional fee is being paid by trustees, is advising the college's newly expanded planning and finance committee, now made up of about 10 members drawn from staff, faculty and students. The recently announced cuts are the first measures to be recommended and enacted from that committee's work. Draft recommendations for further budget measures are expected to be presented to the Antioch College Board of Trustees at their March 15 meeting.
President Manley said this week that the March 15 recommendations will focus on "bigger structural issues," including how the college can grow and diversify revenue. The recommendations will set a foundation for building the next three fiscal year budgets, he said.
The recommendations will "set parameters for … delivering the innovative small college education of the type Antioch is positioned to offer," Manley explained.
In addition to addressing budget issues, the college recently revised its curriculum to offer students a single self-designed major, a move college leaders have said will give students greater autonomy and make better use of the college's existing faculty.
Asked if the furloughs have the potential to compromise the college's efforts to recruit and retain students in the coming months, Manley acknowledged that such budget measures were inherently risky.
"This effort is completely aimed at trying to find the right line" between fiscal responsibility and reinvention of the college, he said. "The real gains come from disrupting our model, but if you do anything too dramatic, you do risk consequences."
The News contacted several faculty and staff members affected by the cuts for comment this week.
"What I can say is that we are all still processing it," wrote Instructor of Cooperative Education Beth Bridgeman in an email Monday. "There is more work to be done and more will become clearer in the coming weeks."
Assistant Professor of Sculpture and Installation Michael Casselli, who also serves on the alumni board, echoed those comments.
"I am still processing the news and considering what the alternatives are and what kind of constructive work can be done to address the concerns that are ongoing," he wrote in an email.
One staff member contacted by the News, Food Service Coordinator Isaac DeLamatre, said he was "frustrated and saddened" by the college's situation.
"No one is happy about it," he wrote in an email Monday. "We are very worried about the impacts pay reductions have on our lives and the lives of our co-workers."
In addition to the recently announced cuts, the college will pursue other cost-saving measures, including reviewing contracts and consulting services for savings opportunities, and "consolidating areas of overlap between the college and its auxiliaries, identifying opportunities for attrition, keeping vacant positions open and not immediately filling voluntary leaves and retirements." That amounts to a de facto hiring freeze, according to spokesperson Lippincott this week.
The News will report on further developments at Antioch, including budget measures expected to come out of the March 15 meeting of the college trustees.