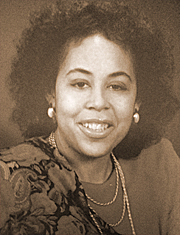 Faith, joy and courage defined the life of Ervin and Datie Page's first child, Dawn, who was born on July 22, 1963, at Fort Benning's Martin Army Hospital in Columbus, Ga. Born into a military family, Dawn and the Pages traveled nearly every two years, following her father to his newest military assignment. Along the way, two younger brothers, Martin and Kenneth, and a little sister, Carol, joined the family before they arrived in Yellow Springs in the summer of 1974.
Dawn went on to attend Yellow Springs public schools, doing a year at Mills Lawn, three years of middle school at Arthur E. Morgan Middle School and graduating in 1982 from Yellow Springs High School. Dawn was a gifted runner and diligent student. While attending Yellow Springs schools, she set track records in the quarter mile from middle school through high school, while also playing clarinet in the band and performing in several high school musicals.
However, her first love was music and singing. Over the years, Dawn found great joy and peace in singing with a myriad of school, college and church choirs. At Central Chapel A.M.E. Church in Yellow Springs, Dawn, with her three siblings, joined one of Central Chapel's first youth choirs.
Receiving partial scholarships, Dawn went on to attend Central State University in Wilberforce, becoming a proud member of the Marauder family and pursuing her dream of becoming a special education teacher. Dawn had a heartfelt desire to support and help children facing challenges.
In 1986, during Dawn's final year of college, the tuberous sclerosis, with her since birth, gave rise to a brain tumor requiring sensitive surgery. The tumor and subsequent brain operation severely impacted Dawn's short-term memory, medically derailing her long-held dream of completing college and instructing children with special challenges.
Glory to God, Dawn left us a full "special education" through her walk with the Lord on all things heavenly, living daily a ministry showing a path to be mirrored and admired.
Dawn's sojourn was a celebration of life as she overcame incredible adversity, where her dreams were derailed by tragedy, and yet she became an inspiration, facing all life's travails with a faithful grace. Few of us may ever experience such adversity, which makes Dawn's journey an endearing and enduring testimony of faith.
Services were held on Saturday, Aug. 4, at Central Chapel A.M.E Church. Arrangements entrusted to Porter-Qualls-Freeman Funeral Home.