Coronavirus updates for Yellow Springs — Page 2
Comments Off

on Coronavirus updates for Yellow Springs — Page 2
Click here for the latest updates
Thursday, March 19, 2020
The Yellow Springs Chamber of Commerce released the following update on local restaurant closures and changes to carry-out and delivery: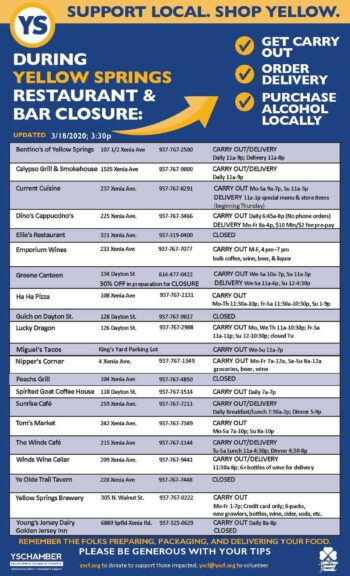 Tuesday, March 17, 2020
Local AA group cancels meetings
The "Free Your Mind" Alcoholics Anonymous group, which meets on Fridays, 6 p.m., at the United Methodist Church, has suspended its meetings until further notice.
Several other AA groups that meet in town have not yet announced their intention to cancel or continue meetings; to stay updated, check online at aadaytononline.org/meetings.
Monday, March 16, 2020
Village to hold 'virtual town hall'
In lieu of its regular Council meeting, the Village of Yellow Springs will host a virtual town hall on the coronavirus outbreak tonight, Monday, March 16, starting at 7 p.m. The meeting will feature updates from Village Manager Josue Salmeron, YS Police Chief Brian Carlson, Miami Township Fire Chief Colin Altman and YS Community Foundation Board President Lisa Abel.
The meeting can be streamed live on YouTube and the Village of Yellow Springs' Facebook page and watched on community access channel, Channel 5. Villagers may only participate remotely, to reduce the spread of infection. Questions can be sent in via the Village Facebook page or by calling 937-767-3402.
Click here to view on the YS News website, or visit the YouTube direct link: https://www.youtube.com/watch?v=Qa24cOFTiGI
Tom's, Senior Center offer grocery delivery to local seniors
Tom's Market and the Senior Center have teamed up to offer grocery delivery to Yellow Springs seniors. Beginning Wednesday, March 18, local seniors can call the Senior Center at 937-767-5751, place a grocery order, and volunteers will deliver groceries to callers' homes.
Farmers market moves to online ordering
The YS Farmers Market announced this afternoon that it would move to an email order, home delivery model until further notice. For more information, email yellowspringsfarmersmarket@yahoo.com.
Glen Helen buildings closed; Raptor Center cancels events
Glen Helen announced that all of its buildings would be closed to the public as of Sunday, March 15. The Glen is still discussing its schedule of events, but has advised that all March events are canceled, and that it will be making decisions on its full spring calendar, including Earth Day events, by the end of the week.
The Raptor Center has canceled all of its events and programming through mid-April. The outdoor enclosures will remain open for self-guided hikes, and the rehabilitation center will continue to accept birds.
Visitors barred from correctional facilities
On March 15, Ohio Department of Health Director Amy Acton announced that access has been restricted to only necessary operational personnel for "all jails, community-based correctional facilities, halfway houses and detention facilities," with the exception of those "under the direction or control of the directors of the Ohio Department of Rehabilitation and Corrections, the Ohio Department of Youth Services and the Ohio Department of Mental Health and Addiction Services."
The Greene County Sheriff's Office stated in a press release that it would follow the order and cancel all visitations until further notice. The office also stated that it would be taking steps to allow for the increased use of phones to accommodate families during the period of the restriction.
McKee Group cancels events
The James A. McKee Association has canceled all its currently scheduled events. These include the March 25 Community Conversation, the April 8 business meeting, the April 22 Community Conversation and the April 26 Annual Founders Award Banquet.
MTFR closed to visitors
Until further notice, Miami Township Fire-Rescue is closed to visitors.
House of AUM to close
The House of AUM will close its studio and spa on Tuesday, March 17; memberships and passes will be suspended and placed on a temporary hold.
Gardening Book Club meeting canceled
The Gardening Book Club, which was set to meet on Thursday, March 19, has canceled its meeting.
Dharma Center closed
The YS Dharma Center is closed to all activities until further notice.
Glen Helen Nature Shop closed
The Glen Helen Nature Shop is closed until further notice.
Sunday, March 15, 2020
Yellow Springs schools open Monday for students to gather materials
Parents received a text from Yellow Springs schools that the buildings will be open Monday, March 16, for students to gather materials needed for the next three weeks. Staff will be in a meeting until 10 a.m. and will leave early to work remotely. If students cannot be at their school around 10 a.m., they are encouraged to contact their school; materials will be gathered up for them.
• Mills Lawn School: 937-767-7217
• YSHS, McKinney Middle School: 937-767-7224
Village Artisans to close
The Village Artisans shop will be closed until further notice. See their Facebook page or website for updates http://www.VillageArtisans.blogspot.com.
Ohio schools may not reopen
In an on-air interview with CNN, Ohio Gov. Mike DeWine said that Ohio schools may be closed for the rest of the school year.
"We've informed superintendents while we've closed schools for three weeks that the odds are that this is going to go on a lot longer," DeWine said. "It would not surprise me at all if schools did not open again this year," he added.
The reason, DeWine said, is that state health experts have estimated the COVID-19 outbreak would peak in Ohio around late April or early May.
Last week, DeWine ordered all Ohio schools to close for three weeks, beginning on Tuesday, March 17. Ohio became the first state in the country to close its schools. Seventeen other states have since followed suit.
Area hospitals restrict visitors
The Greater Dayton Area Hospital Association announced on Sunday, March 15, that beginning on March 16 visitors to area hospitals will be restricted to limit the spread of COVID-19 and protect healthcare workers. Prohibited from visiting are those who are under 14 years old or who have any of the following flu or COVID-19 symptoms (shortness of breath, coughing, fever, chills, headache, vomiting, sore throat, muscle aches or diarrhea). Patients may only have one visitor per day, and they must be a parent, spouse, significant other or guardian.
All area hospitals are affected, including Greene Memorial, Soin Medical Center, Springfield Regional Medical Center, Miami Valley Hospital, and more. According to a press release, the coronavirus is "likely in our region." Read the full press release here.
Central Chapel AME Church closed
Central Chapel AME Church services are canceled and the church is closed through Friday, March 20; reopening to be announced.
Saturday, March 14, 2020
26 cases statewide, none in Greene County
Ohio Governor Mike DeWine and Ohio Department of Health Director Amy Acton, M.D., MPH, today provided an update on Ohio's response to the COVID-19 public health crisis.
There are currently 26 confirmed cases of COVID-19 in Ohio, in the following counties: Belmont (2), Butler (4), Cuyahoga (11), Franklin (1), Lorain (1), Stark (3), Summit (2) and Trumbull (2).
The 12 women and 14 men range in age from 31 to 86 years old. Seven people are hospitalized.
"The increase in those testing positive for COVID-19 should not alarm anyone," DeWine said. "We predicted that this would happen. This should not cause panic, we are enacting an early, targeted and layered plan aimed at reducing the number of people affected."
Clarifying the order prohibiting visitors to long-term care facilities, such as nursing homes, Governor DeWine clarified that there is an exemption of this prohibition for those, including clergy, visiting residents in end-of-life care. Visitors are prohibited from state psychiatric facilities; efforts are being made to provide video visitation.
Emergency orders reducing restriction on telehealth services have been enacted, in order to provide behavioral telehealth services via landline or cell phone. Mental health resources are available online at mhas.ohio.gov/coronavirus.
First Presbyterian Church closed
First Presbyterian Church has canceled all services until further notice. Those on the church's email list will receive weekly worship from home packets. To be added to the email list,email firpys@gmail.com.
Riding Centre to close for two weeks
The Riding Centre has canceled all lessons beginning Monday, March 16, with a tentative reopen date of Monday, March 30. For updates, visit The Riding Centre's website or Facebook page.
YS Friends Meeting to close
The YS Friends (Quaker) Meeting has suspended all of its Meetings for Worship and programming until further notice.
YS Community Foundation sets up special fund
The Yellow Springs Community Foundation has created a COVID-19 Community Support Fund. According to the foundation, the fund is "designed to support our community as financial challenges are experienced by our residents." Individuals and businesses can donate at http://www.yscf.org; PO Box 55, YS, OH 45387; 937.767.2655 More details on how to apply for funding will be available soon.
The foundation is also convening local leaders to support the community through this public emergency, with representation from government, schools, seniors, business, nonprofits, medical, religious organizations and public health. The goal of the group is to "work together as a united front" for the community, lead by example, identify gaps and bring together resources to address those gaps. Areas of support include seniors, children, transportation, food and financial. More details for how to get assistance or volunteer will be forthcoming.
Friday, March 13, 2020
YSLA tea postponed
Because the Yellow Springs Library has closed until April 15, the YSLA Spring Tea and presentation is canceled. It will be rescheduled at a later time.
Citizens' Climate Lobby training postponed
The Citizens' Climate Lobby Training, originally scheduled for March 21, has been postponed. The group will update the community if and when it is rescheduled.
Arts Council gallery closed
The Yellow Springs Arts Council is closing its gallery from March 14–April 16. Its March Gallery Show "Journeys" has been canceled. It will be rescheduled for March 2021.
13 cases statewide, none confirmed in Greene County
At the daily State of Ohio press briefing, state officials gave an updated tally on the number of COVID-19 cases statewide. That figure is now 13 confirmed cases, in the following counties: Cuyahoga (6), Stark (2), Belmont (2), Summitt (1), Portage (1), Butler (1).
There are no confirmed cases in Greene County. However, state health officials believe that coronavirus is now throughout Ohio, and at least 1% of the population, or 100,000 Ohioans, has the virus.
"The coronavirus is already all over the state of Ohio," DeWine said at the briefing. "You'll see these number get so numerous will be in the next few days, at some point it's not going to be news any more."
DeWine also announced that during the school closure the Department of Agriculture would be continuing support for school meals for those who qualify for free and reduced breakfasts and lunches. Each school district will determine how it will distribute the meals. A local effort to provide such meals is in the works.
Food pantry remains open
The Yellow Springs Food Pantry at the United Methodist Church will continue to stay open. The next pantry is scheduled for March 26, from 2 to 4 p.m. The pantry is open the second and fourth Thursdays of the month. For more information, email Paula Hurwitz at: paulahurwitzrn@gmail.com.
Village Artisans artist reception postponed
The Village Artisans artist reception for "Dare 2B a Little Square -—Take 2" scheduled for Friday, March 20, has been postponed. Check their website for updated information about the reception: http://www.VillageArtisans.blogspot.com
Wellness Center to close through March 22
The Antioch College Wellness Center will temporarily close starting Saturday, March 14, through at least Sunday, March 22. The center will reassess at that time.
Community Dance Concert canceled
The Valerie A. Blackwell-Truitt Community Dance and Performance Arts Concert, originally scheduled for March 27–28, has been canceled. It will be rescheduled in the fall.
United Methodist Church to close
The Yellow Springs United Methodist Church will be closed on Sundays, March 15 and 22.
YS Community Band concert postponed, rehearsal canceled
The YS Community Band has canceled its Saturday, March 14 concert, but hopes to reschedule for later in the spring. The Band has also canceled its Monday, March 16 rehearsal.
Library to

remain open

close
The Greene County Library system has announced that it will remain open, but has canceled all programming at its seven locations, including Yellow Springs, through April 15. Meeting rooms will also be unavailable for reservation by all outside groups.
On Friday, March 13, Greene County Public Library administration decided to temporarily close the library until April 6 on the advice of the Greene County Health Commissioner. At the moment, all library programs and events through April 15 remain canceled.

Library patrons do not need to worry about returning materials ahead of the closure. Due dates for library materials (including those borrowed through Interlibrary Loan) will be extended until the library is reopened.
As the COVID-19 situation progresses, the library will update their page at greenelibrary.info/covid-19-plan/.
Bach Society of Dayton concert canceled
The Bach Society of Dayton concert, scheduled for Sunday, March 22 and announced in the March 12 issue of the News, has been canceled.
'Scouting for Food' event postponed
The "Scouting for Food" packing event, in which Cub Scouts and Scouts BSA were to meet on Saturday, March 14 at First Presbyterian Church, has been postponed.
YS Hootenanny, YS Ukulele Club meetings canceled
The next YS Hootenanny, which was to be held on Saturday, March 21, at the YS Arts Council, has been canceled. The YS Ukulele Club, which meets every other week at the same location, has also suspended its meetings until further notice.
WYSO ends spring membership drive early
WYSO announced on Friday, March 13, that it was ending its spring membership drive three days early; according to the announcement, the decision "allows the WYSO team to focus all our efforts on the news and keeping you up to date."
Home, Inc. Homebuyer Kick-Off to be rescheduled
Home, Inc. is working to reschedule its in-person homebuyer kick-off sessions, the first of which was scheduled for Monday, March 16. Home, Inc. will host an online webinar for those who signed up at the original times. Those who signed up will receive an email to get into the webinar. If you would like to attend the homebuyer kick-off webinar, email RSVP at info@yshome.org.
Little Art Theatre closed
The Little Art Theatre announced after its 7 p.m. screening on Thursday, March 12, that it would be temporarily closed as of Friday, March 13, until further notice.
Shakespeare Reading Group halts meetings
The Shakespeare Reading Group, which meets every Sunday at Friends Care Community, will not be meeting until further notice. Friends Care is currently closed to visitors. The group may reschedule to another location, and if it does, the YS News will update this notice.
Unitarian Universalist Fellowship of YS cancels services
The Executive Board of the Unitarian Universalist Fellowship of Yellow Springs has decided to cancel its Sunday services for the rest of March. No services will be held on March 15, 22 or 29.
YS Youth Basketball playoffs postponed
The YS Youth Basketball playoffs, originally scheduled to begin at 5 p.m. on Friday, March 13, have been postponed. Commissioner Paul Herzog stated that information on rescheduling the playoffs will be forthcoming.
Antioch University moves all classes online
Antioch University notified students on Thursday night that all of its physical campuses, including Antioch Midwest, will close and classes will move online from March 16 through at least April 30, and possible through the full spring term.
Thursday, March 12, 2020
Governor limits gatherings of more than 100
On Thursday, Ohio Gov. Mike DeWine prohibited mass gatherings of more than 100 people in a single space. The ban includes auditoriums, stadiums, arenas; large conference rooms, meeting halls; cafeterias; parades, fairs, festivals.
The ban does not include: normal operations at airports, buses, trains; medical facilities; shopping malls, centers; office environments, factories; schools; restaurants; grocery stores; religious gatherings; gatherings for the purpose of exercising 1st Amendment; voting.
John Bryan Youth Center to close
According to Village Manager Josué Salmerón at Thursday evening's emergency meeting of Village Council, the John Bryan Community Center's youth program is closing after Thursday, March 12, for three weeks. The closure reverses a previous decision to keep the center open for the time being. Youth and their families are being notified, and the Village is working through the Yellow Springs Police Department to make sure that local youth who need evening snacks and other support are being helped.
Governmental functions at the Bryan Center continue, but the facility is closed to all other public events.
NAMI support groups canceled
Following statewide guidance, local NAMI (National Alliance on Mental Illness) support groups are canceled through the end of March. That includes the weekly Connection Recovery group meeting on Wednesdays and the Family support group on Thursdays.
Antioch School gala postponed
After Ohio Gov. Mike DeWine announced that gatherings of 100 people or more have been prohibited, state-wide, the Antioch School Auction Gala and Comedy Show that was scheduled for this Saturday, March 14, is being postponed. The school reported that comedian Michelle Wolf would work with the school to pick a date to reschedule. Ticket purchases will apply to the new date, or can refunded at a later time.
Senior Center to close, transportation services continue

The Senior Center is closing to all activities beginning Monday, March 16. The center will be closed for three weeks. Its telephones will be answered during this time in order for older adults to receive support services. The center will also continue to provide transportation services.
Local K-12 schools to close, part of statewide closure

The Ohio Governor's office announced at 2:48 p.m.that beginning at the end of the school day on Monday, March 16, Ohio pre-K through 12 schools (both public and private) will close for three weeks. The last day of school for students at Yellow Springs Schools, however, is Friday, March 13.
Yellow Springs Schools will be closed, as well as the Antioch School, during that time. The last day for Yellow Springs students who attend The Greene County Learning Center, The Academy of Greene County, and the Greene County Career Center will also be Friday, March 13. Schools are set to reopen on April 6. As of right now, there is no plan to extend the school year.
On Monday, March 16, teachers will prepare distance learning plans for two weeks (the middle week is spring break). School buildings will also be open on Monday for parents to talk with teachers, pick up any medications, get copies of work or get necessary technology if needed.
For families who utilize free and reduced lunch services, the school district is planning on having food assistance available during the closure. Details will be released on Monday.
Emergency Council meeting to be held
An emergency Council meeting will be held today, March 12, in Council Chambers. According to Council Clerk Judy Kintner, the topic of the meeting is the Village of Yellow Springs response to Ohio's state of emergency, to assure that Council is informed of what the Village is doing to address this current health concern and assure the safety of and ongoing service to our citizens.
Chamber Music Yellow Springs concert postponed
Due to the U.S. travel ban, Chamber Music in Yellow Springs is unable to present Catacoustic Consort on March 22. Updates on the future rescheduling will be posted at http://www.cmys.org and the Chamber's social media page.
Those who have tickets should hold them until further notice. According to Celia Diamond, "CMYS thanks all our patrons and audience members for your patience in this unprecedented situation."
Bryan Center closed to public events; government services & youth center remain open
On March 12, the Village of Yellow Springs announced it was canceling all public and private events at the John Bryan Community Center, through March 30. That includes public events scheduled for the gym, Rooms A&B, the Art Room and the Dance Studio. Private parties scheduled for those rooms have also been canceled.
Government meetings will still take place at the Bryan Center. In addition, the youth center will remain open for the time being. The YS Police Department, utility office and other Village offices will still be open.
The goal of the closure, according to the Village, is to prevent exposure to municipal employees as well as to keep the public at large safe. An announcement with more information is forthcoming.
Battle & Lopez concert location moved canceled
The clarinet and piano concert featuring Mark Battle and George Lopez will still no longer be held Friday, March 13, beginning at 7 p.m., but its location has been changed; originally to be held in Herndon Gallery at Antioch College, it will now be held at 504 Phillips St. The event is now canceled.
'Growing Green' conference canceled
Community Solutions and Tecumseh Land Trust have canceled their planned conference, "Growing Green," set for the weekend of March 13–15. The cancellation came due to the closure of the Antioch College campus for events, according to organizers.
No visitors allowed at Friends Care
Following new guidance from the Ohio Department of Health, Friends Care is now restricting access to to those "absolutely necessary for the operations" of the facility, including staff and contracted and emergency providers.
No visitors to the nursing or assisted living facilities will be allowed, except for residents who are being served by hospice.
Out-patients are allowed but may only enter through a separate door in the rehab gym, which will serve as a controlled access point. All of those who enter will be given a health assessment to make sure they have no signs or symptoms of COVID-19.
Otherwise, Friends Care has limited access to the facility to a single entry door. All deliveries will be routed through the loading dock, and delivery staff will not be permitted to enter the building. The center will be doing health screenings of all employees, including by taking their temperatures at the start and conclusion of their shifts.
'Feast for Friends' canceled
The annual Friends Care progressive dinner fundraiser "Feast for Friends" originally scheduled for Saturday, March 14, has now been officially canceled.
Wellness Center group fitness classes, swimming lessons canceled; center remains open
In a message to members on March 12, the Wellness Center said they are remaining open, but canceling group fitness classes through Monday, March 23. The move was based upon the Centers for Disease Control's call for "social distancing" — that people remain six feet apart, and due to the fact that equipment is shared in group classes.
"This will also give us time to deep clean fitness studios, equipment and props," the message added.
In addition, swim lessons will be cancelled for March. All students will be automatically enrolled in the same level for April unless they hear otherwise.
Personal training sessions will continue at the discretion of the trainers and clients and Master's Swimming will continue to practice, the message noted.
The center will continue its cleaning schedule of equipment and high traffic areas and have increased the frequency. Additionally, the center requests patrons take the following steps while using the facility:
using the hand sanitizer and tissues available throughout the facility
wiping down ALL equipment before and after use
avoiding the Wellness Center altogether if you are feeling unwell in any capacity, or if you have recently traveled by airplane or to high risk countries or states (California, Washington, and New York) within the past 14 days
Glen Helen pancake breakfast postponed
The Glen Helen Association annual pancake breakfast, scheduled for this Saturday, March 14, has been postponed due to coronavirus safety, according to Bethany Gray. A new date has not been set.
Panel discussion on racism postponed
Courageous Conversations' planned panel discussion, "How to Grapple with Racism in Yellow Springs," set for Thursday, March 19, has been postponed due to growing concerns about group gatherings during the coronavirus outbreak. It will be rescheduled at a later date.
Wednesday, March 11, 2020
Four confirmed cases in Ohio, no cases in Greene County
As of March 11, 2020, there were four confirmed cases of coronavirus in Ohio, all in Northern Ohio. Three cases were in Cuyahoga County and one in Stark County, the latter of which was due to community spread. In addition there were 21 pending tests and 24 negative tests. A total of 244 individuals are currently under health supervision in Ohio.
Also on March 11, the World Health Organization declared COVID-19 a pandemic, which is defined in A Dictionary of Epidemiology as "an epidemic occurring worldwide, or over a very wide area, crossing international boundaries and usually affecting a large number of people."
The ODH dedicated coronavirus website, updated daily at 2 p.m. with new cases, is here: https://coronavirus.ohio.gov/wps/portal/gov/covid-19/
The Ohio Department of Health is the lead responding agency and has set up a toll-free hotline for questions regarding COVID-19. Please call 1-833-4ASKODH (1-833-427-5634).
Emporium wine tastings canceled for two weeks
According to the Emporium Wines & Underdog Cafe Facebook page on March 11, the upcoming Friday night wine tasting featuring DJ Basim of WYSO and the Hoppers has been canceled. There will also not be a wine tasting on Friday, March 20.
"The health of our customers, community members and staff members is a high priority to us at all times, but especially during the recent concerns about the spread of Covid-19," the message read.
The café will remain open during regular service hours. Friday hours will be 7 a.m. until 8 p.m.
The Emporium is limiting large events and sanitizing highly used surfaces to help prevent the spread of any infectious disease, the message added.
K-12 schools remain open; one YS school family self-monitoring; tutoring, outside trips canceled

In an update from Terri Holden, the superintendent of Yellow Springs Schools, on March 11, Yellow Springs Schools will remain open for the time being. Holden cited Gov. DeWine's public statement that K–12 schools are not being asked to close.
The school district additionally confirmed that one student traveled with a parent to an area affected by the crisis. The specific area was not disclosed. The student attends the Greene County Career Center, but has younger siblings in the Yellow Springs Schools. The family is voluntarily cooperating with the school's "self-monitoring protocol." The student has not returned to the career center since retruning to Ohio, and there is no confirmed exposure or symptoms, according to Holden.
The district asks that students and staff who have traveled to areas affected by COVID-19 to self-monitor and remain at home for a period of time. They are working with Greene County Public Health to identify who in the district this may pertain too.
"We ask for your cooperation as we employ these proactive measures, and your help by limiting speculation and reaction if students or staff members remain home for purposes of self-monitoring," Holden added in the letter. "The Yellow Springs Schools will notify the school community in any case of potential exposure of students or staff to COVID-19."
The district shared several preventative measures it is undertaking:
Providing additional cleaning in each building every day.
Teaching children to begin practicing "social distancing." This means we will refrain from hugging, shaking hands, and giving high-fives or fist-bumps to minimize the risk of transmission. Students will be taught other non-touch ways to greet others or show appreciation.
Canceling all out-of-state trips, particularly those to "high-touch" areas like Washington, D.C. or New York City;
Canceling tutoring programs at Mills Lawn Elementary;
Suspending any award programs we have (formal or informal) that recognize perfect attendance;
Eliminating any mass gatherings (per order of the governor); and
Preparing for the course of last resort: a short-term closure of our buildings.
All of these measures will help us "flatten the curve." This means that when prevention measures are put in place, the rate of infection and illness slows, and the healthcare system is not overly stressed.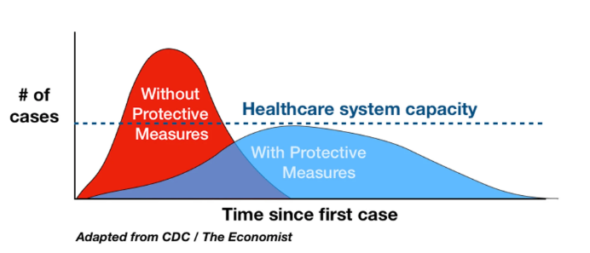 Friends Care limits visiting hours, cancels community events at center
The Friends Care Community nursing and assisting facilities have taken steps to limit the exposure of its residents, according to Director Mike Montgomery on March 11, 2020.
Visiting hours have been limited to only between 7 a.m. and 7 p.m. However, visitation may be limited to one visit per resident per day or halted entirely following expected guidance from the state on March 12.
The center asks that individuals not visit the center if they have any symptoms of respiratory illness. Those symptoms include: cough, fever, sore throat, runny nose, and/or shortness of breath. The center also encourages alternate ways of connecting with families members, including telephone, email, text, or through Skype or Facebook.
Friends Care has cancelled all community events and activities for residents that involve outside groups or volunteers. Visiting nursing students and clinical education at the facility has also been canceled.
The annual Friends Care "Feast for Friends" progressive dinner planned for Saturday, March 14, is still scheduled to take place. However, attendees will proceed straight to their host's house rather than coming first to the center. The event may still be canceled at a later date. (Update: As of March 12, the progressive dinner has been canceled).
Friends Care's emergency response team is evaluating other measures, such as screening all staff members at the beginning and end of their shifts.
Antioch College suspends in-person classes, moves online
According to an Antioch College press release on March 11, 2020, classes are suspended beginning Thursday, March 12, for the winter quarter with the remainder of coursework to be completed online. Students will move out of the residences halls after the quarter ends on March 20.
Courses for the spring quarter, which starts on April 6, will begin online. The reopening of the residence halls has been delayed until April 18.
In addition, campus events and gatherings have been cancelled until further notice. Enhanced cleaning and sanitation measures across campus have been implemented by housekeeping and Wellness Center staff since March 9.
The college is also revising safety protocols for essential services at the college, including the kitchens and Wellness Center, according to an internal email. Further, the college advised employees to avoid events, gatherings and travel on college business and recommended those on its campus practice social distancing (although not "emotional distancing"). The college requests that the greater community also practices social distancing from campus buildings. That does not include the Wellness Center, which remains open at this time.
A special task force has been formed to track the COVID-19 situation closely and to create recommendations for policy. The task force is chaired by Rick Kraince and includes Susan Lee, Gariot Louima, Kevin McGruder, Angela Moore, Roger Stoppa, Mike Fair, and Pan Reich.
More information is available on the College's Novel Coronavirus webpage.
Senior Center remains open, offering meal and prescription deliveries
According to YS Senior Center Director Karen Wolford on March 11, the Senior Center will remain open and will continue its regularly-scheduled activities, which typically serve less than 10 people. Earlier in the day, it cancelled its dance marathon (see below).
"At this point we're taking no extraordinary measures to close the center or restrict access," Wolford said. "We will do so if attendance drops off significantly or people start getting sick."
Wolford added that if any older adults in the village need food assistance, the center can deliver sack lunches to their residences. In addition, the center will pick up medication and can make runs to the grocery store for those cannot drive or are quarantined. The center is taking precautions to protect drivers and passengers during this time. Additional volunteers to drive may be needed if the need significantly increases. For more information, call 937-767-5751.
Senior Center dance marathon canceled
According to a release from organizers on March 11, 2020, the Yellow Springs Senior Center is canceling its planned in-person "Keep on Dancin'" dance marathon, planned for this Friday, March 14, at the Emporium. The regular Emporium wine-tasting for Friday night will also not take place.
However, local seniors and supporters of the Senior Center are still encouraged to dance in their homes on Friday night, as part of a virtual dance marathon. Take photos or videos of yourself dancing, and they will be posted on the YS Senior Center website, at http://www.ysseniors.org.
Tuesday, March 10, 2020
Bryan Center remains open
According to a press release from the Village of Yellow Springs on March 10, 2020, "the John Bryan Center will remain open and will continue to operate recreational and educational programming until circumstances the region change and public health authorities provide a recommendation to do otherwise."
The Village asks all employees and visitors to the Bryan Center to take the following steps to reduce the transmission of communicable diseases:
• Stay home when you are sick.
• Wash your hands frequently with warm, soapy water for at least 20 seconds.
• Cover your mouth with tissues whenever you sneeze, and discard used tissues in the trash.
• Avoid people who are sick with respiratory symptoms.
• Clean frequently touched surfaces.
Alcohol-based hand sanitizers will be provided throughout the John Bryan Center, and cleaning sprays and wipes will also be provided to clean and disinfect frequently touched objects and surfaces such as telephones and keyboards, according to the press release.
The Village provided further guidance to employees and visitors:
"It is critical that employees and visitors do not visit the John Bryan Center while they are experiencing respiratory symptoms such as fever, cough, shortness of breath, sore throat, runny or stuffy nose, body aches, headache, chills or fatigue. Currently, the Centers for Disease Control and Prevention recommends that employees and visitors remain at home until at least 24 hours after they are free of fever (100 degrees F or 37.8 degrees C) or signs of a fever without the use of fever-reducing medications."
Monday, March 9, 2020
Antioch School will still hold gala, shares prevention efforts

The following information was sent to Antioch School families on March 9, 2020:
We would like to reassure you that we are tracking the situation and are implementing plans to minimize its spread within our community. Our teachers and custodial staff have been ramping up their cleaning processes in response to the multitude of viruses that have moved through our school this winter, and in preparation for the arrival of the coronavirus. They have also been giving our younger students lessons on effective hand washing technique. Early reports seem to indicate that children are not contracting serious cases of the virus, although they may contribute to community spread, including to at-risk populations, like those who are older or who have other conditions.
As of March 11, the Antioch School's gala and fundraiser featuring Michelle Wolf is still on for Saturday, March 14, at the Antioch Foundry Theater.
Friday, March 6, 2020
No confirmed cases in Greene County
According to the Greene County Public Health on March 6, 2020:
As of March 6, 2020, there are currently zero confirmed cases of COVID-19 in Ohio. The risk to Ohioans and Greene County residents is still low. For COVID-19 questions, please call the Ohio Department of Health call center at 1-833-427-5634, 9:00 a.m. to 8:00 p.m.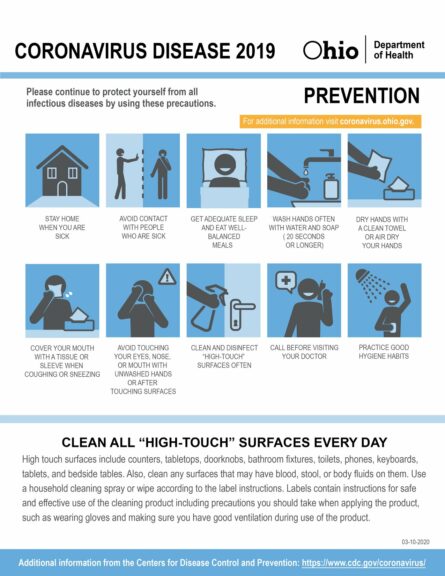 Wednesday, March 4, 2020
Yellow Springs Schools shares efforts to prevent infection

In a letter sent to Yellow Springs Schools families and staff on March 4, the district shared its recent efforts to prevent infection at the school:
We have reinforced with our custodial team the importance of following our standard cleaning protocols by using virucide cleaner and sanitizer on frequently touched surfaces such as doorknobs, faucet handles, handrails, and other hard surfaces, as well as ensuring there are adequate supplies of soap in all restrooms. Additionally, on Friday, March 6, during the staff professional development day, district custodial staff will do a thorough cleaning of our buildings as a general precautionary measure.
The district also shared the following recommendations for families:
Children (and adults) should stay home when sick. Students need to be fever-free for 24 hours before returning to school after any illness.
Wash hands often with soap and water for at least 20 seconds.
Avoid touching eyes, nose and mouth with unwashed hands.
Do not share food, drinks or eating/drinking utensils.
Avoid close contact with people who are sick.
Cough or sneeze into an elbow or use a tissue and place immediately in the trash.
Clean and disinfect frequently touched objects and surfaces.