Coronavirus updates and resources for Yellow Springs (updated March 28)
As the COVID-19 coronavirus pandemic develops, organizations and institutions in Yellow Springs are responding. The News will keep this page updated with new information, closures and public statements from local entities.
To submit an event cancellation or other public notice, use this form: https://ysnews.com/event-cancelations-or-reschedulings
To submit a NEED or an OFFER to the community, use this form: https://ysnews.com/need-give
For COVID-19 questions, call the Ohio Department of Health call center at 1-833-427-5634, 9:00 a.m. to 8:00 p.m.
Latest coronavirus related news items

Widget not in any sidebars

---
• Jump to latest updates, presented chronologically
Local coronavirus web pages
---
Below are additional updates and resources, presented chronologically.
---
For COVID-19 questions, call the Ohio Department of Health dedicated helpline at: 1-833-4-ASK-ODH (1-833-427-5634).
Saturday, March 28
Ohio cases reach 1,406
The number of confirmed cases of COVID–19 in Ohio reached 1,406, according to figures released by the Ohio Department of Health on Saturday. Ohio currently has the 14th most cases in the country, and is the 7th most populous state. In total, the U.S. has 116,851 confirmed cases and 1,944 deaths from the disease.
There remain three cases in Greene County, with no hospitalizations or deaths. The cases include a woman in her 50s whose illness started on March, a man in his 20s whose illness onset was March 20 and a man in his 60s whose symptoms began on March 18.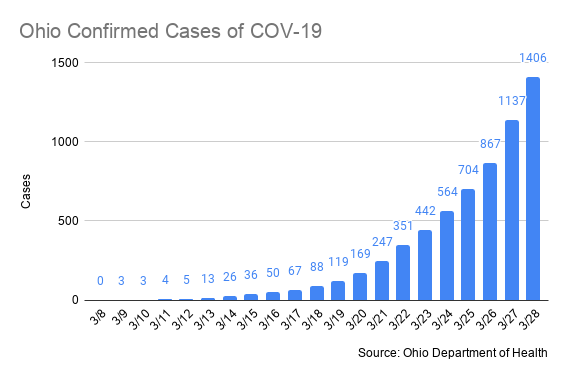 Updated local business and restaurant information
The Chamber released the following update on March 28, at 2:30 p.m.: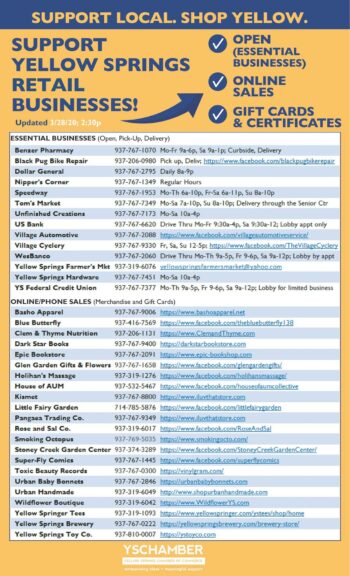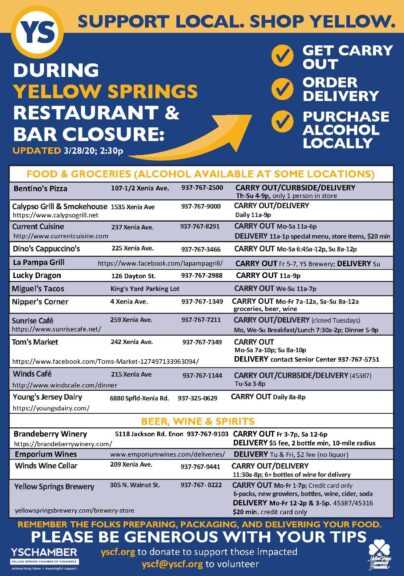 Antioch president releases video message
Antioch College President released a video message on changes to the college during the coronavirus crisis. Watch it here.
Friday, March 27
Ohio cases now 1,137; peak could be 10,000 new cases per day; hospitals prepare for surge; federal aid described
Ohio now has at least 1,137 confirmed cases of COVID-19, according to the March 27 figures from the Ohio Department of Health. That number is a 31% rise over yesterday's reported figure.
Greene County, meanwhile, held steady at three reported cases of COVID-19.
Total hospitalizations are now 276, including 107 in the ICU. Total hospitalizations so far represent about 25% of all confirmed cases, a little higher than the 20% anticipated by Ohio Health Director Dr. Amy Acton.
State figures now show that at least 19 people have died from the illness.
Gov. Mike DeWine at today's press conference warned Ohioans that the virus would "kick in much harder" within the next two weeks, triggering sharp increases in hospital admissions.
And new modeling from the Cleveland Clinic projects that Ohio could see as many as 10,000 new cases per day at the peak of the epidemic here, according to Ohio Health Director Dr. Amy Acton. That peak could come in mid-May, she said.
To treat the seriously ill, Ohio hospitals will need to expand their capacity by two-to-three times, DeWine said today. Hospitals and state officials have been working urgently to do that, he added.
"We are closing up planning, now moving to the action" phase of hospital response, he said.
A statewide plan for rapidly increasing hospital capacity is being developed, with the state divided into eight planning/response regions. DeWine said a final plan would be submitted to the state by each region by noon on Monday, with details to be released to the public at that point.
Ohio National Guard General John Harris is overseeing the operational aspects of the rapid hospital build-out, DeWine said.
Acton said that Ohio's hospital bed capacity, or the proportion of beds filled, is currently at 56%, down from over 70%, thanks to the state order that went into effect March 18 prohibiting elective surgery. That means there is currently 46% hospital bed availability across the state. Yet that availability will be quickly overwhelmed by COVID-19 cases without tripling existing capacity, Acton said.
"No healthcare system is built to withstand a pandemic" like this one, she said.
Ohio will be expanding its bed capacity by converting wings of existing hospitals, bringing closed hospitals back online, taking over empty dorms and floors of hotels and even potentially setting up a hospital within the Ohio Expo Center, Acton said.
Ohio's healthcare system is also working to redeploy healthcare workers, conserve and expand its supply of protective equipment and modify lifesaving equipment such as ventilators to allow a single machine to support multiple patients.
Also at today's press conference, Sen. Rob Portman, R-Ohio, spoke by phone to describe the $2 trillion federal coronavirus relief package just passed by the U.S. House (and later today signed into law by President Trump). Portman highlighted the significance of the $150 billion in relief that the bill provides to hospitals and healthcare providers through grants and Medicare/Medicaid payouts.
"It may be enough, it may not," he acknowledged.
The bill also includes numerous provisions designed to help employees who have lost their jobs and help employers keep people employed. In addition, all Americans who make less than $75,000 annually will get a one-time payout of $1,200 in the mail.
And as expected, Gov. Mike DeWine at today's conference signed HB 197, an emergency response to COVID-19 that includes provisions waiving state-mandated testing requirements, extending the professional licenses of nurses, allowing local government to hold virtual meetings in temporary suspension of Ohio's Sunshine laws, extending the Ohio tax filing deadline to July 15 in line with the federal tax deadlines and extending the 2020 primary to April 28 with all voting by absentee ballot.
More details on 'mail-only' voting
Gov. Mike DeWine signed into law today new legislation responding to the COVID-19 crisis in Ohio. As part of that legislation, Ohio is extending 2020 primary voting by absentee ballot to April 28. Voting will take place by absentee ballot only. There will be no in-person voting at the polls, except for those without a fixed address or who are disabled.
Click here for Greene County's absentee voting instructions for the extended 2020 primary election. In summary: local voters who have not yet voted in the 2020 primary may download and print an online absentee ballot application and return it by mail to the Greene County Board of Elections or to the board's drop box. Alternatively, they may write a letter to the local board of elections requesting an absentee ballot. The board of elections must receive requests for absentee ballots by noon on April 25, 2020.
Beginning Monday, March 30, voters without access to the Internet or to a printer may contact the local board of elections by phone with their absentee ballot request. To request an absentee ballot by phone in Greene County, call 937-562-6170 between the hours of 8 a.m. and 4:30 p.m., Monday through Friday.
Voters who request an absentee ballot should receive a printed ballot in the mail with a postage-paid envelope. They should fill it out and mail the voted ballot back to the local board of elections or place it in the board's drop box. Voted ballots must be postmarked by April 27, 2020, or dropped off to the local board of elections by 7:30 p.m. on April 28, 2020.
Those who are not already registered to vote in Ohio will not be eligible to vote in the extended election, by the current legislation. (This has been criticized by voting rights groups.) To check your voter registration status, click here.
Those who voted early either through in-person early voting or by absentee ballot prior to Election Day should not vote again! Their votes will be counted once voting for the extended election is completed after April 28, 2020.
As specified in the new legislation, all registered voters who have not yet voted in the 2020 primary will receive a postcard in the mail with instructions on absentee ballot voting in the extended election. As those postcards may not be received until mid-April, voting rights groups are urging Ohio voters to request an absentee ballot as soon as possible.
To read more about extended voting for the 2020 primary election, click here.
The News will report in more depth on Ohio's extended voting, including concerns and criticisms regarding the plan, in its April 2 issue.
Chamber of Commerce temporarily discourages visitors
The Yellow Springs Chamber of Commerce posted a message on its Facebook account requesting that visitors "honor the stay at home order" and "visit us when this is over." Warm spring weather had brought large numbers of visitors to the village in recent days, even after the Glen Helen Nature Preserve closed its trails beginning on Thursday, March 26. The message is below.

Thursday, March 26
Basketball courts closed
YS Police Chief Brian Carlson announced on Wednesday, March 25, that the basketball courts at the Bryan Center would be closed until further notice. Public playgrounds had previously been closed. Carlson said that he tried to keep the courts open, but found that large groups of people were playing games. "I'm sorry to have to do these things, but I think it's essential," Carlson said.
'YS wave' to take place at 6 p.m. daily
On Tuesday, the Yellow Springs Community Foundation announced the "YS Wave," a daily invitation to make noise outside at 6 p.m. daily. The foundation's message reads:
"We are all going to go out on our front porches and do a YS Wave — ring a bell or a noise maker of some kind. We'll do it for at least one full minute. Reach out to your neighbors and connect with the rest of our Village and Township – We are all here and in this together. Stay connected!"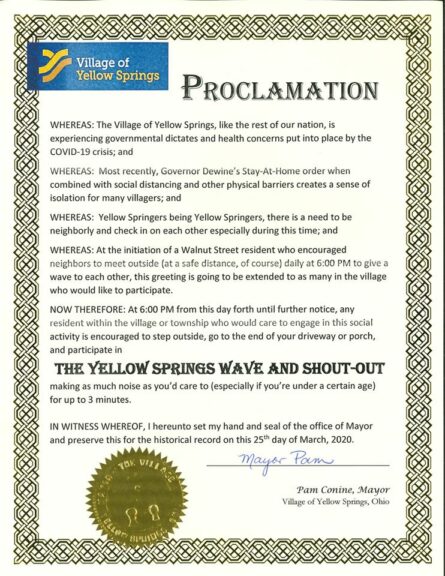 Reach Out free clinic to reopen, offer tele-medicine
Yellow Springs' Reach Out free clinic will re-open as a virtual tele-medicine clinic on Tuesday, March 31. Patients should call in to 937-919-3251 between 4:30 p.m. and 6:30 p.m. FaceTime, text and phone will be used to communicate.
Ohio cases rise to 867
According to the Ohio Department of Health, or ODH, on Thursday, March 26, the number of confirmed cases of COVID-19 rose to 867 statewide. Total hospitalizations are now at 223 and there have now been 15 fatalities. COVID-19 has spread to 60 of the state's 88 counties. There remain three confirmed cases in Greene County, with 14 cases in Montgomery. According to current figures, about 11% of known cases are ending up in the ICU, ODH Director Amy Acton reported. More than 17,000 Ohioans have been tested for the disease, she added.
According to ODH's projections, at the pandemic's peak in Ohio there will be 6,000 to 8,000 new cases of COVID-19 per day. But the measures to slow the spread of coronavirus in Ohio have been working to "push out" the peak of the illness here and lessen the burden on hospitals, Acton reported.
"We have, through our collective work together in Ohio, we have decreased that impact on our health system by anywhere from 50 to 75%," she said. "But we have to do it even more."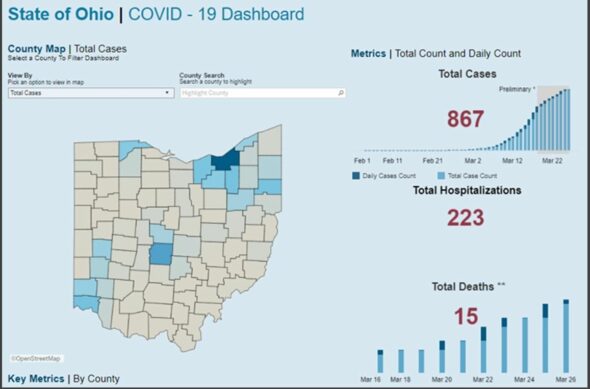 School testing waived
As anticipated, the Ohio Legislature on Wednesday, March 25, approved the waiver of state-mandated school testing for the 2019-20 school year.
The action was among a number of school-related amendments to House Bill 197, which enacts a variety of statewide relief measures in response to the social effects of the novel coronavirus pandemic.
Gov. Mike DeWine announced Sunday, March 22, that he was asking for the testing waiver in light of the temporary closing of all kindergarten through 12th-grade schools schools in the state. Initially a three-week shutdown scheduled to end Monday, April 6, the closure is expected to to be extended through the remainder of the academic year.
Yellow Springs schools had been scheduled before the closure to start testing next week.
Along with the testing waiver, the Legislature also approved the canceling of the annual state report cards, which are based primarily on testing results and normally released in September. Relatedly, the voucher system, which identifies schools as underperforming based on those report card grades, will stay the same for next year, after several months of efforts to revise the program. Currently, students who attend such designated schools, including Mills Lawn elementary, can receive money from the district to attend an approved private and/or parochial school.
Other school-related measures approved as part of the state relief bill includes an allowance for seniors to graduate if they were on track to complete graduation requirements as of the date schools closed, March 17; and a change in the number of distance-learning days (where curriculum is delivered remotely) allowed for the makeup of school closures, from three to the full extent of the COVID-19 shutdown.
School meal eligibility changes
Yellow Springs Schools sent out the following message to families on March 26:
"If you have had a change in your financial status due to the COVID-19 pandemic and the corresponding Stay at Home Order here in Ohio, and your children are currently not receiving free and reduced meal services, I urge you to complete an application to determine eligibility. If you qualify, your child (children) may receive breakfast and lunch at reduced or no cost.
If you have a SNAP or OWF case number, you can provide that on the application form in lieu of financial information. If you do not have a case number, you will need to provide income information as requested on the application.
The link to the 2019-2020 Free and Reduced Meal Application – https://5il.co/e6lw
And 2019-2020 U.S. Department of Agriculture (USDA) Income Guidelines – https://5il.co/e6lx
Should parents need assistance filling out the application they can contact Donna First at 937-672-8559, and mail it to Yellow Springs Schools, 201 S. Walnut Street, Yellow Springs, OH 45387, Attn: Donna First"
Wednesday, March 25
Glen Helen to close all trails
The Glen Helen Nature Preserve is closing all nature trails through April 6, effective Thursday, March 26. According to a message they posted on social media:
"Starting Thursday, March 26th through Monday, April 6th, the Glen Helen trails will be closed to the public in order to help protect the health and safety of our visitors and stay in accordance with Governor DeWine's stay-at-home order. Since we are a private, non-governmental non profit, we do not fall under the public parks exemption. As such, we currently lack the staff and volunteer support necessary to protect the Glen and ensure the safety of our visitors under recent, but essential, social distancing directives.
We take great joy in the fact that the Glen is a sanctuary for so many and this is an outcome we wanted to postpone as long as we could, but, despite the difficulty we had making this decision, it is the right one. At this time, we all need to take social distancing seriously by staying home and limiting contact with others. We appreciate your understanding and continued support."
Election to be "mail-only" through April 28; no in-person voting
On Wednesday, March 25, the Ohio legislature passed an emergency coronavirus bill that included a provision to extend absentee voting in Ohio's primary election through April 28.
There will be no in-person voting, according to the legislature's plan, with the exception of those without a fixed address or who are disabled. Everyone else will have to request a ballot from their local board of elections.
But some voter's rights groups are challenging the plan, saying it disenfranchises voters. It has also been criticized for its short turn-around time for mail-in ballots. (Read a League of Women's Voters petition here.)
An earlier plan, put forth by Ohio Gov. Mike DeWine, was to shift in-person voting, originally scheduled for March 17, be to June 2, and to extend absentee voting until that time.
The night before the March 17 election, DeWine filed a lawsuit in a Franklin County court arguing for the postponing of elections to protect the health of Ohioans. When the judge denied the effort to shift the election, Ohio Health Department Director Dr. Amy Acton ordered polls closed just hours before they were set to open to "avoid the imminent threat with a high probability of widespread exposure to COVID-19."
Read a summary of the legislation here.
Clem & Thyme workshops move to Zoom
Clem & Thyme Nutrition and Wellness on East Enon Road is moving two workshops slated for Saturday, April 4, to virtual meetings.
A 10 a.m. workshop on garden planning and a 1 p.m. workshop on the "Whole Foods Approach to Low-Carbohydrate Living" will both be held virtually on Zoom. To register visit:
https://clemandthyme.com/2019/11/27/planning-your-vegetable-garden-2020/
For more information on Clem & Thyme, see this recent YS News article.
Ohio cases jump to 704, 182 hospitalized
According to the latest COVID-19 data posted to http://coronavirus.ohio.gov (the number of actual cases is believed to be much higher):
• 10 confirmed fatalities
• 704 confirmed cases
• 55 Ohio counties
• 182 hospitalizations (including 75 ICU admissions: 75)
• The cases include 24 long-term care residents and 116 healthcare workers
There are three confirmed cases in Greene County, including one at Wright-Patterson Air Force Base.
Monday, March 23
More on the 'Stay at Home' order
Ohioans are being ordered to stay at home to help contain the spread of COVID-19 in the state, Gov. Mike DeWine announced on Sunday, March 22. The order goes into effect on Monday, March 23, at 11:59 p.m., through April 6 at 11:59 p.m.
The most sweeping of Ohio's orders to date, the stay at home order requires people to remain at their place of residence except to perform certain essential activities. Outlined in the order, these activities include obtaining groceries and other necessary household supplies, obtaining medications or visiting health care professionals, engaging in outdoor activities, performing certain types of essential work and helping with the care of family and friends.
Businesses (including for-profit, non-profit, or educational entities):
Non-essential businesses and operations must cease all activities except minimum basic operations.
All essential businesses and operations are encouraged to remain open.

Exemptions

:

People experiencing homelessness.
Incarcerated individuals. They are to follow the guidance of the facility in which they are confined.
People leaving the home for essential activities (see below).
People who work for or must obtain services from essential businesses and services (see below).
Essential activities:
Seeing to the health and safety of oneself, a family or household member, or person who is unable to or
should not leave their home (including pets).
Obtaining necessary supplies and services for oneself, a family or household member, or person who is
unable to or should not leave their home, or to deliver those services or supplies to others.
Engaging in outdoor activity, provided individuals comply with social distancing. Individuals may go to
public parks and open outdoor recreation areas; however, public access playgrounds are to be closed.
• Engaging in certain types of work providing essential products and services at essential businesses or
operations or to otherwise carry out minimum basic operations.
Taking care of others, such as a family member, friend, or pet in another household, and to transport
family members, friends, or pets. Attending weddings and funerals is permitted.
Essential businesses and services:
• Healthcare and Public Health Operations
• Human Services Operations
• Essential Infrastructure
• Essential Governmental Functions
• Critical infrastructure workers
• Stores that sell groceries and medicine
• Food and beverage production and agriculture
• Organizations that provide charitable and social services
• Religious entities and gatherings, including weddings and funerals
• News media
• First amendment protected speech
• Gas stations and businesses needed for transportation
• Financial and insurance institutions
• Hardware and supply stores
• Critical trades
• Mail, post, shipping, logistics, delivery, and pick-up services.
• Educational institutions.
• Laundry services.
• Restaurants providing carry-out, third party delivery, and curbside pickup.
• Businesses that sell, manufacture, or supply products needed for people to work from home or support material for essential businesses.
• Transportation services.
• Home-based care and services.
• Residential facilities and shelters.
• Professional services. (Includes legal, accounting, insurance, and real estate services.)
• Manufacturing companies, distributors, and supply chain companies producing and supplying
essential products and services.
• Critical labor union functions.
• Hotels and motels, to the extent used for lodging and delivery or carry-out food services.
• Funeral and related services.
Travel
Public travel is prohibited, with these exceptions:
• Any travel related to the provision of or access to essential activities, essential governmental functions,
essential businesses and operations, or minimum basic operations.
• Travel to care for elderly, minors, dependents, persons with disabilities, or other vulnerable persons.
• Travel to or from educational institutions for purposes of receiving materials for distance learning, for receiving meals, and any other related services.
• Travel to return to a place of residence from outside the jurisdiction.
• Travel required by law enforcement or court order, including to transport children pursuant to a custody agreement.
• Travel required for non-residents to return to their place of residence outside the state.
• Travel into or out of the state to maintain essential businesses and operations and minimum basic operations.
Read also:
Latest local food delivery & carryout
According to the Yellow Springs Chamber of Commerce on March 23, below are the local restaurants and shops providing food carryout and delivery. The latest closures includes Bentino's Pizza, HaHa Pizza and the Emporium.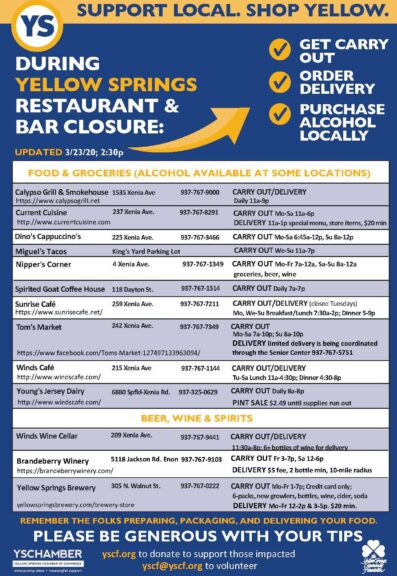 Sunday, March 22
First Greene County COVID-19 case
Greene County saw its first confirmed case of COVID-19 on March 22. The individual who tested positive in Greene County is en employee at Wright-Patterson Air Force Base, according to a March 21 press release from the base.
Greene County Public Health released the news the next day, with the following statement: "The individual and identified contacts have self-isolated at home and monitoring is being done by Greene County Public Health. To protect the identities of the case and contacts, no additional information is being released. There was no exposure of history through travel, which indicates this person became ill through community spread."