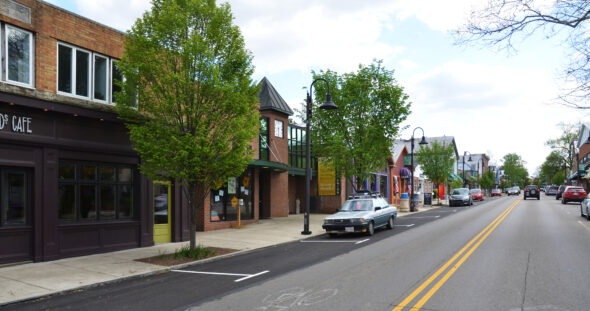 Latest Greene County appraisal— Yellow Springs property values up 19%
Property values in Yellow Springs jumped by 19% on average in the latest property appraisal by the Greene County auditor.
The significantly higher appraisals could lead to larger tax bills and rents and further raise living costs in a community that is already among the most expensive in the area. It also means more funds flowing into the coffers of local schools, the Village and other public entities.
Property values rose faster in Yellow Springs than in any other municipality in Greene or Montgomery counties over the last three years. As a whole, property values rose 11% in Greene and 7% in Montgomery.
Property values grew more slowly in Miami Township, increasing by 9% in the portion of the township that immediately surrounds the village and is part of the Yellow Springs School District.
Yellow Springs properties have continued to gain value because the community is highly desirable but has limited housing stock, according to county auditor David Graham this week.
"You still have the high desire to live in Yellow Springs — people like the community," he said. "And that demand, and a lack of new housing stock, results in higher prices. It's a simple economic issue."
Since appraisals are tied directly to real estate sales, a strong housing market will pull up property values villagewide, Graham added.
The appraisals are completed by the county auditor's office every six years, with an update every three years. Taxes for various government entities are calculated based on property values, and tax bills in 2021 will reflect the changes.
This year, villager Joyce Robinson saw her property valuation rise 33%, well above the local average. Robinson, who has lived in her home since 1962, said she has made no major upgrades in the last six years. Meanwhile, she is on a fixed income and already strapped by the Village's high utility costs.
"When I looked at it, I nearly died," she said. "What does 33% do to your taxes? No one is going to be able to afford to live in Yellow Springs."
How high are tax bills likely to climb? A higher appraised home value only raises taxes on levies that are not voted on, also known as inside millage. But the impact is still significant, and most homeowners will be paying somewhere between $500 and $1,000 more per year to live here, according to a county tax calculator. The increased cost to landlords could be passed on to their tenants through rent increases.
Yellow Springs Schools will reap the most benefits of the surge in property values. Of the 10 total mills of inside millage, 4.3 mills, or 43%, goes to the schools. The Village of Yellow Springs receives 2.6 mills, Greene County 2.5 mills and Miami Township 0.6 mills. By contrast, outside levies — those voted on — will not be affected by the property value changes because they are typically for a fixed dollar amount.
Villagers, who should have received a letter from the auditor in the last few weeks, can request a review of their new property valuation by calling the auditor's office at 937-562-5621 or filling out a form at its website. The deadline to do so is Oct. 23.
This year, the Greene County Auditor's office has created a new online appraisal page that shows the sales of comparable houses in one's neighborhood over the last six years and allows taxpayers to estimate their new property tax bill. Village residents should use the F19 district to calculate their new bills.
Housing in YS and the region
Just how much of an outlier is Yellow Springs' housing value increase?
Despite seeing the most significant three-year gain in property values in Greene and Montgomery counties, Yellow Springs' increase was not too dissimilar from other places, county auditor Graham said.
"Normally there is a huge disparity between what Yellow Springs goes up versus other areas," he said. "In this particular case, it's not that much higher."
Elsewhere in Greene County this year, values went up by 16% in Clifton, 16% in Bellbrook, 15% in Fairborn, 14% in Xenia, 12% in Beavercreek and 8% in Cedarville. In neighboring Montgomery County, they went up 10% in Miamisburg, 9% in Kettering, and 4.5% in Oakwood.
At the last appraisal, in 2017, values in Yellow Springs rose by 9% and they stayed relatively flat in both 2014 and 2011 amidst declines in Greene County as a whole.
This time, the entire Miami Valley is seeing housing prices, and thus home values, rise. According to local realtor Craig Mesure of Berkshire Hathaway, that's because of limited housing availability in the region, due in part to the rising cost of home construction.
"It's really all around the Dayton area — we're not an anomaly," Mesure said. "It's a true seller's market."
Last month the Dayton Area Board of Realtors reported that home sale prices in the area were up 14% over the year prior.
However, the situation is more pronounced in Yellow Springs, where few houses on the market at any given time tends to drive up the selling price. This week, for instance, Mesure said there were only three homes in the village proper in the $200,000 to $300,000 range. Sellers are taking the highest bid and hoping the home appraises for that amount: and so far, it has.
"We've had this issue the last few years, it's just been more exaggerated this past year because we've had so few homes on the market," he said.
This year, through August, only 30 homes have sold in Yellow Springs. That's compared to 82 last year, and a seven-year average of 60 per year.
Mesure added that many smaller homes have sold this year, driving up the value of homes nearby due to the high price per square foot.
"Smaller homes have been more popular this year," he said. "That has inflated prices on houses that wouldn't normally go as high."
The average home sale price in Yellow Springs lept from $194,682 in 2014 to $270,035 last year, according to data from the Dayton Area Board of Realtors, an increase of 38%. Average home-sale prices have risen 10% since the village's pre-housing-market-crash high of $244,688 in 2006. In 2020, the home-sale price has averaged $254,300.
Looking ahead, Mesure believes that the local housing market will hold value because Yellow Springs remains popular, while more people seem to be able to afford to live here.
Asked about the impact of a proposed new development on the south side of town with upwards of 138 homes set to start at $300,000, Mesure said it wouldn't lead to more affordable housing in the village, and could, in fact, raise values.
"It could increase [the values] of other houses in town," he said. "I don't see values going down. They could go up, and at best they will stay the same."
Mesure understands the financial difficulties of some villagers. But the recent property value increase is not all bad news.
"Yes, it raises the taxes but it's money that goes toward our school district," he said. "It's going to re-circulate. I know people don't like to have their values go up, but it does serve a purpose."
Villagers whose house is their main investment also benefit from rising values. Vivian Markley moved here from Springfield in 2018 with her husband largely because of the town's strong market. They bought a fixer-upper and have been renovating it since.
"We took our retirement money and decided to put it into a property in Yellow Springs, because anywhere else, property values are declining," she said.
Markley is one of just 38 local property owners whose appraised home value declined this time around, due to a property condition that was worse than the county assumed. It's appraised value dropped to the amount the couple paid for the property.
"We got a deal on the house. But we're putting a lot of money into it so it goes up where it belongs," she said.
Tax impacts
Overall, the total valuation of the village's 2,228 parcels grew from $324 million in 2017 to $387 million this year according to figures provided by the county auditor's office.
Residential properties, which make up 90% of all properties in town, saw the biggest leap, of 20.5%. By contrast, the town's 215 commercial properties saw a smaller increase of 12%. The 18 industrial parcels increased by 11.5%, and four agricultural parcels fell in value by 9%.
For example, Bruce Cornett, who owns the building that houses Current Cuisine, Dark Star Books and Pangaea, saw an 11% increase in his valuation, on par with the commercial average.
Local homeowners will thus see the biggest increase of taxes of all local property owners. According to county figures, the average Yellow Springs house grew from an appraised value of $143,645 to $173,031 during this latest appraisal. Using the county's estimated tax calculator, the average homeowner would see their annual property tax bill climb from $3,367 to $4,056, an increase of $688 per year.
The average commercial property owner will pay an average of $413 more per year starting in 2021.
Growing property values are only one facet of the town's increasing cost of living. Utility rates in the village are the highest in the region, while school district tax rates are above the area average.
According to a 2020 survey of 63 area municipalities, Yellow Springs had the highest combined water and sewer rates of any community, at $585.23 for a three-month period. That figure was nearly double the area average of $295.73.
For Cheryl Durgans, affordability is a crucial issue for the village, and the latest property tax increases only underscore the need for collective action to address it.
"How do we make it accessible to our most vulnerable populations to live here? That, to me, is the crux of the conversation," she said.
Personally, Durgans found her 27% property value increase "astounding," especially combined with an already-high Village utility bill. She assumes that recent sales of high-priced homes in the nearby Birch III housing development led to the spike.
But outside of her personal circumstance, Durgans believes it's important for the village as a whole to find ways to ameliorate the impact of the recent appraisal on those with fewer resources.
"I know that there are so many people whose lives are make-or-break right now, they are not paying attention to this wider issue because they are trying to survive," she said. "If they leave, what is going to happen to this community?"
Appraisal process
Many are unclear about the exact process the county uses to determine new property values, a process required by state law to ensure fair and equitable taxation.
During appraisals, the county reviews nearby sales of similar homes to calculate new home values, according to Graham. Simply put, "the sales price determines the value," he said.
To make sure any single home sale doesn't skew other home's values too much, he added, the county averages a large number of sales.
"It's an averaging of the sale prices," he said. "We don't chase individual sales."
For example, 72 home sales across about a third of the village over the last three years were used to calculate this reporter's new house value. Regarding the neighborhoods used, Graham said that Yellow Springs breaks down, essentially, into three residential districts: walking distance from downtown, biking distance and driving distance.
For the six-year appraisal, the county also drives by to take a photograph of the front of each property and uses aerial photos of the property as well as oblique satellite imagery to get a complete picture, according to Graham.
"One of the things the six year [appraisal] requires us to do is to inspect the condition of the property," he said.
Specifically, they are looking at the general condition of the property and whether there have been any major changes, such as new garages, additions or a structure demolished, Graham added.
"It may have improved because someone has done something to make it better, or the condition of properties could be deteriorating because no one was taking care of their property, or maybe a tornado came through," he said.
When a home goes on the market, the county also reviews photos on real estate sites such as Zillow to see if any significant interior upgrades have been made. Homeowners can also request an interior inspection.
Graham encourages all property owners to view the county's website to make sure the information on their property is accurate, including the size of their home, the number of beds and bathrooms and the drawing of their floor plan.
"Look at your square footage. Look at your sketch," Graham said. "If we have inaccurate data, we will have an inaccurate appraisal."
Property owners can submit information and pictures of their property at the county's website. After the initial review, property owners can also lodge a formal complaint about their valuation between Jan. 1 and March 31, 2021. Visit the Greene County Auditor's site to review your appraisal and taxes: https://www.co.greene.oh.us/reval.