Students walk out to protest racism
Where do students go when they feel that the adults in their schools failed them?
That question was answered by Yellow Springs schools' students of color on Monday, May 16, when they walked out of their afternoon classes and marched to the top of the hill at Gaunt Park, a park created on land donated to the Village by formerly enslaved businessman and philanthropist Wheeling Gaunt, to share their experiences with the community.
The walk out was a response to an incident between a white teacher, Karleen Materne, and a Black student after the teacher was overheard saying the N-word. In an interview prior to the walk out, students Ela McGee and Lacey Longshaw told the News that Materne was telling a story to students, who, in turn, alerted Longshaw. Longshaw confronted the teacher, telling her that it is inappropriate to say the word under any circumstance.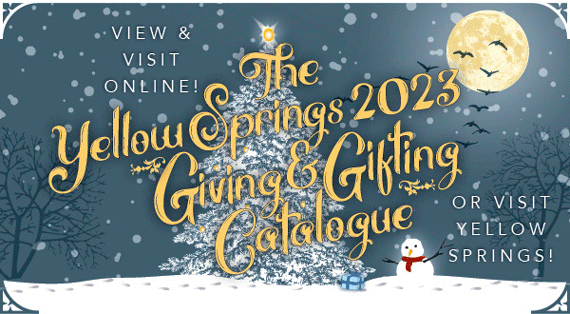 "I lost my temper and yelled at her," Longshaw said. "In response, she laughed in my face."
Longshaw said that Materne called YSPD, claiming that Materne was assaulted by Longworth.
However, a video by of the incident recorded by student witnesses shows otherwise. According to the YSPD daily incident log, there was a call from Materne. A public records request regarding the call was not available by press time.
According to Materne's LinkedIn profile, she lives in Dayton and has worked for the district since 2012. She also works as an adjunct instructor at Wittenberg University. Her teaching assignments in Yellow Springs, as listed on the Ohio Department of Education educator search website, included visual arts, ceramics and photography and film-making. The News was unable to contact Materne for comment.
McGee said that she wanted to organize a demonstration to bring public attention to this and other similar incidents.
"This isn't the first time something like this has happened," she said.
When the walk out reached Gaunt Park, students and their supporters, including parents and several Mills Lawn teachers, gathered at the top of the hill. As students spoke at the top of the hill, Superintendent Terri Holden, McKinney Middle and YS High School Principal Jack Hatert and Assistant Principal Joy Feola stood in the parking lot at the bottom of the hill, observing the demonstration from a distance. Board of Education member Judith Hempfling stood alongside the students atop the hill. Yellow Srpings School District Public Relations Coordinator Corina Denny said the administration's role in Monday's walkout was to ensure student safety.
Longshaw, McGee and classmate Corrinne Totty recounted several interactions with students and teachers that they deemed racist encounters, telling the crowd that their complaints were heard by Hatert, but that no visible consequences were meted out. The students also said that their attempts to follow up with complaints were denied by claims that disciplinary information was confidential.
"We've met with the equity team for months, and these things are still an issue," Totty said. "There seems to be no process to handle these situations, so nothing gets done."
A microphone was passed to students to share their experiences with teachers and peers. Several mentioned being singled out in class based on their race, teachers referring to students using incorrect pronouns as punishment and transgender students being deadnamed, or referred to by the name they used prior to their transition.
Other students, like Malaya Booth, spoke about school policies that, while well-intentioned, left students of color questioning pedagogical choices. The students called into question the difference between intent and outcome, giving an example of an attempt to eliminate books with the N-word.
"It interfered with our whole AP class reading schedule. We didn't read books from Black authors," Booth said. "It was really disappointing because we had to change our curriculum. We wasted a week of class."
Gini Meekin said that her experience with racism in the schools makes it difficult to encourage her friends from other districts to enroll in Yellow Springs schools.
"It hurts me to tell them that we probably have more dire racist issues here and we are not the perfect anti-racist schools," she said. "I want us to be able to get there, but we can't get there if students are afraid to go to school and afraid to step into the classrooms just because of the color of their skin."
Other students, including several from McKinney Middle School, recounted incidents that happened throughout their school experience — being called names, being told that they were "white" because they had a white parent, or receiving comments about their choice in Halloween costume that did not adhere to racial stereotypes. Jaden Douglass noted that, when called out, his peers claimed Douglass didn't understand their humor.
"They told me I needed to learn how to take a joke," he said.
After students spoke, Bomani Moyenda, a community member who has served as a mentor for students of color, said that he was disappointed in the changes to the culture since he attended the schools in the '70s.
"This behavior would not have been tolerated," he said.
Ameenah Chappelle and Alex Riley asked that the schools do more to reflect the values of the Village of Yellow Springs, commenting on the Black Lives Matter flags and signs.
"Our school [and community] claims to stand by the Black Lives Matter movement, but fails to prove their loyalty," Longshaw said. "Students shouldn't have to educate the educators, but we do."
Looking forward, Longshaw and McGee said they would like to have more support from the community and a person of color in the school building that students of color could use as a resource.
"We want to talk to someone who looks like us," McGee said.
Individual requests for comment regarding the incident from the teachers union president, principal and the district superintendent garnered no response. In a statement from Yellow Springs Schools following the event, Denny said that the schools do not publicly comment on personnel matters, but that Materne had been placed on administrative leave, and has since resigned.
The district's statement went on to apologize to the students, saying, in part:
"We believe it appropriate to reiterate our commitment to maintaining a culture and climate where students, staff and other visitors to our schools can be free from harmful or offensive words or actions. We apologize to those who were hurt or offended, and we will continue to work diligently to create an inclusive, equitable and safe learning environment for all."