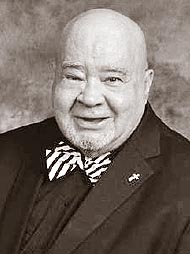 Born July 15, 1935, to Edward Richardson and Elaine (Edwards) Richardson, Paul Edwards Richardson passed away Sunday Aug. 7, 2022. He was preceded in death by his parents Elaine (1993) and Edward Richardson (1986), and brothers Mike (2013) and Cecil (circa 1937) Richardson. He is survived by his wife, Juanita (Barton); brothers Delphis and Donald Richardson; sisters Malia Henriquez, Carmenceta Perkins and Tereseta Hicks; daughters, Natasha Dela Cruz and Tonia Richardson; grandsons, Alexander and Emmanuel Dela Cruz; and a multitude of beloved nieces and nephews.
Paul studied accounting at the University of Northwestern Ohio and worked at Wright-Patterson Air Force Base for 45 years as a program manager in Air Force Logistic Command, where he was fondly nicknamed Paul of Procurement. He founded Richardson Consulting to provide his procurement expertise as a contractor during retirement.
While Paul was passionate about grilling, college basketball and football, he filled his retirement life with purpose through his work through the Catholic Church, the Ignatian Spirituality Project, touching hundreds of lives along the way. He was ordained a Catholic Deacon in 1976 in the first class of deacons for the Archdiocese of Cincinnati and was their first Black deacon.
Paul served for 10 years as president of the National Association of Black Catholic Deacons, and in 2005 was recognized with the Fr. Joseph Davis Lifetime Achievement Award. In 2013 he was among six Black Catholics honored for service to the Archdiocese with the prestigious Ministerial Award from Archbishop Schnurr.
For 36 years Paul served St. Paul's Parish as a deacon and spiritual director, where his homilies were renowned for the way they touched people's souls. He also coached people interested in improving their prayer relationship with God and assisted in bringing awareness of the Divine in all creation.
Paul volunteered as a retreat facilitator for the Ignatian Spirituality Project and helped train other facilitators to provide retreats to men in recovery in Dayton area homeless shelters.
Visitation will be held Friday, Aug. 12, at 11 a.m. at Saint Paul Catholic Church, 308 Phillips Street, Yellow Springs, Ohio. A funeral Mass will be at noon. Interment will follow at Saint Paul Catholic Cemetery, Yellow Springs, Ohio. Social distancing protocol will be observed, and face masks will be required. Out of respect for Paul's wife and others in attendance with compromised immunity, please honor this requirement. In lieu of flowers, contributions can be made in Paul's memory to the Ignatian Spirituality Project at ispretreats.org/gift.
Arrangements entrusted to Porter-Qualls-Freeman Funeral Home.