Elizabeth "Betty" Cady-Jones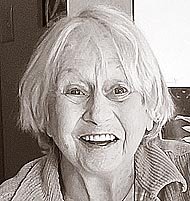 Elizabeth "Betty" Cady-Jones, 91, passed away on Oct. 19, 2022, at Ohio Hospice of Dayton. She was born Elizabeth Blythe Exner on Oct. 23, 1930, in New Haven, Connecticut, where her father, Frank, was a Ph.D. candidate at Yale University. The family included her sister, Polly, one year older; her mother, Faith; and her grandmother, Mary "Marnya" (Walker) Wiggin.
It was the start of the Depression, so her father, a physicist, went to work at Columbia Medical Center in New York City, building one of the first large X-ray machines for cancer therapy, research that was directed by Ernst Lawrence with whom he corresponded over many years. Faith was an R.N. who did social work.
Betty loved her childhood in Radburn, New Jersey, where they lived for 10 years. Among the family friends she remembered visiting them was a young Salvador Luria, future Nobel Prize winner who worked with Frank. During the Radburn years, their summers were spent at a cottage on Fire Island, New York, where the sea air helped Betty's asthma. At the end of the summer of 1938, she, Polly and her grandmother Marnya survived the Hurricane of 1938. They wrote down what happened to them, and it was retold again and again over the years.
In 1942, when Betty was 11, her mother died of cancer, which changed her world. Her family moved to Minneapolis, Minnesota, where her father went to work in research at Honeywell for the war effort. Betty graduated from South High School, and then the University of Minnesota, with a degree in education. At U of M, she met Duane Cady, who was studying on the GI Bill after the war. They married in 1951, moved to Dayton, where Duane was stationed at Wright-Patterson Air Force Base, and had two children, Gretchen (1953) and Michael (1954).
From Dayton they lived about 18 months in Oak Ridge, Tennessee, where Duane worked on the X-10 reactor. They moved back to Ohio in 1957 and settled in Yellow Springs. After the children began school, Betty taught four years at Mills Lawn Elementary (1959-1964). After son Bryan was born (1964), she earned her master's degree in special education and taught special education and later sixth grade at New Moorfield and Rolling Hills schools in Springfield, Ohio, until she retired. Many of her former students have said she was their favorite teacher.
The Cady family enjoyed extended vacations camping in New Mexico, the Rockies and Canada.
Later, family trips were taken to the Outer Banks of North Carolina, and one special trip was to the Virgin Islands. Duane and Betty dissolved their marriage in 1976.
Betty learned new things like roller blading (broke a wrist), skiing (a snowboarder broke her leg), and bicycling long distances. She camped out west by herself at times, or with son Bryan, and she rafted down the Snake River. On one trip to Alaska to visit Michael and his wife, Lori, she borrowed their four-wheel-drive and traveled around for a month. She kept a detailed log of each day and climbed Flat Top Mountain by herself. In the early 1990s, Michael and Lori sailed around the world. Betty met them in Tahiti and Bora Bora on one trip and Greece on another, becoming a brave world traveler.
In the later 1990s, a friend introduced Betty to Clarence Jones, of Kettering. They found they enjoyed many of the same things and had a connection. In love, they married and built a house together in Yellow Springs. She and Clarence set up their own stained-glass studio where they spent hours together creating beautiful handmade objects.
Over the years, Betty and Clarence enjoyed skiing trips every winter and traveled the world with Lindblad Expeditions. They visited Franz Joseph's Land in the Arctic, and the Antarctic peninsula by way of the Falklands and South Georgia. They visited Alaska together and traveled around in a rented camper. They went on a raft trip down the Grand Canyon, toured France, Italy, Greece, Egypt, Peru, Ecuador, Easter Island, Pitcairn Island and the Galapagos.
Betty and Clarence loved and shared their lives together for 14 years. It was only in her grief after Clarence passed away in 2012 after a lengthy illness that Betty was able to finish grieving for her mother. She went on skiing and traveling with friends to China, Africa, Vietnam and the Baltic, among other places. One of her last trips was on the historic yacht Sea Cloud.
Betty loved and cared for many dogs over her lifetime and, with Clarence, had four Welsh springer spaniels — CJ, Rocky, Tigg and Ember. She knitted, sewed and cross-stitched when she was not working on a project.
Betty leaves behind her daughter, Gretchen Cady Kuhn (Steve), of Springfield, Missouri; son Michael A. Cady (Lori), of Port Townsend, Washington; son D. Bryan Cady, who was her caretaker in her waning years, of Yellow Springs; grandson, Ian M. Kuhn, of Springfield, Missouri; and great-grandsons Roman Kuhn, Noah Kuhn and Oliver Kuhn, of Springfield, Missouri.
She was preceded in death by her husband, Clarence Jones; her sister, Polly Exner Starr; and her grandson Peter Kuhn.
She was our mom. No services are planned at this time.