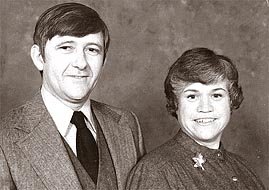 USAF Col. (Ret.) Behrle W. Hubbuch Jr., age 85, of Yellow Springs, passed away peacefully, Saturday, April 22, 2023, at Hospice of Dayton. He was born March 8, 1938, the son of the late Behrle W. Hubbuch Sr. and Lyda (Craven) Hubbuch in Louisville, Kentucky.
Behrle grew up in a large Catholic family in Louisville in the 1940s and '50s. He enjoyed diving and swimming in high school and worked summers as a lifeguard at Lakeside Swim Club, where he met his wife, Linda. He attended the University of Louisville for his undergraduate degree in dentistry and joined the United States Air Force after college to serve his country faithfully and diligently as a board certified oral and maxillofacial surgeon, achieving the rank of full colonel. He continued his medical career in Beavercreek, Ohio, after retiring from the USAF.
Behrle enjoyed auctions, antiquing and gardening in his free time with Linda. He enjoyed animals, his pets, but more specifically, horses. He had a knack for building and fixing things and passed these skills along to his children and grandchildren. He was a complicated and often perplexing man who loved his family and his country deeply.
He was preceded in death by his wife of 60 years, Linda Jane (Smith) Hubbuch; a daughter, Robin Lynn Hubbuch; and a son, Jordan Peter Hubbuch.
He is survived by his children Behrle (Jeannette) W. Hubbuch III, John (Manuella) Austin Hubbuch, Jennifer (Hubbuch) Fritsch; seven grandchildren, Jane, Austin, Birch, John, Joshua, Kevin and Lillian; four great-grandchildren, Stephan, Raven, Damian and Piper; siblings Carolyn Hall, Tony Hubbuch, Eddie Hubbuch and Donnie Hubbuch; as well as extended family and close friends.
A private service will take place by the immediate family, and he will be laid to rest in Louisville, Kentucky, at a date to be announced. In lieu of flowers the family has asked that donations be made to the Hospice of Dayton in Behrle's name — hospiceofdayton.org/donations/. Condolences can be made to the family at beltonstroup.com. Arrangements are in care of Belton-Stroup Funeral Home, Fairborn, Ohio.