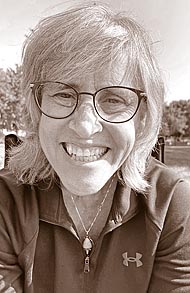 Paula Willmot Kraus, much loved and loving wife, wonderful mother, and awesomely hip and nurturing grandmother, who was born April 5, 1957, passed away Nov. 4, 2023.
A catastrophic stroke and brain hemorrhage suddenly ended her all-too-brief life.
Paula was a true joy, a gift to the world — to know her was to love her. A talented and award-winning artist, educator and lover of nature, her creativity and energy knew no bounds. Her love showered unreservedly on everyone through her inventive and health-conscious meals (carrot taco, anyone?), her remarkable photography, her willingness to lend a hand to anyone who needed a boost, and to the causes that fueled her vigor: the environment, equality and social justice. Paula and her husband, Fred, also supported and participated in the local and larger arts community, attending all manner of events and hosting house concerts in their home.
Paula found the light of her own life with her family, which was a love affair without bounds. Her husband, son, daughter-in-law and grandsons basked in the ever-warm glow that was Paula.
Paula enjoyed all manner of outdoor activities, from hiking to biking, from canoeing to waterskiing. Her favorite places in Dayton were the MetroParks and bike trails. She loved a good project, whether it was creating brick and stone walkways, landscaping, or simply problem-solving at any level. She was also a competitive athlete in high school, holding several records for swimming. One example of her versatility: As a 12-year-old member of the youth softball team The Petticoats, she smashed a home run over the fence during the annual Fourth of July All Star Game in Zelienople, Pennsylvania.
Remarkably, Paula pursued her zest for life despite decades of battles with various health issues, which she overcame without complaint, and with grace and beauty. If a choice came to move forward or to rest and recuperate, Paula invariably chose the more active path. She lived her life as if each day might be her last. After a nine-hour open heart surgery operation in 2015, she spurred her recovery process so that she would be able to dance at the wedding of her son, Max, and his wife, Kristin. Paula remarkably made it to their dance floor and has danced ever since.
As kind and even-tempered as Paula was, she would stand up for anyone or anything where she felt injustice had occurred. And despite her considerable artistic achievements, she remained humble, sweet and diligent. "If you can't get along with Paula," the family saying went, "you can't get along with anyone." It was so true.
To say that Paula was project-oriented would be an understatement of the highest degree. She found nature endlessly fascinating and inspiring. Collections of found treasures populated her home, garage and yard. They were all destined for photo projects, but as one project would be completed, two more would be initiated.
Her passion for her art infused her view of the world, a world that she celebrated and rejoiced over every day of her life. Her widely exhibited fine art photography emerged as visual poetry — her evocative images allowed and prompted the viewer to contemplate the natural world anew with her guidance, and marvel at how we are all part of the continuum — and then, perhaps, to reflect on his or her own life.
As an artist, Paula drew largely from her immediate surroundings, often using nature and natural forms to explore memory, emotions and formal aesthetics in her photographic work. She began her career in photojournalism and moved into fine art photography to tell her own visual stories. She related photography or "drawing with light" to a painter's process of mixing paint to create the initial palette of raw material. Light was often her raw material.
Paula most recently served as gallery coordinator at Rosewood Arts Center in Kettering, where she recently earned her five-year certificate of service.
Paula began her photojournalism career with the Chagrin Valley Times near Cleveland, Ohio, and then went to the Medina County Gazette in Ohio. After moving to Houston, Texas, with her family, Paula worked as the photography coordinator for Rice University, as well as a freelance photographer for The Houston Post and The Houston Chronicle. After moving with her family to Oakwood, Ohio, in 1994, she worked as a freelance photographer at the Dayton Daily News, and then began teaching at the Ohio Institute of Photography in Dayton.
Paula then focused her work on fine art photography, and widely exhibited her work. Her work has been exhibited in galleries and museums nationally, including the Dayton Art Institute, Dayton Visual Arts Center, Fort Wayne Museum, Tiffin University, Antioch College and Eastern Washington University. Paula's work can be found in many private collections, as well as in such corporate collections as the Savannah College of Art & Design, Antioch University, Montgomery County Children's Services, The Comer Collection of the University of Texas-Dallas and the Kettering Government Center. She was a member of SPE, NAPP, DVA and ASMP.
She was awarded two Montgomery County Individual Artist Fellowships (2001 and 1998) and one Ohio Arts Council Individual Artist Grant (1998). In addition, she received the Wright State University College of Liberal Arts Adjunct Faculty Teaching Enhancement Grant (2012), and a grant from the Texas Photographic Society (1996). Awards for her exhibited work include The Texas Photographic Society Members Exhibition, the DVAC Members Exhibition and many others. Paula exhibited her work in dozens of solo and group shows across the country.
She continued her work as an exhibiting artist while working as an adjunct professor at Wright State University in Dayton and later as a photography instructor at Stivers High School for the Arts in Dayton.
Paula holds a Master of Arts in photography from Antioch University McGregor, and a Bachelor of Science in biology from Pennsylvania State University. She also graduated from the Art Institute of Pittsburgh and was enrolled in the MFA program at the University of Houston. She is a graduate of Seneca Valley High School in Zelienople, Pennsylvania. She received a scholarship to spend her senior year studying on a schooner ship that sailed throughout the Caribbean and Central and South America.
Some of her public art is on permanent display at the Dayton Metro Library. Paula's "Morning Glory" is her largest work, a 4-foot-tall by 96-foot-long black and white photo mural, which was inspired by the work of Impressionist Claude Monet's paintings of water lilies. Another of Paula's commissioned public art installations is "The Nature of Light," which is on exhibit at Wilmington Stroop Library.
Paula's survivors include her husband, Fred Kraus, of Kettering, Ohio; son, Max Kraus, and his wife, Kristin, of Oakwood, Ohio; and their two sons, Camden and Carter.
Also surviving are her four brothers: Doug Willmot, of Zelienople, Pennsylvania; James Willmot, of Asheville, North Carolina, and his son Ian Willmot of Louisville, Kentucky, daughter, Ava, and son Christian Willmot, of Charleston, South Carolina; David Willmot, of Zionsville, Indiana, and his wife, Maurisa, and their daughter, Robyn, and her husband, Rob Peeters; and Stephen, and his wife, Cindy, of Sayre, Pennsylvania, and their children, Ross, Garrett, Collin, Brenna, Emmett, Annabell and Merryn.
Other survivors include her uncle David Laird, of Gainesville, Florida; cousin Bob and JoAnn MacDonald, of Washington, D.C., and their daughter, Sarah, and her husband, Charlie, and their son, Oscar, of Blue Ash, Ohio.
Additional survivors include her cousin Cheryl Hughes, and her husband, Patrick Hughes, of Washington, D.C., and their three children, Grant, Jacqueline and Gillian; cousin Tim Willmot, of Falls Church, Virginia, and his three children, Jonathan, Audie and Rocco; and cousin Becky Willmot, and her son, Jasper Gamble Willmot, of Seattle, Washington.
In addition, there are countless students, educators, artists, musicians, friends and acquaintances who were fortunate enough to experience Paula's warmth and energy; extended family members of the Kraus, Magda and Wensing clans; and all those who appreciated her work and passion for life.
Paula was preceded in death by her parents, William "Bill" Willmot and Loisann Willmot; her sister, Barbara Harrison; her uncle Ken Willmot and his wife Gerry, and their son, Jeff; her father-in-law, Fred "Fritz" Kraus, and his spouse, Dolores Kraus. Lastly, the family dog, Wallace, a handsome beast who accompanied Paula on innumerable hikes and explorations around Oakwood and beyond, also preceded her.
A visitation was held Thursday, Nov. 16, 2023, at Tobias Funeral Home, 5471 Far Hills Ave., Dayton, OH 45429, from 4–7 p.m. There was an informal open mic presentation for memories of Paula at 6 p.m. Photographs of Paula, and a small sampling of photographic images created by her, were on view.