BLOG-Founding Fathers
My husband and the father of my children is growing a beard. Jeremy has taken notice of my sudden intense obsession with Hamilton, a broadway musical that just walked away with 11 Tonys and a record number of Tony nominations. Its young author Lin-Manuel Miranda has a goatee so now my husband does too.
I'm not complaining.
After watching every youTube video I could discover, I downloaded the cast recording. Hamilton is almost entirely sung out; the recording covers the entire play…one rap battle bleeding into the next. Miranda and his cast recount the story of Alexander Hamilton, our first Treasury Secretary and architect of our federal form of government. The man was brilliant…a prolific writer and financial administrator who wrote himself out of dire circumstances. How he escaped those circumstances—and subsequent setbacks, scandals, and tragedies—and yet still maintains standing in our national consciousness is the central question of musical…now a cultural phenomenon of its own.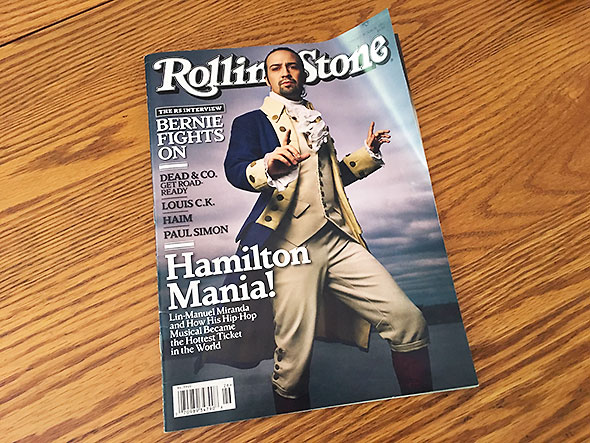 Miranda found Hamilton's compelling saga in a biography by Ron Chernow and immediately connected with the immigrant's saga and the story of its other central character New York City. My husband has also been reading historical nonfiction of late. His interest started after he read the historical fiction Lincoln's Bodyguard written by our friend and fellow military member T.J. Turner. Turner recommended portions of his research material to Jeremy and after Jeremy burned through those volume he continued also similar veins. Jeremy moved on next to the memoirs of Ulysses S. Grant, our 18th president and supreme commander of the Union army during the Civil War. And then the history of Midway Island during World War II. For Father's Day, I got Jeremy an illustrated volume of Winston Churchill's early life which Larry of Blue Jacket Bookstore recommended to me.
For Father's Day, the family also joined the boy scouts for a campout. We arrived to camp Saturday afternoon and took part in target practice: bow and arrow on one side of the field, air rifles to the opposite side. I gravitated to the air rifles possibly in part because of the muskets that feature in the first act of Hamilton but mainly because I was following in the wake of my son. He just turned six and, like many young men his age, is clearly obsessed with guns. Despite pointed dissuasion from his teachers from preschool on through elementary school, he constantly peppers his pretend play with the sound effects of rapid fire artillery. Here with the boy scouts I saw was an opportunity for him. I knew three things simultaneous: One! He was gung ho to try and here he'd be well-supervised by super-safety-conscious coaches plus his bird-dog of a mother. Two! He'll frustrated by how hard it is to hit a target. Three! I was about to amaze him with my skill.
I'm a good shot. I discovered this natural ability just before my commissioning 30 years ago when I went with my Reserve Officer Training Corp unit for weapons training. I believe this talent stems from my better-than-average near vision…hydefinition up close which I pay for by having terrible vision of objects far away. My close vision also helped in my scouting days detangling tent cords and tacking down that knot-tying merit badge. Here with a bb gun in hand, I missed my first salvo but then—after a took a deep breath—I remembered the second secret of fair aim. Release on the exhale. I reset the site and I pinged the second can at which I took aim. Ta-ping! Then, ta-ping! the third.
Across the field my husband Jeremy and my own father Tom watched the kids and I as we practice at the bird bolt. Following us, they traded what I love most about them…their stories…detailed, reverent, peppered with insight.
Jeremy set the family up for success: He packed the tents and the sleeping bags. He made the salad overflowing its bowl for the communal dinner. He works relentlessly for our comfort. He even is growing that beard because he senses my deep admiration of master Lin-Manuel Miranda.