Barack Obama elected nation's 44th president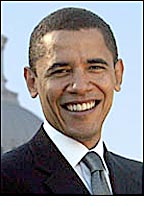 For once, Yellow Springs voters were smack dab in the middle of the mainstream in their choice of a presidential candidate. While specific numbers of village votes cast for Democrat Barack Obama and Republican John McCain were not available by publication deadline Wednesday morning, the anecdotal and yard sign evidence indicates that Yellow Springs is solidly Obama country. It's reasonable to assume that the majority of villagers joined the majority of Americans in their historic choice of Obama as the country's first African-American president.
The local count and precinct-by-precinct breakdown of voting will be published in next week's News. The vote count was slowed by the higher-than-expected use of paper ballots, according to Greene county Board of Elections member Don Hollister on Wednesday morning. Hollister predicted the count would be finished later on Wednesday.
On Election Day night, the scope of the Obama sweep became apparent when CNN called the battleground state of Pennsylvania for Obama at 8:43 p.m., and the most sought after state of all, Ohio, went for Obama at about 9:30 p.m. When western state polling places closed at 11 p.m., Obama went over the top of the required Electoral College delegates and one after another, TV networks called Barack Hussein Obama as the 44th president of the United States. Cars driving on I-675 honked their horns and around town, villagers could be heard whooping.
In the end, Obama, a first-term U.S. senator from Illinois who was described Wednesday morning by New York Times writer Adam Nagourney as "nothing short of a phenomenon," captured 52 percent of the nation's vote, compared to 47 percent for McCain, according to U.S. News and World Report. As well as benefitting from his rare political gifts, Obama also benefitted from the country's faltering economy and the highly unpopular legacy of President George Bush. According to the Times Wednesday morning, six out of 10 voters identified the economy as the most important issue facing the country, and most of those voters cast their votes for Obama. Obama also enjoyed the support of record numbers of young, African-American and Hispanic voters.
In Ohio, a hotly contested state in which both Obama and McCain spent huge amounts of time and resources, Obama won 1,606,111 votes, compared to 1,488,276 for McCain, according to the Dayton Daily News. Independent candidate Ralph Nader captured 23,753 votes, and Libertarian candidate Bob Barr got 10,924 votes.
Things went much better for McCain in Greene County, where he captured the majority of votes. In the county, McCain had 37,196 votes compared to 25,510 for Obama. Nader had 384 votes in Greene County, while Barr had 205, according to the Dayton Daily News.