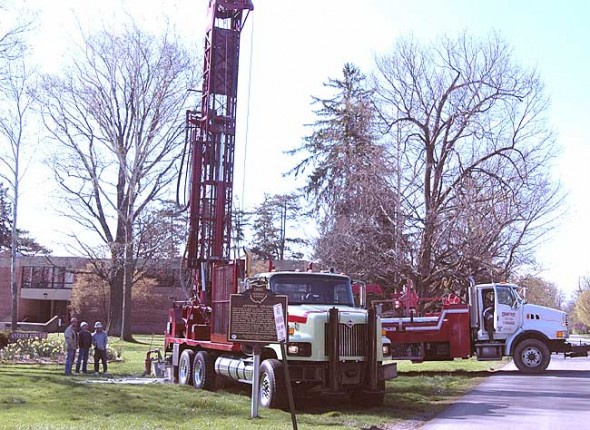 On Friday, April 9, employees of Crabtree Drilling of Springfield and Eaton Drilling of West Liberty drilled 300 feet down on the front lawn of the Antioch College campus in a first step toward determining the feasibility of using geothermal heating on campus. (Photo by Diane Chiddister)
Antioch Underground
On Friday, April 9, employees of Crabtree Drilling of Springfield and Eaton Drilling of West Liberty drilled 300 feet down on the front lawn of the Antioch College campus in a first step toward determining the feasibility of using geothermal heating on campus.
The drilling's purpose was to drop a loop, or pipe, down the opening that will be used for a 48-hour test to provide information on how well the ground at that location transfers heat, according to Jacob Crabtree of Crabtree Drilling. That information will help determine how best to design a thermal heating system for the campus, Crabtree said.
The ground needs to rest for five days after the pipe is installed before the test can be conducted, according to Crabtree, who said the crew on Friday morning had already hit limestone. All ground formations, including limestone, will conduct heat, he said, but they will do so differently depending on their composition. "A geothermal system is do-able anywhere," he said.
In an interview on Thursday, April 8, Antioch College Interim President Matthew Derr stated that college leaders were looking into the feasibility of using a geothermal system for campus heating and air conditioning, and of raising funds to cover the system's cost.