Eden World a place for creativity, relaxation
Visitors and residents alike can walk right-off-the-street into an oasis of health and rejuvenation at Eden World Center for Wellness and Discovery at 253 Xenia Avenue.
The roster of practitioners, who serve both scheduled and walk-in clients, includes a licensed massage therapist, reflexologist and two astrologers.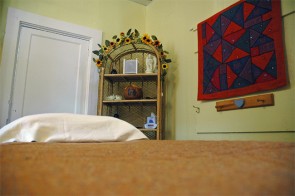 Eden World was opened in April 2010 by Jennifer Horner, who believes in exposing alternative healing to the public.
"I wanted to have wellness services more easily accessible," said Horner, who also runs the women's retreat Creative Explorations above Eden World. "I offer a variety of services so people can experience these complementary health strategies."
"We're not here to replace traditional medicine," she added. "It's a place to come in and de-stress. Relaxation is the foundation for well-being.."
Eden World consists of three entities, Horner said. Upon entering, visitors are greeted by what Horner calls "serenity space."
"It's just quieter, calmer and more settled here," Horner said.
Next comes, "creativity corner," an area with art materials such as watercolors, pastels and stamps with which patrons can experiment for $5 per sheet of paper.
Finally, "relaxation station" offers a variety of tools and services for wellness and recovery.
Besides the always-popular chair and table massage, visitors can detoxify in a far-infrared personal sauna, stimulate their feet with a long-wave electromagnetic device, heal their skin with a hot paraffin hand-dip, relax on a bed of amethysts, or walk meditatively across a cobblestone mat.
Astrology readings that are comprehensive rather than overly-esoteric and personal massage products are also available at the store.
"Everyone who finds their way here finds it so peaceful," Horner said.
Eden World caters to individuals and groups. For more information, contact Horner at jhorner@creativeexplorations.net.