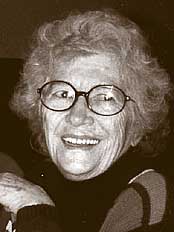 Reba Gordon died on Friday, July 9, at the Friends Care Community. She was 96.
Reba was born February 4, 1914, in Proskurov, Ukraine, the daughter of Morris Sanders and Mollie Eisenstein Sanders. Fleeing anti-Semitism in Proskurov, her family left for America. Because Morris became sick on the way, they spent four years in Poland where their visas expired. Migrating to Cuba in 1922 made them eligible to enter the U.S. on a Cuban quota.
While in Havana Reba attended public school, learned Spanish, and ate her first orange. She never forgot how the Cubans peeled this fruit: removing the top half of the skin in a circular peel, leaving the bottom half to grasp as they walked down the street sucking its juice.  
In 1924 Reba and her parents came to the United States where they settled in Manhattan. Even though she was now 10, Reba was placed in first grade because she didn't speak English, only Russian, Yiddish and a bit of Spanish. As her English improved Reba moved along in school quickly, and eventually graduated from high school with her agemates. She subsequently graduated from New York University in the teeth of the Depression, then took a job doing office work in the garment industry. She earned $12 a week, but felt lucky to be working.  
Reba's lifelong passion for classical music and opera was shared by her husband, Meyer, a lawyer and furrier whom she married in 1938. Reba and Meyer both played an active role in progressive causes throughout their marriage. Meyer died in 1987. At a memorial service Reba said of her husband, "He was a man who valued much in life — but not the usual things. He valued his children — he valued music — he valued ideas and ideals. As someone else said at another time and place — he did not cut his conscience to the fashion of the times — and more you cannot say of any man."  
Reba and Meyer had two daughters, Jane and Muriel. Before their daughters began high school, Reba returned to work as a bookkeeper so they could attend Antioch College. During decades of work Reba saved enough not only to help with the education expenses of her children and grandchildren but also to expand her own horizons with extensive travel. Well into her 80s, Reba visited a wide range of countries in the Far and Middle East, South America and other parts of the world.  
In 2003, Reba's final trip took her to Yellow Springs where she lived in the Friends Care Community. While there, Reba took walks for as long as she could, and enjoyed visits from her children and grandchildren. Hers was a life well spent. Reba Gordon is survived by daughters Jane Gordon and Muriel Keyes, Muriel's husband Ralph Keyes, her grandchildren Jeremy, Rachel, David and Scott, Rachel's husband Steve Crowther and a great-grandchild, Bruce Crowther.