Boys basketball team faces tough loss in tournament
In the first round of the sectional tournament, the Yellow Springs boys varsity basketball team faced a heartbreaking loss at the hands of Tri-Village. The Bulldogs battled back from deficits with clutch distance shooting, were dominant on the defensive boards and delivered their opponents some epic blocks, but struggled to shut down Tri-Village's offense, eventually falling 62–43.
Though the Bulldogs never had a lead in the game, they came back from numerous deficits to tie their opponents and keep themselves in the game. At the half they were only down by five points, buoyed by Greg Felder Jr.'s aggressive drives and Tyler Bruntz's outside jumpers in the physical second quarter.
At the start of the second half, senior Isaac Haller hit a pair of three-pointers for the Bulldogs, and Bruntz and Felder Jr. also contributed threes to tie the team with 32 points apiece in the third. Yellow Springs scored 14 points that quarter, but failed to stop Tri-Village's aggressive offense, who bested them with 16 points by the quarter's end. In the fourth, Tri-Village began to pull away, and though the game was soon out-of-reach for the Bulldogs, they continued to battle until the end.
Point guard Felder Jr. was strong on both sides of the court, rejecting Tri-Village's shots, putting in buckets from the inside and outside of the key, and sparking the Bulldog's attack. He ended the night with 19 points. Bruntz scored 11, Haller had nine and forwards Cole Edwards and Devin Massie each contributed two points.
Yellow Springs ended their season 8–12 and were 6–6 in conference play, tied for third place in the Metro Buckeye. Bruntz was the team's leading scorer, averaging 15.21 points per game (fourth highest in the conference) and Felder Jr. averaged 11.89 (10th in the conference). Haller ended his last season with the team at 7.56 points per game.
Photos by Megan Bachman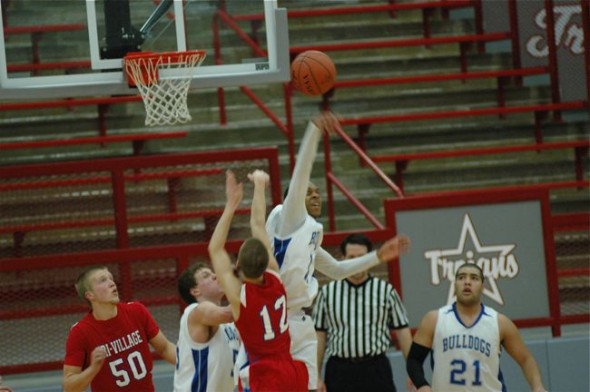 Felder Jr. delivers a devastating rejection of a Tri-Village player's shot.