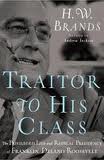 Historian H.W. Brands to speak at annual Leventhal lecture
Every year the Fred R. Leventhal family gathers together to choose a speaker to sponsor for The Wittenberg Series of artistic and academic events at Wittenberg University. And in the midst of Barack Obama's historic presidency, this year the Leventhal endowed lecture will feature historian H.W. Brands, giving a talk entitled, "From FDR to Obama: The Challenge and Promise of a Crisis Presidency."
The lecture explores the parallels between the Franklin Delano Roosevelt and Obama administrations and the ways in which each of them has either failed or succeeded in leading America out of economic crisis.
The event takes place Thursday, Sept. 22, at 7:30 p.m., at the Pam Evans Smith Arena, 250 Bill Edwards Drive, on the Wittenberg campus. Guests are invited to a book signing in the lobby immediately following the event, which is presented free of charge to the general public.
Brands studied math and history and taught at Texas A&M University for 17 years before assuming the title of Dickson Allen Anderson Centennial Professor of History at the University of Texas at Austin, where he currently teaches. He has written more than 25 books that focus on American history and politics, including Traitor to his Class, Andrew Jackson, The Age of Gold, The First American and TR. In June 2009, Brands was among nine of America's most distinguished historians and scholars invited to dine with President Obama at the White House.
The Leventhal family, which includes Yellow Springs residents Todd and Gabriele Leventhal, has endowed a speaker in the Wittenberg Series since 1982. Every year, according to Gabriele, several Leventhal family members meet to discuss and nominate possible speakers relevant to current issues. A committee of Wittenberg professors and students do the same, then the two groups come to consensus on which to invite.
Some past presenters include Pulitzer-prize winning reporter and author David Halberstram; influential financial analyst Malcolm Forbes; Harvard law professor Arthur Miller; Nobel Peace Prize recipient Elie Wiesel; historian Doris Kearns Goodwin; journalist Carl Bernstein; and environmental lawyer and activist Robert F. Kennedy Jr.
Other events in this year's Wittenberg Series include The Second City Touring Company, Photojournalist Ron Haviv, NEXUS percussion group, and poet Naomi Shihab Nye. To find out more, visit www4.wittenberg.edu/news/series/11-12/.