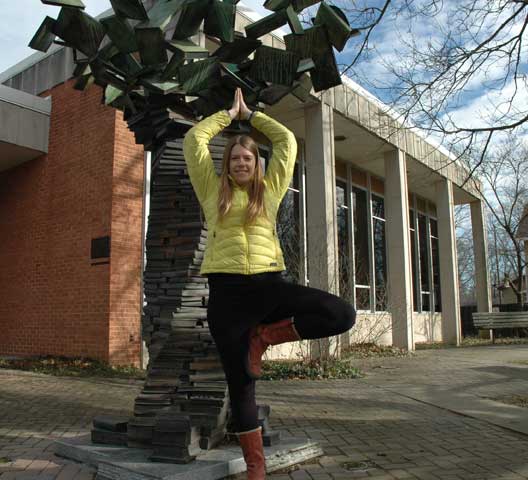 Connect through yoga to goals for the new year
For those who want to integrate their inner life with the day-to-day world, there is a workshop coming free of charge to the library this weekend offering tools to help. Jen Ater, owner of Inner Light Yoga & Wellness, will conduct a yoga workshop, "Be the Change: A Yoga Workshop for the New Year" on Saturday, Jan. 14, 2–4 p.m. at the Yellow Springs Library. The event is open to new and continuing yoga practitioners and aims to use a combination of meditation and movement to affect one's relationship to self and the outside world.
Yoga, which is founded on the concept of unity or bringing together, is as much about creating personal wholeness as wholeness in the world around us, according to Ater. The weekend's workshop, to include journaling, discussion and basic yoga, will demonstrate ways to connect new and continuing yoginis to their goals for positive change in 2012.
Ater is the director of Inner Light Yoga & Wellness and is a wholistic and Thai massage practitioner. She teaches yoga at local and area schools and at the Miami Valley Juvenile Detention Center while she pursues a self-designed master's degree in wellness and counseling at Antioch Midwest.
Workshop participants are encouraged to preregister at the library at 352-4003.