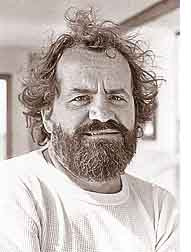 Donald Reiter Wallis Jr, newspaper publisher, journalist, author and community advocate, died unexpectedly at his home in Yellow Springs on Monday, Jan. 30.
Don was dedicated to building community as a newspaper editor, resident, educator and author. In all these roles, he was a strong advocate for justice, a fierce opponent of classism, racism and ageism.
Don was editor of The Switzerland Democrat and the Vevay Reveille Enterprise in Vevay, Ind. from 1972–1977. During this time, he won several awards including the state of Indiana's "Blue Ribbon" award as the best weekly newspaper, and the Indiana State Teacher's Association award for outstanding media contributions to education. Don returned to Vevay newspapers in 1991 as both publisher and editor. He used the newspaper as a platform to build community by emphasizing the accomplishments of local residents, highlighting all sides of local controversies and including a range of resident voices. Patrick Lanman, current editor of the Vevay Reveille Enterprise and the Switzerland Democrat said about working with Don, "I saw his passion for issues and his compassion for people. He taught me what it really meant to be a 'community journalist.' He never shied away from an issue and didn't mind raising a little hell if needed. He firmly believed that a community paper worked best when it served as a means where information could be exchanged, and from that, the community would grow and be better for it."
Don continued his tradition of community journalism when he moved in 1977 to become editor of the Yellow Springs News. He would highlight local sports and even gave out his home number to make sure that the information was in on time. He valued the diversity in the community and strove to have the newspaper reflect the true demographics of the community. Don valued the full discussion of issues and had been known to occasionally give up some of his editorial space to letters to the editor. Don held the position of editor and part owner until he retired from the paper in 1991. As editor of the Yellow Springs News, he won many awards for his excellence in journalism.
Don's dedication to community reached beyond the pages of the newspaper. He was a member of the Antioch School board of directors and a member of the Yellow Springs Human Relations Commission, where he worked on social justice issues such as racism and ageism. His passion was establishing a platform through which youth could actively participate in and be heard by the community. This prompted him to establish the Yellow Springs High School Facilitators, a youth group dedicated to addressing social issues and breaking down barriers between disparate groups of people. He self-published "The Listening Project," which was a series of interviews with young people on topics ranging from "Growing Up In Yellow Springs" to "Drugs and Alcohol," and other issues relevant to both the youth and the community at large. "He was committed to the best that a democratic society has to offer," local resident Bomani Moyenda said about Don.
Don's dedication to democratic ideals was reflected through his teaching. Don's teaching career began in 1966 at Bowling Green State University, where he earned a master of arts degree in American studies and a master of fine arts degree in creative writing. While at Bowling Green, Don championed the students' cause and taught in the alternative "New University" that was created in response to the Kent State shootings in 1970. As a result of the turmoil following the shootings, Don moved with his family to northern California for two years. Don resumed his teaching career after moving to Yellow Springs. Until the end of his life he was dedicated to supporting students in cultivating their voices. He conducted workshops and taught classes at Antioch College, Antioch University Midwest, Yellow Springs High School, McKinney Middle School and the Antioch School.
In addition to his experience as a journalist and educator, Don was an accomplished writer, publishing many books and anthologies including OYO: Ohio River Anthologies, Harlan Hubbard and the River, Shantyboat Journal, Payne Hollow Journal, All We Had Was Each Other: An Oral History of the Black Community in Madison, Indiana, Madison and the Garber Family and Children of a Child Centered School.
Don's nephew and general manager of the Madison Courier, Curt Jacobs, said that All We Had Was Each Other altered the way that many saw their history in the community and gave the opportunity to prompt discussion where none had taken place. It provided a bridge between the past and the present.
In addition to his formal roles, "Don was a mentor to the community" said one local business owner in Yellow Springs. Many residents commented on his ability to mentor youth and adults by modeling listening skills. Don was "a listener, someone who was a friend and who genuinely cared about what you have to say," a local teenager stated. Don encouraged people to pursue their dreams of writing books, studying music, or whatever it was that they were talking themselves out of, but really wanted to do.
While Don was an integral part of the Yellow Springs community, he felt most at home in nature. Regarding the Ohio River, a place that he loved and explored with his wooden boats, he said, "By river I mean all of it: river and earth, the flowing stream and it's valley, shores and steep banks and bottom lands and the rising hills, and all the wild and human life of it, and the sun, wind and sky, river air and river light — all of it — the river, one place." He had the same feeling about the South Glen, where he walked along the river daily, observing and communing with nature. One could usually find him there, with a camera or notebook in hand.
Don's passions included education, youth, free press, the power of words, being a father, and as a Hoosier, all things basketball. Don played basketball for Madison High School and led his team to the 1959 Indiana State semi-finals. He enjoyed impromptu holiday match-ups with his daughters and nephews and never missed a March Madness game.
While Don accomplished a great deal throughout the course of his life, he was most proud of being a father. He taught his three daughters the value of finding their own way in life, and always supported them in their endeavors. He was a loving, attentive, accepting and patient father. He was greatly loved and will be greatly missed.
Don is survived by daughters Laura Wallis of Northampton, Mass., Sarah Wallis of Yellow Springs and Jessica Wallis of Boulder, Colo.; by his mother, Mary Goode Wallis, who is 100 years old; by his sister, Jane Jacobs; by his nephews, Curt and William Jacobs and their children, all of Madison, Ind. and by his niece, Sally Clymer, and her family of Cape Cod, Mass.. He was preceded in death by his father, Don R. Wallis Sr., and by his brother, Michael Christian Wallis.