BLOG-Thursday Night means Oysters at the Winds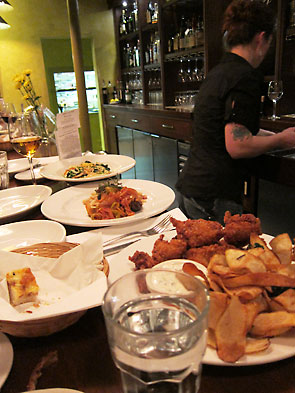 I first moved to town as a graduate student in 1994. Graduate school was a grueling experience of late nights pouring over textbooks, computer code, and data; and, as I entered my second year of the program, I found the experience terribly isolating. In need of a social outlet, I took the wise counsel of my landlords, Paula and Gerry Womack. Eat at the bar of the Winds Cafe, they told me, and you will find good company. Soon I settled in as a Thursday night regular and it was here that I developed my philosophy on how to introduce myself to new people. At first it was important just to be seen, but then I found that a neutral observation—neither about myself or the other person—was the best way to start a conversation.
The Winds Cafe presents a host of lively topics for its customers not just in their incredible presentation of food and wines but in the art that grace their rooms. The menu is seasonal and the staff is superbly knowledgable of the constant variation and ready to share. Soon I could strike up a conversation with just about anyone, both the regulars and visitors from all over the country. In particular, a dear friendship with Corey Slavitt developed as she came most Thursdays for a bowl of soup after her WYSO jazz show. I learned of her writing, her buoyant dog Zoey, and Dayton's vibrant music scene. We'd often get so engrossed that we'd close the place as the wait staff piled chairs on top of tables.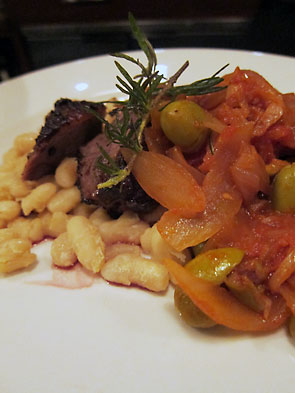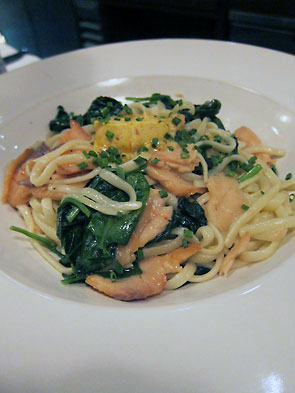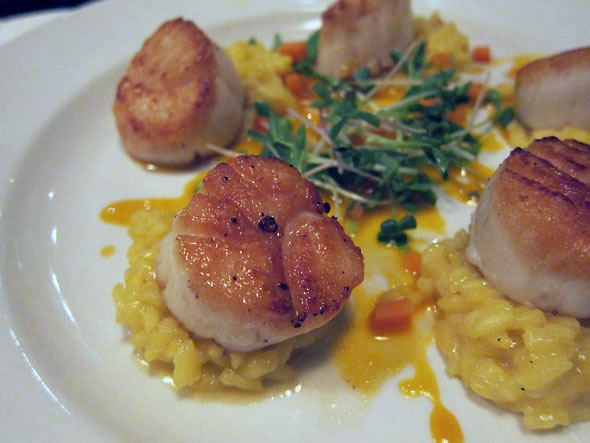 Corey, alas, has since moved to DC but Thursday nights at the Winds offer sure enticements. This winter the greatest of these is that Thursday is Oyster night. Perhaps it is my Norwegian blood that steers me to the Winds, but I am not alone in craving their masterful rendition of crispy fried oysters and a side of slaw. Lately we've been bellying up to the bar—the whole family—after a visit to the Yellow Springs Library. Our children love the olives, the cheese plate, and the pasta special. We eat family style each of us shamelessly sampling one another's food. Such boldness used to shock my husband when we first dated but now even he appreciates the allurement of the forbidden fruit on a neighbor's plate.
A Thursday trip to the Winds Cafe often includes purchases at the WInds Wine Cellar. The Wine Cellar has become an important resource for my pantry providing its more exotic treasures. I get my port and sherry there for cooking, white anchovies for snacks and salads, cheese for the weekend's omelets, olives for the kid's snacks, assorted beans and grains, and Jeni's Splendid Ice Cream. This week I restocked on the bamboo rice that was a big hit on Christmas and, in a rare event, ordered a case of the hard cider featured on the Winds' menu this winter, Clos Normand French Brut Hard Cider. It is so marvelous!
These days, many conversations at the Winds kick off with praise for our two young children. We've been bringing both since their infancy, and they get a warm reception from staff, owners, and fellow customers for which we are grateful. Though in no way perfect, they make excellent dinner companions enjoying the meal with gusto. In the end, I put it down to the good food and the engaging atmosphere. At the Winds, we are ever well supplied with both.
To experience the Winds Cafe in full glory, come to their six-course Spanish Dinner on Tuesday 27 March 2012. Make your reservations by call (937)767-1144. To place your order with the Winds Wine Cellar (really, the hard cider rocks!), email info@windscafe.com or call (937)767-9441.