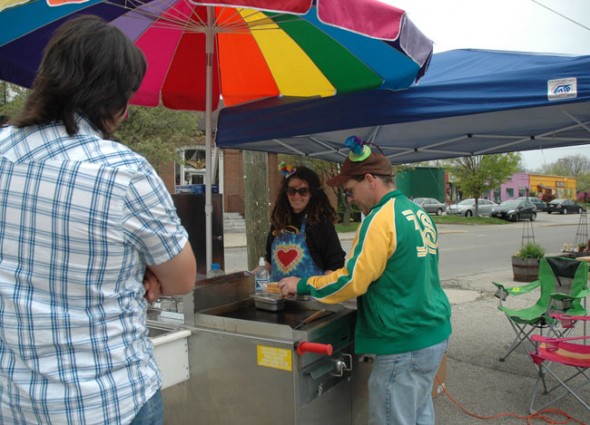 Brother Bear and Mindy take to the streets with hotdogs
The northern entrance to the village got a little more urban this week when Patrick and Mindy Harney popped open their pushcart to peddle hot dogs to passersby on the corner of Xenia Avenue and Corry Street. Brother Bear (Patrick) and Mindy may have sold their coffee business but not their name, now dedicated to Brother Bear and Mindy's Lot Dogs. The mobile business expects to operate most days from the lunch hour into the late afternoon.
Other mobile food vendors have been cropping up around the village over the past few years, including those on Village BP's lot selling handbags, jewelry, french fries and bourbon chicken. Misael Aviles with New Orleans Grill has been a fixture on the lot most days this winter and spring, and a truck selling french fries and hotdogs has been on the south side of the lot for the past three weekends.
The vendors add a year-round festival atmosphere reminiscent of Street Fairs. But some local residents and business owners have found them to be an eyesore and in rare cases, a nuisance. But if anything, the nascent industry in town seems to be growing. Next week, Akhilesh and Pratibha Nigam plans to open a new Indian food truck in the parking lot of Corner Cone.
Read more about mobile food vendors in next week's YS News.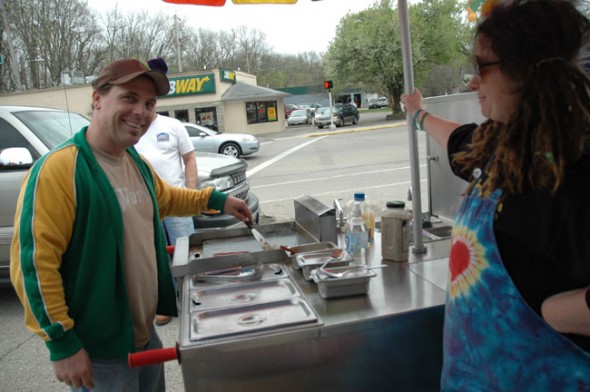 Patrick and Mindy Harney grill hot dogs for a customer who waits on the street.