Glen, Tree Committee to talk pawpaws
What exactly is a pawpaw, you ask?
According to the Ohio Pawpaw Growers Association, pawpaws are the largeset fruit native to North America. The pawpaw was also designated the Ohio state native fruit in 2009. The oval fruit tastes like a tropical cross between a mango and a banana, though its texture is more creamy, and its yellow flesh is permeated with large brown seed pods.
Native Americans have been cultivating pawpaws for centuries, and according to records from the early American settlers, the Lewis and Clark Expedition subsisted on pawpaws during their travels, and the Pioneers ate them before apples and other fruits were introduced to America. George Washington and Thomas Jefferson were both said to favor the chilled fruit for dessert.
The pawpaw is a nutritionally superior fruit, containing protein, fat, minerals and amino acids in amounts equal to or greater than those found in bananas, apples and oranges. Pawpaws are well suited to the soils and climate, ripening in late summer to early fall, depending on the growing climate.
To find out more about the advantages of pawpaws and how to grow and use them, the Yellow Springs Tree Committee will host an education program Saturday, March 30, at 2:30 p.m. at the Vernet Ecological Center. Speakers will include Ohio Pawpaw Growers Association President Ron Powell and Glen Helen land manager George Bieri. Powell will discuss "Ten Things Everyone Needs to Know About Pawpaws."
Refreshments will be provided.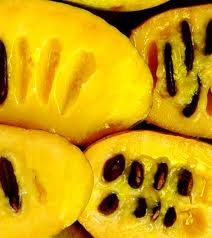 To eat a pawpaw, make sure it is fully ripened by waiting until the fruit is slightly soft to the touch and gives off a nice banana/mango aroma. Ripeness can also be gauged by squeezing gently, as you would judge a peach.
Fully ripe pawpaws (like avocados) last only a few days at room temperature, but may be kept for a week in the refrigerator. The fruit may also be refrigerated before it is ripe and kept for up to three weeks before ripening at room temperature. Ripe pawpaw flesh, with skin and seeds removed, can be pureed and frozen for later use.
Pawpaws should be peeled, and the large seeds removed. For cooking/baking, a good general rule of thumb is to substitute the pawpaw for the banana.
Following are a few recipes from Kentucky State University.
Pawpaw Custard
1 c. pawpaw pulp
2 oz. grated coconut
11⁄4 c. half and half
1 tsp. vanilla
3 eggs, beaten
1 dash salt
2 oz. sugar (superfine preferred)
zest of orange (optional), serrated
Mix pawpaw pulp with coconut. Layer on bottom of buttered ovenproof casserole dish. Heat half and half mixed with the vanilla until bubbles form. Beat eggs with salt and sugar and still beating, pour on the half and half very slowly so as not to curdle the eggs. Add the orange rind if using. Pour over fruit and place in a pan of hot water. Bake in a moderate oven (375 F) for 30 minutes or until custard is set. Turn out if possible when cool to show off the fruit layer.
Pawpaw Preserves
12 pawpaws (about 5 lbs)
2 c. water
3/4 c. sugar
1 lemon
1 orange
Peel pawpaws. Put in kettle with water, without removing seeds. Boil until soft, then put through a sieve. Add sugar and juice of orange and lemon. Boil until thick. Grated rind of orange or lemon may be added. Put in sterilized jars and seal.
And from the Pittsburgh Post-Gazette:
PAWPAW ICE CREAM
Leslie Mansfield writes in "The Lewis & Clark Cookbook: Historic Recipes from the Corps of Discovery & Jefferson's America": "Pawpaws have a flavor that can best be described as a creamy tropical custard. Hence their other name — custard apple. A favorite of the men of the Corps during their travel through Ohio, pawpaws grow wild in about 25 other states east of the Mississippi River."… This was the ice cream served at the dinner honoring Mansfield at the Pines Tavern.
2 cups pawpaw puree, thawed if frozen
2 cups heavy cream
1/2 cup milk
1 cup sugar
Place the pawpaw puree in a bowl and set aside. In a heavy saucepan, stir together the cream, milk and sugar. Bring the mixture to a simmer over medium heat. Slowly pour the cream mixture into the pawpaw puree, whisking to blend. Cover with plastic wrap and completely chill in the refrigerator. Pour the cold mixture into an ice cream maker and process according to manufacturer's instructions