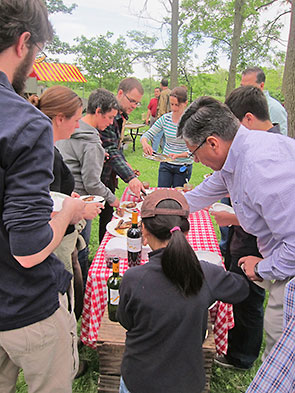 In the cooler weather of this year's Memorial Day weekend, nothing seemed more idyllic than a family picnic. On Sunday 26 May, La Pampa Grill offered the perfect setting and a tasty menu. Under the tender spring leaves at Peifer's Orchard, we spread out our picnic blankets to enjoy wood grilled chicken and pork and the wines of Argentina.
Cooking over a wood fire may seem the up and coming rage for some, but for La Pampa Grill owner Mariano Rios it has long been a way of life. In the La Pampa Province of Argentina, the tradition of cooking whole meats over wood is strong especially within Mariano's family and he participated in all parts of it. He has raised cattle, sheep, and chickens and worked as a butcher and a grill chef. After branching out and exploring a variety of culinary traditions, he returned to his passion and fundamental roots and, in 2012, brought the Argentinian cooking tradition to Yellow Springs as a mobile food business.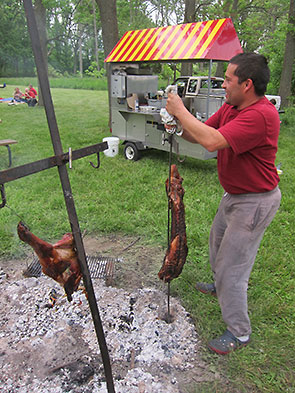 Mariano is a great advocate of the local "farm to table" movement or as he envisions it here "farm to street". From his food cart, Mariano offers the brilliant flavors of meats gathered from area farms such as Anderson, New Liberty, TS, and Keener Farms. Lamb, pork, beef, and chicken all taste a special kind of amazing after their turn over La Pampa's wood coals. Given the warm reception he received from the community last year, Mariano has invested in new custom-built food cart and grill from which he can vend street fairs and cater private events. At Peifer Orchards on Sunday, we were treated chicken and pork cooked over an open fire pit. Whole chickens shoulder to shoulder turned a charred gold over the hot ash and wood, and pigs stretched on metal spits to roast to blackened red above the open flame.
The gathered crowd of families marveled over the texture and flavor. We all returned for seconds and—alas—dwindling thirds as moist and tender meat was picked free from bone. The excellent food was enhanced by the settling: the cool shade, the green grass carpet beneath us, and the pleasant blue sky above.
On our arrival, we set up our picnic table, chairs, and blankets to the north at the edge of a grass meadow. Soon we were joined by two families. The fortuitous meeting was the kind that the Yellow Springs community often affords: the likely event of running into good friends.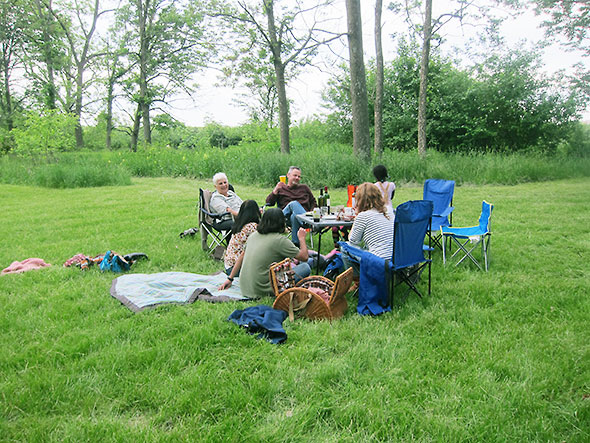 We sampled La Pampa's food and wines and the consolidated provisions of the three families: cheese, chips and pretzels, nuts and dates, a French Bordeaux, and a Sauvignon Cabernet from Argentina.
Mariano and his wife Luisa Bieri Rios see their mission perfectly captured in Michael Pollan's new book "Cooked".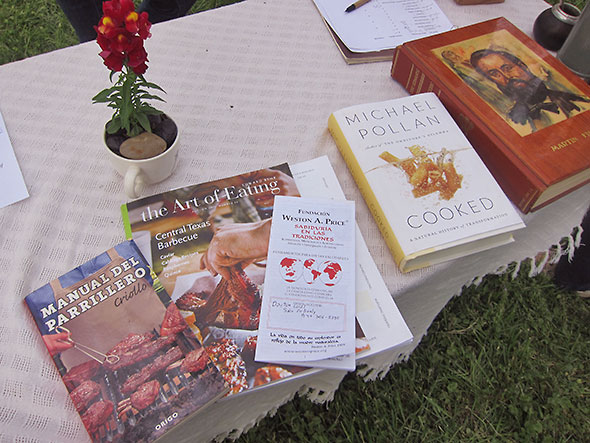 Within its pages, Michael Pollan evokes the classic elements of good cooking—fire, water, air, and earth—the same elements that Mariano and Luisa transform with great modesty, skill, and respect into splendid delight.
Indeed Sunday's event had all the necessary elements. A comfortable spot, a beauiful setting, good friends, and that special sauce that makes you come back for more.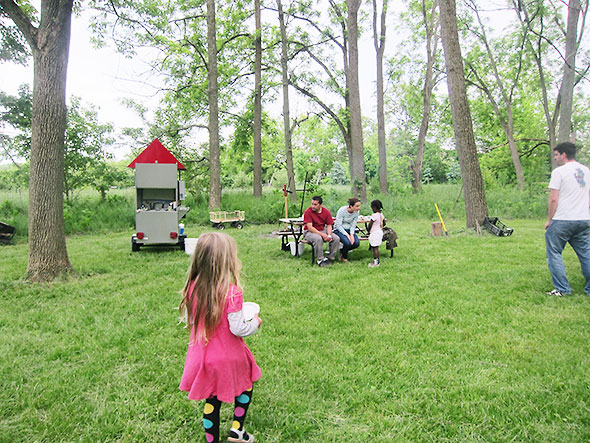 Besides the chimichurri, the special sauce of La Pampa is the generosity of Mariano and Luisa. They are great ambassadors to gifts of this area… and are ready and willing to share the blessings of eating well and out of doors with all who will seek.