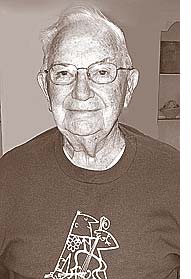 Merle W. Huntington passed away September 9th of multiple illnesses at the age of 92 in Brevard, N.C. He was born in 1920 in Bradford, Penn. to Sarah Neely Huntington, a Latin teacher, and Merle Huntington, Sr., an oil field mechanic. He attended Jamestown Business College, where he met and married Barbara Griffin, daughter of a Latin teacher and a dairy farmer. They moved to Buffalo, N.Y., where he served in the Navy and where they had a son, Jeffrey.
After the war, the family moved to Michigan where Merle worked as a purchasing agent for Kaiser-Frazer automobiles and as a salesman for Kaiser Aluminum. There was no housing, and the family lived year-round in a primitive summer cottage for two years. Their second son, Kevin, was born in Ypsilanti.
The family moved to a real house in Plymouth, Mich., where they were very active as civic volunteers, in scouting, in music and in the Presbyterian Church. He took sales jobs for automotive parts suppliers, moving up to management, and ultimately to owning his own stamping plant, Warren Products, in Northville, Mich.
In retirement, Merle and Barbara moved to Brevard, N.C. and Longboat Key, Fla., where Barbara, who had been an invalid for 33 years, passed away in 1992. In 1997, Merle married Evelyn Spache, a widow and retired college professor.
Merle was gregarious and very active in Rotary. He loved cars and geography, eventually visiting all seven continents. He loved music and sang in church choirs into his 80s. He played in tennis tournaments at 90. Merle supported the interests of his family members, and was the first donor ($25) to Chamber Music Yellow Springs in 1982. He was something of a scholar of history and of comparative religion, which worked against a naïve faith, but he said it didn't matter; he couldn't live without church music.
Merle is survived by Evelyn Huntington; Jeffrey and Lee Huntington of Yellow Springs; Kevin Huntington of Avon, Conn;, grandchildren Matthew Huntington, of Rochester, Minn., Laura and John McDonald, of Yellow Springs; Graham and Christina Huntington of Canton, Conn. and Alex and Piper Nowicki of Saratoga Springs, N.Y., as well as great-grandchildren Kathleen, Karen and Sean McDonald of Yellow Springs, and Samuel Huntington of Canton, Conn.
There will be a memorial service in Brevard on Saturday, September 21st.