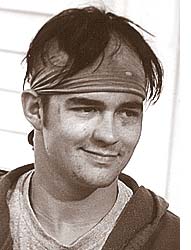 Paul Erik Schenck would have been 43 years old on Oct. 5; he left his family too soon.
Traveling to many places with his family during the 24 years his father was in the Air Force, Paul Erik loved best his time in upstate New York. There he was active in Boy Scouts, achieving the rank of Life Scout. Many summers he spent camping and canoeing in the Adirondacks, chasing loons across tannin-stained lakes, eating pancakes studded with just-picked wild blueberries, growing strong. A highlight at age 15 was a six-week trip to Philmont Ranch, N.M.
At age 27, Paul Erik decided to attend Hocking College. Two years later, he completed ranger training with honors. His family was proud of his accomplishment as he worked tenaciously at higher math, his weakest subject. At graduation, mentor Bill deWeese singled out Paul Erik as the person he would most likely choose to ride with if a troubling situation befell him. Paul's plan was to move out West and work as a park ranger.
Often, life happens while people make plans; so it was that with the birth of Paul's beautiful daughter, he chose to stay in this area, working at Caesar Creek with the Army Corps of Engineers.
Paul Erik was a good swimmer, played soccer and loved to play "war" with his friends in the woods behind our base house. Everyone joked that his favorite color must be camouflage. His creative, outside-the-box thinking was a delight to his artist mother and friends.
Paul came from a long line of early Americans who fought for freedom, therefore making him a bona fide member of the Sons of the American Revolution. There were Robinsons of Virginia, Schencks of Dutch New York and Debevoises from Huguenot France and Pennsylvania.
On Paul's mother's side, there was a long line of Prussians from Huguenot France and southern Germany who acquired land before the 1700s, after the plague in East Prussia. Paul's family is convinced that there was Roman blood in Opa's line, as his profile resembled that on some Roman coins.
Paul Erik leaves behind two children, whom he dearly loved and for whom he loved to make special meals. Missing him and mourning his untimely death are his sister, mother and father, 87-year-old grandmother, aunts and uncles, cousins, nieces nephews, ex-partners and many, many friends.
"I love you, and I always will," he shouted out before he was killed by police snipers.
Paul Erik wished to have a Viking funeral; unfortunately, Ohio seems to be short of Viking ships. Some of his ashes will be set afloat later on a model float. In the mean time, a celebration of remembrance is planned for the 19th of October at his parents' home. More details later.
"In the end there are three things that last — faith, hope and love. And the greatest of these is love." 1 Corinthians 13:13.