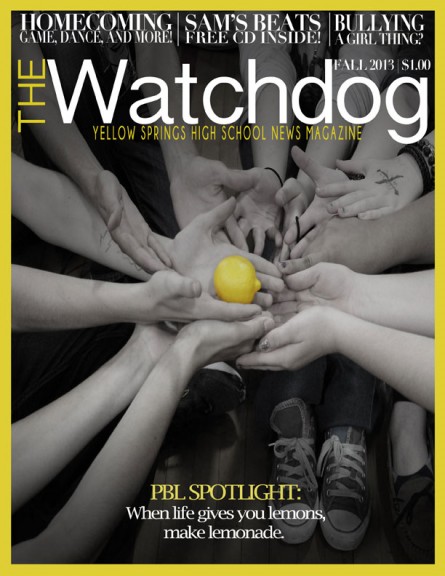 Writers, poets and artists give voice to their high school lives
The Watchdog is back! This month Yellow Springs High School published the Fall issue of The Watchdog: Yellow Springs High School News Magazine. With opinions about curricular issues, poems and short stories, a photo essay about a day in the life of Principal Tim Krier, and news and sports reporting on both school and local community issues, the 60-page magazine is a snapshot of the views and voices of the current student body. 
Editor-in-Chief Francesca Brecha managed the issue, with the help of faculty advisor Desiree Nickell, whose junior English class completed much of the work as part of a project-based assignment. And with advertisements from local businesses and a hand-bound 8×11 layout, the school hopes to continue to publish the magazine on a quarterly basis.
The magazine started about four years ago as a school news outlet to be printed each quarter. Three volumes were published before the magazine took a break. But this year, the magazine is back with the fourth volume and a second issue due out in the not too far future.
The magazines are $1 an issue and are available at Tom's Market and other local retailers.