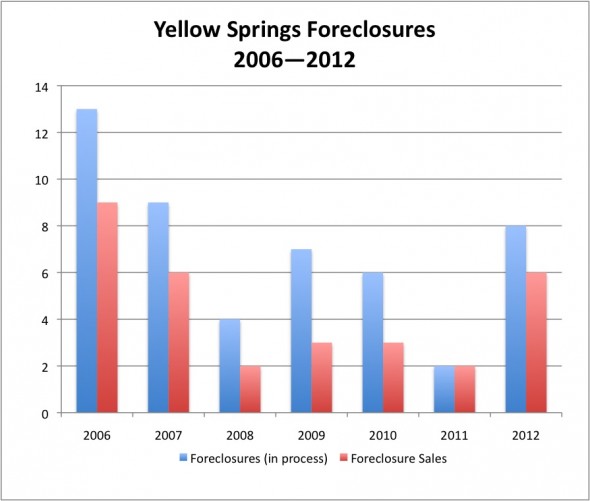 High foreclosure rate prompts workshop
How to avoid foreclosure, and work with lenders during foreclosure, will be on the agenda of a free community mortgage workshop hosted by Yellow Springs Home, Inc. and the Neighborhood Housing Partnership of Greater Springfield from 6 to 7:30 p.m. Tuesday, April 15, at the Yellow Springs Community Library. Other topics to be discussed are refinancing options, resources available for major home repairs and weatherization, free financial counseling and frequent mortgage rescue scams.
Though Yellow Springs has weathered the housing crisis well with only a small dip in home sale prices, foreclosure rates are relatively high here and may be on the uptick. Since 2006 the village has averaged seven homes in some stage of foreclosure and 4.5 foreclosure sales per year, about three times the Greene County average per housing unit.
Enter local Community Land Trust Home, Inc., which has had no foreclosures on the 15 owner-occupied homes it has built since 1998, and lots of ideas on how financial counseling and homebuyer education can prevent foreclosure.
"When we found the foreclosure rate was high here, we wanted to provide some of our services," said Home, Inc. Executive Director Emily Seibel. "Yellow Springs is not immune to the impact of the recession here and even though we have a strong housing market, people are struggling."
At the workshop there will also be information on how people can take advantage of the state's popular Save the Dream program, which has helped thousands of families who have experienced a sudden job loss, divorce, medical issue or family death to stay in their homes. Registration for the state program, which provides rescue funds of up to $35,000 of a homeowner's mortgage, expires on April 30.
The annual average for the number homes in the process of foreclosure in Yellow Springs, at 7 houses per year, is 1 in 227 occupied housing units, or 1 in 205 improved residential lots here. Foreclosures varied from a high of 13 in 2006 to a low of two in 2011. In 2012 there were eight foreclosures and six foreclosure sales, according to the Greene County Sheriff's website.
Meanwhile, last year the Yellow Springs housing market had its strongest year since 2007. Sixty houses were sold, the most since 2005, and the average sale price, $219,320, was up 13 percent from 2012, and was 70 percent higher than the Dayton area average, according to data from the Dayton Area Board of Realtors.
Read the full story in the April 10 issue of the News.