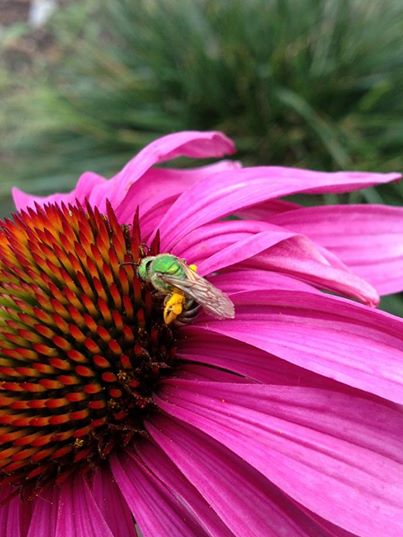 A plug for pollinators in Yellow Springs
The small among us can sometimes be the most powerful, and last week's talk about the importance of supporting bees, butterflies, birds and other native pollinators was such a case. Many of the pollinators that not only help grow our food but help propagate most of the flowering plants in the U.S. are endangered. And a local group of land stewards, including the Antioch College c-op department, the Tecumseh Land Trust and Nadia Malarkey of Nadia Malarkey Garden Design, is challenging villagers to become a model community for pollinator protection. 
The group launched its Yellow Springs Pollinator Regeneration Project at a presentation at Antioch College on Wednesday with the hope that if enough villagers agree to become pollinator protectors, the village can be part of a corridor that supports the pollinator migration.  
"This is a call to action," Malarkey said.   
According to Malarkey, pollinators have been losing habitat in North America for 50 years, due to urban development and monoculture farm practices. And because of unsafe lawn and garden care practices, many pollinators have also succumbed to various forms of insecticides and herbicides, including the newest neonicotinoids, which enter a plant's vascular system and poison the insects that feed on it. 
By growing a diverse range of plants and trees that provide habitat for animals such as bees and catapillars, residents can help reverse the negative trend and bring back the pollinators that once thrived. Through the Xerces Society, a nonprofit that promotes the conservation of invertebrates and their habitats, residents can sign a pollinator protection pledge to grow pollinator-friendly flowers in their own yards and spread the word about the campaign to others. According to Xerces website, the pledge asks participants to "1. Grow a variety of bee-friendly flowers that bloom from spring through fall. 2. Protect and provide bee nests and caterpillar host plants. 3. Avoid using pesticides, especially insecticides. 4. Talk to my neighbors about the importance of pollinators and their habitat." 
About 2,000 people in the U.S. have joined the effort, and Malarkey hopes that in a five-year period, Yellow Springs can get 89 percent of property owners to make the pledge as well. 
"The goal is to become a prototype for other communities to follow," she said. "Things are unravelling and we need to heed these warning signs."
The local Pollinator Regeneration group, including Beth Bridgeman of Antioch co-op, and Michele Burns of TLT, plans to keep education about pollinators going with a backyard stewards tour later this summer and a pollinator symposium this winter.