BLOG-Fun with the Cousins
The week leading up to July 4th held much promise. In preparation for a visit from her Springfield IL cousins, my daughter sought out a special treat to offer. She ventured into the side garden of our house and reached out into the enfolding leaves. Her keen eyes searched for red fruit—hiding shyly under the green canopy of wild ginger and native berry bush—to harvest the first significant wave of raspberry.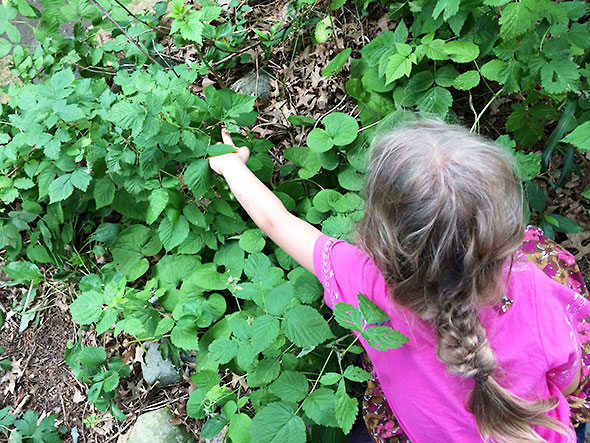 My daughter kept careful count as she picked scarlet capped raspberries and remained resolute in refusing to sample her yield. Aunt Trish and her two daughters were to visit us for a whole week, and she wanted to make suitable preparations. Harvesting just before their arrival, we counted twenty-five ripe red raspberries—our biggest yield yet this year—enough for three to four berries each. With this initial haul and many ripening fruit weighing heavy on the vines, we felt confident in our capacity to sweeten our guests' breakfasts with splashing sweet bites of homegrown fruit.
Our visitors arrived at noon on Monday, a bright day with a lifting breeze. We met at the local landmark Young's Dairy and sat at its long banquet table playing tic tac toe until our lunch order was ready.
After lunch, we ran outside to soak up sunlight and climb atop the tractor tires and milk jugs. The kids enjoined in easy alliance running around each other in constant, playful contact. When Jeremy and I waved goodbye to head back to work, Trish and the kids were skipping off to Udders and Putters for a round of mini golf.
The children's next few days were filled with pools, playgrounds, and each other's teasing company. For the approaching July 4th holiday, my two children had formed a special plan. A few day's before the cousins arrived, we took the children on errands in the state capitol. Amid the skyscrapers of downtown Columbus, we drove tantalizingly close to the interactive science museum COSI, aka Center of Science and Industry. Both children recognized the building immediately and lobbied for entry. Normally, we encourage scientific discovery, but we had to turn the sweet imploring souls down as closing time at COSI was imminent. Still, in checking the hours of operations on the center's website, I saw a prominent notice declaring that the science museum would be open on Independence Day. I disclosed this finding to the family and, without further debate, our young engineers made the opportunity their dearest hope and plan. For the next three days, our daughter constantly reminded me to secure her cousin's positive approval.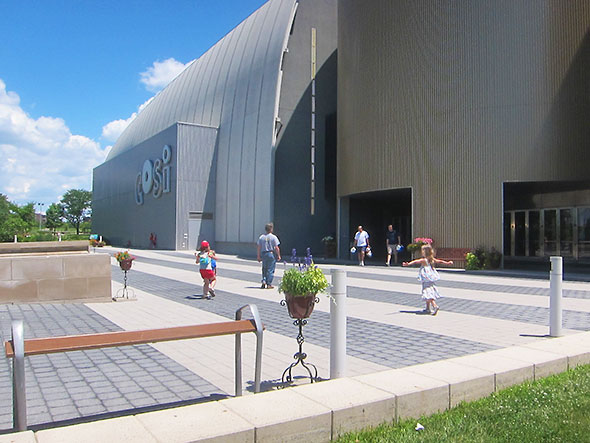 Friday arrived—a spectacular day—and the children woke up early and excited. Hoping to let Trish and Jeremy sleep in after a week of worthy efforts, I tempted the children outside.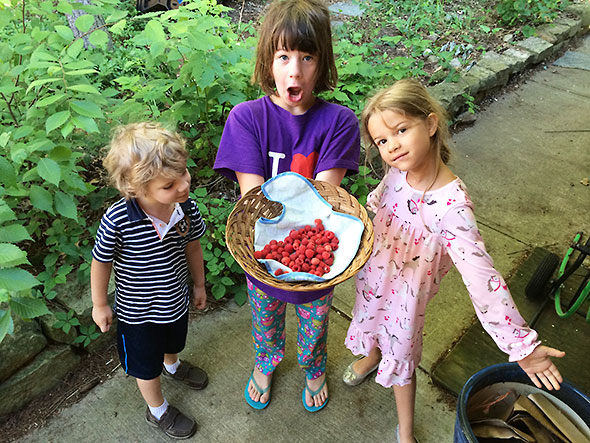 I had ventured into the morning long enough to spot lots of ripened red raspberries in the garden and to steal three black caps off a wild berry bush planted in my south garden by a generous bird. Coaxing the children to the door, I handed them a basket and wished them good hunting.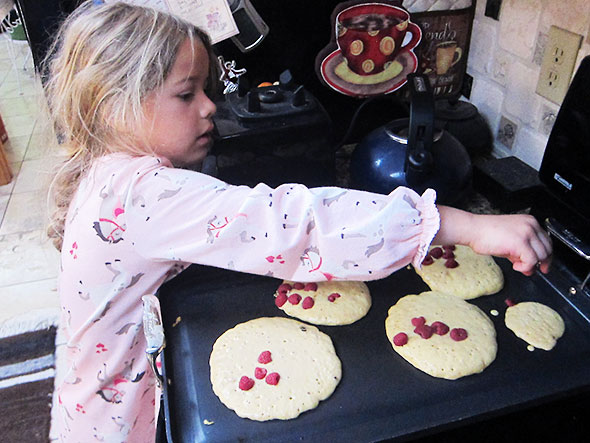 Inside, I heated up a griddle and, with the help of the youngest cousin, prepared pancake batter. This experience was my young friend's first attempt at cooking pancakes and eggs, and she pleased herself with both a perfectly cracked egg AND a perfectly flipped pancake on her very first attempt. As she rushed to tell her mother of her accomplishments, the older children returned with an handsome load of raspberries.
We plucked out the ripest specimens and dropped them onto poured pancake rounds. The other adults roused from their beds and, together, we sampled the raspberry loaded cakes doused in syrup from Flying Mouse Farms exposing hearty appetites and thoughts of far flung adventures.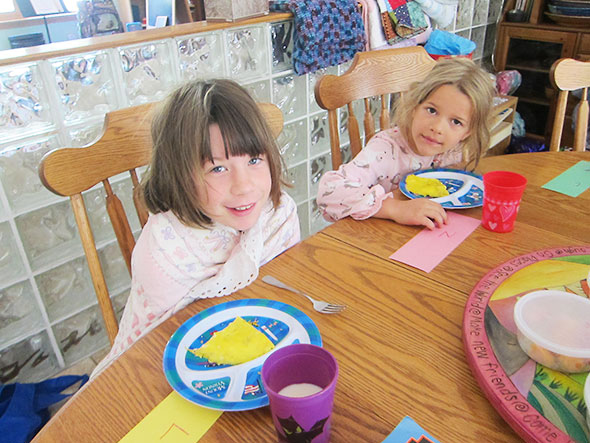 COSI's doors opened at 10am, and we stayed from just after opening to just before closing. We made waves in caverns of Poseidon's ocean, lifted a car weighing a ton using a giant lever in the Big Science courtyard, learned the colorful bright-burning science of fireworks, and made blue flubber from glue, water, and diluted borax at the Gadget Cafe.
In the cool, calm buzz of the early Summer evening, we returned sated to Yellow Springs. Hours of daylight remained, and our house napped as the neighborhood refilled with its everyday occupants and many more holiday visitors. Enjoying the slow breezy shift into the night, I waded into the garden as if it was a soothing bath and worked to cleanse a siege of weeds from welcome natives. The children emerged from the house to play and visit with the neighbors—young and young-at-heart—and I listened to the drift of plans as everyone prepared for nightfall.
We followed the general current and ended the day on the hill at Gaunt Park. We looked up into the high ceiling of sky and it soon sparked with flaming elements. From the day's lessons, the mystery of those exploding rockets had dissipated but a powerful connection to nature took hold in its place. The soaring surprise of molten hot firecrackers melted the eyes and hearts of the gathered children. Its shearing forces overwhelmed some witnesses to shouts and tears. We held our children close as they covered their ears and, in chorus, answered every crescendoing barrage with shared mounting excitement.