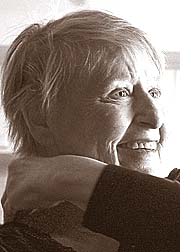 Elizabeth Visick, age 70, of Yellow Springs, died on Jan. 22 at her home, surrounded by family. She was born on Aug. 20, 1944, in Wales, and raised in Eastbourne, Sussex, by the late Hedley and Doreen Visick.
In late 1962, Liz took a job as a student worker in a German castle in the Black Forest. On New Year's Eve she met a North Carolina college student named Bob Powell, and eventually they started going out for day trips armed with little more than a large bar of chocolate. After seven months they returned to England to inform Liz's parents they'd decided to get married. For many years afterward, they spoke German to each other when they wanted to keep their plans secret from their four children.
At various times Liz worked as a jeweler, a florist, a school bus driver, a carver of gourds, a bookbinder and a writer. She was an accomplished potter until she developed lupus in the 1980s and working with clay became too painful.
She was an unsurpassed mother. When her children were young she perfected a balance of parental strictness and unalloyed love. Strictness to ready them for the outside world and love to make them feel safe in it. She mothered anything that wasn't nailed down: stray dogs, children from down the street, marked-down houseplants wilting in shop aisles, people she met in nursing homes, grandchildren, step-grandchildren, the children of friends, the parents of friends, goldfish, hamsters, guinea pigs, a blue-and-yellow macaw, a long procession of ragtag stuffed animals and a mostly white cat named Mr. Grey.
She was a woman of strong convictions and particular tastes. She loved the color red, the Union Jack, manual transmissions, thick magic markers, capital letters, unusually shaped biscuit tins, Riesling, margaritas, marmalade, handbags with lots of pockets, Mavis Staples and Loudon Wainwright, Virginia Woolf and A. A. Milne, geraniums, jack-o-lanterns, fireworks, pavlova, her mother's WWII-era scone recipe, quiltmaking, the spirit of "l'chaim," the Omnivore at Friends Care, walking sticks, stiff-brimmed hats, creative spelling, expressive handwriting, kazoos, giraffes, elephants, Agatha Christie novels, Lowly Worm, Binker and the Roger Miller song "Not in Nottingham." She considered the two greatest subjects of the British Empire to be Stirling Moss and Capt. Robert Falcon Scott.
She leaves behind a loving family including four children, Owen, Hugh, Giles and Sophie; three stepchildren, David, Laura and Susan; four grandchildren, Emma, Jack, Theo and Max; step-grandchildren Raffi, Ketzia, Simona, Bret, Jacob, Macie, Liam, Aidan, Maddie and Danny; Bob Powell; Paul Schreibman, her loving companion for more than two happy decades; and an uncountable number of people whom she bowled over with her smile, charmed with her bright gray eyes and raised up with the warmth of her love.
A memorial service is tentatively planned for Feb. 21 in Yellow Springs, time and place to be announced. Acts of loving kindness in lieu of flowers or donations.