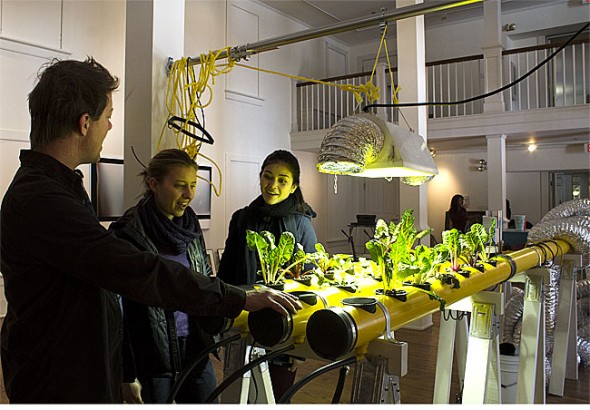 "AgriCULTURE" exhibit features photos, food and a hydroponic garden
Industrial farming got you down? How about gazing at the perfectly spring green shoots of a locally grown pea plant photographed by artist Dennie Eagleson? Or helping to cultivate a hydroponic garden of swiss chard by artist Jeff Schmuki? Or tasting the fruits of the Antioch Farm carefully prepared by the kitchen staff?
In a new installation, "Agriculture," at the Herndon Gallery at Antioch College, artists with deep connections to the land are taking back the farm on their own human scale. With works that illustrate the devastation that herbicides and pesticides have had on bee colony collapse, for instance, as well as pieces that celebrate the simple beauty of an heirloom seed, the exhibit addresses the issues that students are investigating in their Global Seminar on Food.
An opening reception takes place Thursday, March 5, 6–9 p.m. and will feature some local foods prepared by the kitchen.
The show also features photos of artist Sarah Christianson's family farm in North Dakota, where fracking now takes place. Ann Noble used photograms to capture the wings of dead bees. Two MFA students Jeni Hansen Gard and Allison Rae Smith contributed with an interactive table setting for a meal shared between strangers and a bank of seeds that fall from their place in braille. The show also includes a piece by gallery curator Jennifer Wenker, who uses food packages to create a USDA food pyramid that suffers from "Not Enough Greens."