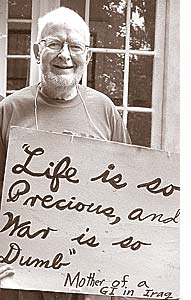 William B. Houston (Bill) died Monday, August 17, 2015 of hypothermia while hiking in the Canadian Rockies. He was born on July 3, 1929, in Macon, Ga., to William Bernard Houston and Ruth Hillman Houston. Bill was raised as a Baptist and retained a thorough knowledge of the Bible throughout his life. He earned his bachelor's degree in electrical engineering at Georgia Tech through a Coca Cola scholarship, and went on to get his Ph.D. at MIT. He married Gay Anne Hendrixson in 1955, and they had two daughters: Alice, born in 1957, and Judy, born in 1960. In 1987 Bill divorced Gay, and in 1988 married Hazel Tulecke.
Bill taught mathematics at Morehouse College, Georgia, and at Carleton College, Minnesota, before coming to Antioch in 1962. There, he was a valued member of the faculty for his ability to "teach anything, theoretical, applied, whatever," and for "his patience and dedication in the very elementary courses." (Words of his then colleague, Julian Blau.) During his years at Antioch, Bill took a leave to teach in Ghana and the Cape Coast University for a year, and three months in Kenya to collaborate in writing a math textbook for children (1965). In 1972, he took a sabbatical year in Switzerland to do mathematical research. The family traveled with him on both of these occasions.
Ever since the 1970s, Bill enjoyed solo hikes every summer, in the Alps, in the Colorado Rockies, and most recently in the Canadian Rockies. He was a determined adventurer, and lived through more than one close encounter with a life-threatening situation. He loved these times alone in the wilderness, and spent many hours in the winter months planning for them.
Bill was an activist for peace and social justice throughout his adult life. On one trip home to visit his parents, his car bore a bumper sticker that said, "Integrate Georgia's Libraries." His parents asked him not to park outside their house. Their attitude only deepened his convictions.
Bill's FBI file (in 1975 under the Freedom of Information Act, he requested that all FBI documents pertaining to him be sent to him) reveals that they took note of the fact that he was given Conscientious Objector status by the Selective Service in 1956; also of his participation in fundraising and support for the Freedom Project in Mississippi in 1964; and of his activities with the Dayton Area Committee for Peace in Vietnam in 1965.
Among the more recent peace and social justice efforts Bill participated in are: the Alternatives to Violence Project (a program that helps people, including prison inmates, to learn new skills in conflict resolution); the Jicaro, Nicaragua Sister Village project; Peace Brigades International (he traveled to Haiti with Hazel during the Haitian election in 2000 to provide a protective presence for nuns who were working to preserve voters' rights); the School of the Americas (a U.S. program that has trained Central American governments in suppressive tactics) protest movement, (he served six months of jail time for stepping over a line at the November 2000 protest in Georgia); the anti-death penalty movement; and our own Saturday morning Peace Vigil, for more than 10 years.
Bill was a member of the Yellow Springs Friends Meeting. He was very well-read, and a deep thinker, and would often refer to what he had been reading and thinking about when he spoke in Meeting for Worship. In 2014 Bill received, along with his wife Hazel, the Community Peacemaker Award at the Martin Luther King Jr. Day celebration. In his acceptance speech at that event, Bill quoted Carl Sandburg as one who has "the kind of faith we need more of if the world is to be saved." The quote: "The strong win against the weak? And the strong lose to the stronger? And only force changes things? Yes and No! No and Yes! In the end the deathless dream will be the stronger. The dream of equity will win."
Bill is survived by his wife, Hazel Tulecke; daughters Alice Houston and Judy Lucks (Jerry); step-daughters Kim Beyer, Heidi Eastman and Kari Tulecke; and eight grandchildren, all of whom love him dearly. Memorial arrangements have not yet been made.