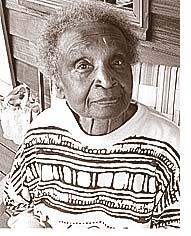 "I have lived not only my life but the life of my times."
Precious Jewel Freeman Graham, retired professor of social work at Antioch College, died at her home in Yellow Springs, Ohio, on Nov. 30. She had celebrated her 90th birthday in May with a large family gathering. Jewel was born the sixth of seven children to Robert and Lulu Belle Freeman in Springfield, Ohio. She received her Bachelor of Arts degree from Fisk University and her master's degree from Case Western Reserve. In 1979, she completed her juris doctorate at the Dayton Law School and was awarded an honorary doctorate of humane letters by Meadville/Lombard Theological School in 1991.
Jewel's exuberant spirit has inspired colleagues, students, friends, townspeople and family. Her limitless thirst for knowledge, starting with a childhood passion for books and learning, nurtured her to becoming a gifted teacher, a skilled writer and an accomplished leader. In 1964, Jewel arrived at Antioch College to work as an administrative assistant in the Antioch Program for Interracial Education. She advanced to assistant director before leaving that post in 1969 to establish Antioch's Social Work Program, teaching courses in social work, law, race, women's studies, cross cultural studies and writing. Always a popular teacher, her classes were well attended and lively. Her ex-students sing her praises from throughout the diaspora.
On a concurrent arc, the Young Women's Christian Association (YWCA) played a significant role throughout her life, starting in her teenage years in Springfield. "That was a time when women's organizations did not include black women," recalled Jewel, yet the YWCA welcomed her. Subsequently, she spent her entire life working or volunteering in different roles, first at her local YWCA and eventually advancing to membership on the National Board and on the World Executive Committee where she served as president from 1987 to 1991. She made great strides in providing leadership opportunities for women and working toward racial justice on a worldwide scale.
Jewel invested in her local community by serving on a large number of social, professional and political boards, including the Yellow Springs Community Foundation board of trustees (1980–89) and the Yellow Springs Instrument Company board of directors (1981–93). She was an active member of the Unitarian Universalist Fellowship from its inception in 1956.
Jewel's passion for learning was matched by her passion for creativity in many domains from words, painting, textiles, sculpture and music to physical activity. An avid exerciser, she watched the construction of the bike path and walked it for many years, often with a walking stick balanced on her head. She loved to say she was "fascinated with ideas."
She is survived by Paul Graham, her husband of 62 years; sister Ruth Chaney and husband Rueben Chaney; brother Richard Freeman and wife Dorothy; sons Robert Grahamjones and spouse Frances Grahamjones and Nathan Graham and spouse Edwina Graham; and grandchildren Lucia Grahamjones, Lindley Graham, Freeman Grahamjones and Malcolm Graham. She also leaves a large close-knit extended family.
There will be a gathering to celebrate Jewel's life in the spring of 2016.
"Life ends, love endures."