Final phases of Village streetscape project underway
Watch where you step downtown over the next month and a half — the Village has begun its final push to finish streetscape! The final phases of the project got underway on Tuesday, April 12, with the digging up of the sidewalk in front of Tom's Market. (Tom's remains open.) The Village expects the project to be completed on May 24, barring weather or construction delays.
The project will affect the west side of Xenia Avenue from BP to Limestone Street, in addition to a shorter section of the east side of Xenia Avenue from Glen Street to Limestone (completing previous work on that side). Workers will install new concrete sidewalks, curbs and street lights, as well as remove designated trees and plant new trees in their place. The sycamores near the BP will not be removed. A map of the affected areas, provided by the Village, follows at the end of this post.
Work will be completed one section at a time according to following schedule, which is subject to weather, construction and other unforeseen delays. The Village's contractor will be working Monday through Friday.
April 12–15: Front of Tom's Market
April 18–22: Starting at BP working south toward Tom's
May 2–6 until completion: East side of Xenia Avenue from Glen Street to Limestone
Please note that street lights are being replaced; in the process, there may be times when the west side of Xenia Avenue will be dark.
The Village will do its best to communicate any changes to affected businesses and organizations. Downtown businesses with questions should contact Street Superintendent Jason Hamby at 767-7205.
Map of affected areas: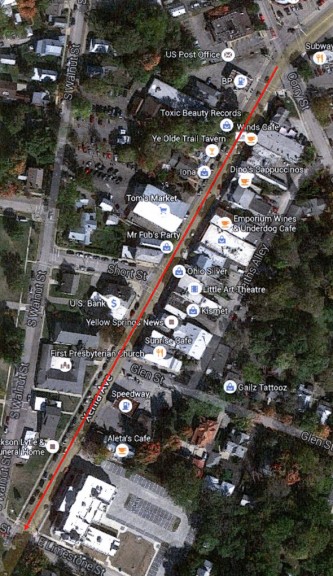 The sidewalk construction in front of Tom's Market was in full swing by Wednesday:
The flowering pears just south of Tom's were removed and will be replaced with other urban trees.