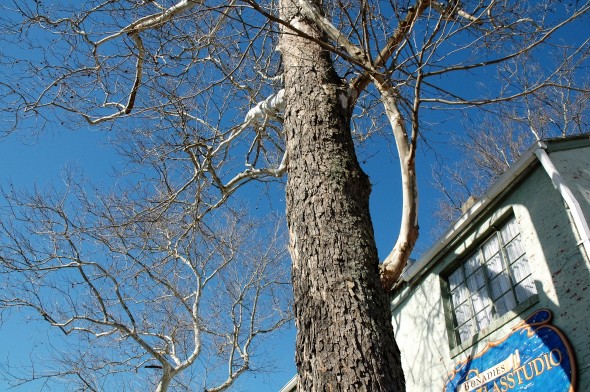 Sidewalk construction nears sycamores
The sidewalks are going. The sycamores are staying.
That was the message conveyed by Village Public Works Superintendent Jason Hamby last week as the final phase of the downtown streetscape project got underway. A "handful" of citizens had contacted him expressing concern about the status of the two sycamores near the BP station on Xenia Avenue, he said, including whether the trees would be damaged by sidewalk construction. Crews will take "extreme caution" around the trees, he stated, though the Village does not have a specific plan in place for managing construction around living trees, which can be damaged by soil compaction and inadvertent severing of roots.
Hamby said that jackhammers are not being used for this final phase of construction, in response to downtown shopkeepers' concerns about the noise and disruption of that method in previous phases. Instead, crews are staging an excavator from the street; the excavator bucket cracks the sidewalk into large chunks, Hamby explained, which the bucket's "thumb" then lifts up and away. The process removes old sidewalk to a depth of about four inches before new concrete is poured. Though the method was not selected with the trees in mind, it should lessen the impact of the construction on the sycamores, according to Hamby.
Workers are also replacing curbs, and the Village electrical crew is running electrical lines beneath them. Curb work requires digging to a depth of about 12 inches, Hamby said.
One of the sycamore roots runs just under the sidewalk to the Bonadies Glass Studio building, according to Hamby. In that case, the sidewalk will be broken to the north and south of the root, and the strip that remains atop the root will be plucked by the "thumb" and lifted away.
Asked about possible damage to the sycamores, Anna Bellisari, president of the Yellow Springs Tree Committee, said in an email last week that sycamores are "among the hardiest trees known." They have a "very dense cellular structure that resists damage," she explained. And she expressed confidence that "Jason Hamby and his crew are aware of concerns and will do what they can to protect those trees during sidewalk construction."
Construction is proceeding a little ahead of schedule, Assistant Village Manager Melissa Vanzant said at Monday's Village Council meeting, adding that villagers have also contacted her directly about the fate and health of the sycamores.
Crews will be working on the portion of the sidewalk around the trees within the next day or so. Meanwhile, the sycamore crowns are soaring white, bright and beautiful against blue spring skies.