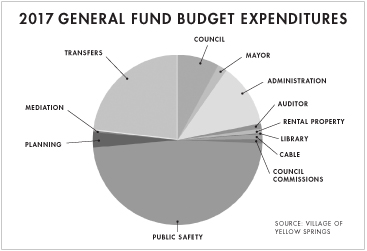 Village Council— Budget shows lower spending
At Village Council's Nov. 21 meeting, Council members unanimously approved the second, and final, reading of the 2017 Village budget, which projects a lower level of spending than in recent years. The vote was 4–0, with Judith Hempfling absent.
"This is the lowest budget since I've been here," said Assistant Village Manager Melissa Vanzant, who came to Village government three years ago as finance director.
The 2017 Village budget projects overall expenditures of $9,586,445, compared to 2016 overall expenditures of $11,105,816.
The drop in expenses is linked to "cost saving measures across all departments as well as decreased capital equipment purchases," according to Vanzant in an email this week.
The 2017 budget also projects a decline in spending in the Village general fund, which funds most Village services other than utilities and is considered the barometer of a municipality's financial health. In 2017 the general fund is projected to spend $3,013,246, about $300,000 less than the $3,306,604 budgeted in 2016. However, the 2016 end-of-year projection is that actual expenses this year will come in lower than expected, around $3,114,700.
Revenues for 2017 are projected to come in at $2,979,800, so that next year's budget shows a deficit of about $33,446. That deficit is lower than general fund deficits in recent years. This year, the deficit in general fund spending was $87,244, while the previous year's deficit was $200,815.
The drop in projected 2017 general fund expenses is partly due to the completion last year of several capital projects, including the downtown streetscape project, Vanzant wrote in an email. The streetscape project, which included the upgrading of sidewalks and curbs, was linked to $524,000 spending in the streets department this year, compared to lower projected streets department spending next year of $266,973.
Other Village general fund spending, including the parks department, public safety, administration and Council, remains steady in the 2017 budget.
General fund revenues in 2017 are largely projected to stay flat. While Vanzant's presentation to Council earlier this fall on the 2017 budget projected a rise in revenue, the budget passed last week projects a slight decrease, from $2,999,962 in 2016 to $2,979,800 in 2017, a drop of $20,000.
However, the Village's actual end-of-year revenue in 2016 is surpassing budget projections, and is expected to come in at around $3,027,456, according to the budget figures.
The higher-than-expected revenues and lower-than-expected expenses are a result of her conservative approach to budgeting, Vanzant wrote in the email.
"Typically, revenues will come in slightly higher and expenditures slightly lower, but I tend to brace for situations where the ideal estimate might not materialize so no one is surprised in a negative way," she wrote this week.
The general fund budget does project an increase in revenue from Village income tax, the single largest source of Village general fund revenue. 2017 income tax revenues are projected at $1.6 million, compared to projected 2016 revenues of $1.55 million. However, the actual tax revenues this year came in higher than projected, at $1,578,980.
The income tax increase is linked to the early winter move to the village of DMS Ink, formerly Dayton Mailing Services.
"Any increase in city income tax is directly related to growth in business," Vanzant wrote. "The relocation of DMS to the village was a big addition to the village in terms of jobs and income taxes and they are continuing to grow."
The 2017 Village budget is projected to have a $1.6 million surplus, which is considerably higher than the minimum reserve balance of $1.076 million.
In other Council Nov. 21 business:
• Council unanimously approved a resolution that awards a contract for the extension of utilities from the intersection of Dayton-Yellow Springs/East Enon roads to the entrance to the CBE to Majors Enterprises. Bids were received on Nov. 15, and ranged from the Majors bid of $247,482 to $444,075, according to Village Manager Patti Bates, who said the company is ready to begin the project. The Village cost on the project will be covered by a grant from the Army Corps of Engineers, estimated at about $270,000.
• Bates encouraged villagers to fill out a survey, soon to be released by Village government, on their fiber optic needs, even if they do not project having any needs.
• Council unanimously approved a resolution that replaces local observance of Columbus Day on October 12 to an observance of Indigenous People's Day.
• Council member Marianne MacQueen, Council's representative on the Beaver Management Task Force, stated in a report for that group that the family of beavers that recently took up residence in Ellis Park appears to be in jeopardy. The task force has been working to wrap trees in the park arboretum and hoped to install a flow device after the beavers plugged up the culvert in the headwaters of Yellow Springs Creek. However, representatives of the Greene County Soil and Water division, which has jurisdiction over the area surrounding the park, stated their intention to trap and kill the beavers, according to MacQueen.
"I'm displeased at their unwillingness to work with us," MacQueen said.
This week MacQueen said she hopes that she and Village staff can meet with the county officials to discuss the situation further.
• Council approved the resolution that allows the annual distribution of flour and sugar to Yellow Springs widows and widowers, following the bequest of Wheeling Gaunt.
• Council approved the second reading of an ordinance that allows a right-of-way vacation for an unused portion of the alley between 726 Xenia Avenue and 111 West Center College St., as requested by Xenia Ave. residents Steve Bognar and Julia Reichert.
• Council approved the second reading of an ordinance that will allow the police department to replace the now empty supervisory position of a captain with a third sergeant. According to Police Chief Dave Hale, the move will allow the department to stay at nine full-time officers, while also providing supervision on all shifts, including weekends.
• Council met in executive session for the purpose of discussing an employee's salary adjustment.
Council's next regular meeting is Monday, Dec. 5, at 7 p.m. in Council chambers.