Commemorative bricks to benefit YS Station
The Chamber of Commerce will soon upgrade the decorative brick installation in front of the Yellow Springs Station, and the community is invited to leave an imprint on the village by purchasing a personalized, engraved brick.
Bricks will cost $100, and may be used to honor a loved one, commemorate a special event or express a connection to Yellow Springs. Brick purchases will help to support the ongoing maintenance of the station.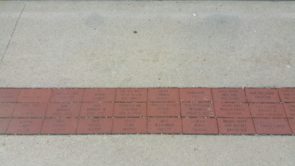 For more information, contact the Chamber office at 767-2686 or email Karen Wintrow at kwintrow@yschamber.org.