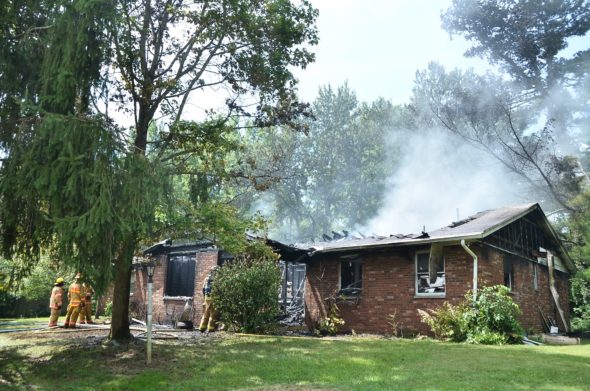 One confirmed dead in Yellow Springs house fire
A Yellow Springs man is dead and an elder relative hospitalized after a late morning house fire Friday, Aug. 24, in the 1400 block of Glen View Drive. The names of the victims have not been released.
Local police and firefighters were called to 1436 Glen View about 11:30 a.m. on the report of a structure fire in progress and at least one person trapped inside, Miami Township Fire-Rescue Assistant Chief Denny Powell said in a statement to media.
Powell said multiple 911 calls reported the blaze, and neighbors, passersby and a group of village workers who had been on a job nearby were already on the scene, and had helped an older woman get out of the house, before fire crews arrived. A disabled man in his 20s was reportedly still inside.
Powell said firefighters were met by "very heavy smoke from the structure and a lot of heavy flames coming from the front." They were able to enter the house from the back, but unable to rescue the man. The fire was mostly extinguished by 1 p.m., and the coroner's office confirmed the death.
The injured woman was taken to Soin Medical Center, and then by medical helicopter to Miami Valley Hospital, for smoke inhalation, Powell said. A third resident of the house was not home at the time of the blaze.
Powell did not speculate on the cause of the fire, or where it started in the house. "It is still under investigation," he said.
A family dog and cat survived, but two other dogs and some chickens died, according to a relative at the scene.
Along with Miami Township Fire and Rescue, fire crews from Xenia Township, Cedarville Township and Hustead also responded through mutual aid.
Powell said that the last fire fatality in the village was at least 15 years ago.
UPDATE: A Go Fund Me site has been set up to collect donations for the Coffey family. To donate, visit: gf.me/u/ks3ynf