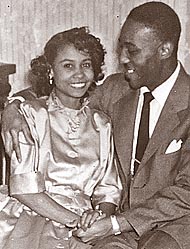 Joseph H. Johnson Jr., 93, passed away peacefully at his home in Yellow Springs on Dec. 20, 2018. Joe's wife of 65 years, Juanita, was by his side.
Joe was born on Oct. 13, 1926, in Richmond, Va., to Irene and Joseph Johnson. He earned a Bachelor of Science degree in chemistry from Virginia Union, but his dream was to become a chemical engineer. Unfortunately, in the 1950s in Virginia, African Americans were not allowed to attend engineering schools. Undaunted, Joe enlisted in the Army Air Corps, served as an airplane mechanic overseas, and then used the benefits of his service to earn his chemical engineering degree from New York University.
Joe was working for Dupont in Louisville, Ky., when he met his future wife, Juanita Taylor. They married on Jan. 28, 1953, and raised five children. Joe joined the Air Force, as a civilian, and worked in propulsion. That took him to California and the Jet Propulsion Laboratory, where he was on the team that designed the fuel for the Apollo rockets that took the first astronauts to the moon. After California, the family moved to Washington, D.C., where he worked at the Pentagon. But life in D.C. became very chaotic as they lived through the riots precipitated by the assassinations of Robert Kennedy and Martin Luther King Jr.
Seeking a more tranquil environment in which to raise their children, Joe transferred to Wright-Patterson Air Force Base and, in 1970, he, Juanita and the family settled in Yellow Springs. Joe eventually retired from WPAFB as chief of planning for the Propulsion Laboratory. After retirement, Joe taught business classes at Central State University, as he had also earned a master's degree in business from Central Michigan University.
Throughout his time in Yellow Springs, Joe was a devoted member of the First Presbyterian Church of Yellow Springs.
Joe was preceded in death by his father, mother and his brother, Ben. Survivors include his wife, Juanita; children, Joseph H. Johnson III, James Thomas Booker Johnson, Janice Irene Johnson, Jeffrey David Johnson and Jilonda Loraine Wilcox; his grandchildren, Mara Wilcox, Taylor Wilcox and Edward Johnson; and his sister, Mildred. The family would like to thank Joe's many friends, and especially the members of the Presbyterian Church for the support they have given Joe and his family through the years, and especially in the last two weeks.