Social distancing working, but testing needed for Ohio to reopen
Social distancing is working, state officials have emphasized at press briefings in recent days.
But Ohioans should continue to stay at home to make sure the projections of a dramatically "flattened curve" come to pass, they say.
According to a new model released by the Ohio Department of Health on Tuesday, April 7, the new projected peak of new daily COVID-19 cases — with mitigation strategies — is down to just 1,600, from the 9,800 estimated two weeks earlier.
Without mitigation strategies, the projected peak for new daily cases was, and remains, at 62,000.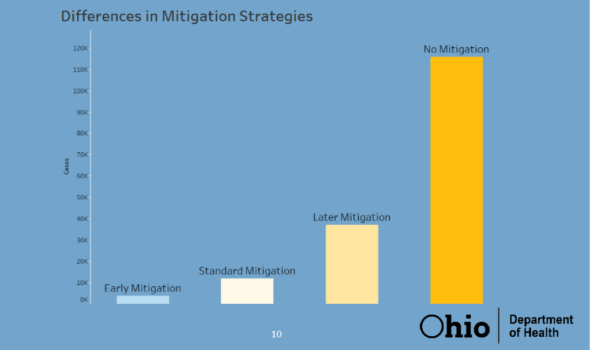 But what Ohio Gov. Mike DeWine called on Thursday, April 9, a "rosy scenario" is based upon Ohioans continuing to socially distance from one another at the same level.
"If we continue to do what we're doing the numbers we have seen projected — the curve — that will continue," DeWine said. "If we let up, that will not."
Hospitalizations, ICU admissions and deaths are all continuing to increase in Ohio, according to the latest data. However, the rate increase has fallen over last week.
"Hospital admissions are still going up," DeWine acknowledged. "But the things that we're seeing are very encouraging. We're optimistic. We're very happy with where we are at this point."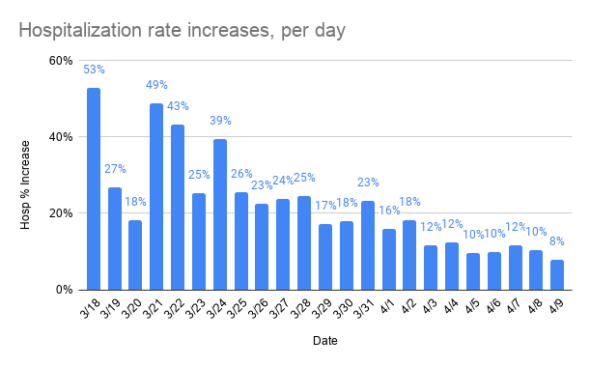 As of Thursday, April 9, the state had 5,512 confirmed cases, 1,612 hospitalizations, 497 ICU admissions and 213 deaths. Greene County is at 21 cases, seven hospitalizations and one death. The first COVID-19 case in Yellow Springs was confirmed on Wednesday, April 8.
Comparatively, Ohio's per capita case count is 33rd out of 55 U.S. states and territories, and the state is 14th in deaths, as the 7th most populous state.
"This is a tough week and we are seeing a lot of deaths," Acton said of the latest information. She also expressed worries over young people flaunting social distancing rules, as many young people, along with those without pre-existing conditions, have been hospitalized.
"This is a very inflammatory disease and even a health person's body reacts to this in ways that are not predictable," she said. "There's no one who's invincible."
So when can Ohio's schools and businesses reopen and its stay-at-home order lifted?
DeWine, along with Ohio Health Department Director Amy Acton, said they are working on a plan for how the state "comes out" of the crisis. That plan, which is still in the works, will be released over the next week. But the restrictions won't be lifted quickly, they cautioned.
"It's not going to happen overnight," DeWine said. "We're working on a fairly sophisticated plan."
However, the two addressed an important aspect of the state's strategy: widespread testing. In addition to more tests for COVID-19, the state is looking to deploy serologic testing, which can test for the antibodies created when a person has been exposed to a virus and recovered.
"We've tested 55,000 folks, but we are still struggling with the lack of testing," Acton said. "We have some on that on the horizon," she added.
The timing for increased availability of testing, and thus the return to work and school for Ohioans, is still unclear, they said.
"When that testing comes on and how fast that testing comes on will affect how soon we can go back," DeWine said. "There are a lot of variables going on and we will just have to see."
Specifically, Acton said the state plans to sample 1,000 Ohioans to see if they are carrying the coronavirus, even if they are not showing symptoms of COVID-19. That would give state officials a better sense of how much the virus has spread, using epidemiological data, not models.
"On the ground, with detective work, we will know where we are with this virus," she said.
DeWine later added that the state's ability to make rational decisions moving ahead is based upon it getting the level of testing that it wants.
In response to a question from the media, DeWine said the state was also looking at mobile apps that can track those who have been cleared to return to society.
"The way we're going to get out of this is through technology," DeWine said.
Outside the statehouse, protesters gathered to oppose the state's decisions to close businesses and schools amid the pandemic. Signs read, "Open Ohio, Fire DeWine," "Quarantine worse than virus" and "Ohio dies when Amy lies," while protesters chanted, "O.H.I.O. Acton's got to go!"
Addressing the shouts, which could be heard on the televised briefing, Acton said that state leaders have been determined to save lives and must be "re-determined" to returning from the crisis.
DeWine said that having grown up in Yellow Springs, where folks protested every Saturday morning, he came to an appreciation of the First Amendment. He added that he's "not going to keep these orders one day longer than I have to."
"What I 'm asking Ohioans to do is hang in there," he said. "All the evidence we have indicates that if we don't continue to do what we are doing, it's going to cost a lot of lives and hinder our ability to economically recover."
DeWine also urged protesters to try not to shout on one another.
In other recent state news:
On Tuesday, April 7, it was announced that Ohio bars and restaurants with a liquor permit can now sell and deliver alcohol for consumption off site:
The Ohio Liquor Control Commission passed an emergency rule to allow establishments with an existing on-premises liquor permit to sell and deliver alcohol, including high-proof liquor in limited quantity, for off-premises consumption.
Breweries can also now sell beer and wine that are not their own without food purchase, but food purchase is required for the sale of high-proof liquor.
Under the rule, patrons can purchase no more than two drinks per meal. All drinks must be closed and remain closed during transport as per the open container law cited in ORC 4301.01(B)(6). Drinks cannot contain more than two ounces of spirituous liquor per container.
On April 4, the state released a WiFi hotspot locater for those needing to download documents pertaining to school or work and are without internet access:
Lt. Governor Husted announced today that BroadbandOhio has been working with providers to find public wi-fi hotspot locations for Ohioans who may not otherwise have access to the internet from home.
A list of hotspot finders and locations by provider is available at Coronavirus.Ohio.Gov/BusinessHelp. You can find it by accessing the "Individuals and Families" tab. Those without internet access are urged to visit a known hotspot to access the complete list.