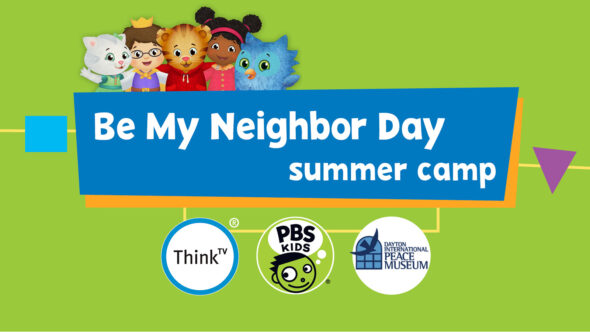 Local teacher to host virtual day camp
By Grant Crawford
As the coronavirus pandemic continues to make in-person gatherings and programs difficult, those planning summer events and activities are trying to find new ways to make use of the resulting free time.
For some organizers, means moving their existing programming to an online model. For the Be My Neighbor Day Camp program, organized by ThinkTV PBS in partnership with the Dayton International Peace Museum, it means developing a wholly original video project designed to help young kids learn about a variety of topics — from health to peace to diversity — and participate in a wide range of activities.
From Monday, July 27 through Saturday, August 1, the series will add a new 30-minute episode each day for the rest of the week. The series is hosted by Antioch School older group teacher and Yellow Springs resident Sally Dennis.
As the program's "camp counselor," she "will usher campers from activity to activity, introducing themes and reviewing important take-away concepts," according to Gregory Schell, a producer on the project and a Yellow Springs-area resident. This will be done with "Zoom"-style virtual visits with people throughout the neighborhood.
"The overarching storyline is that kids and families virtually meet with a series of 'neighbors' and special guests each day for activities that align with the day's theme," Schell said.
The themes, which include health, peace, diversity and more, are big ideas for young learners, but Schell assured that the focus will remain local.
"Despite the fact that we address world issues, the storyline is honed to our neighborhood and the people in it. This helps make it more relatable for the age group/s we are focusing on," he said.
Schell added viewers will recognize several of the special guests from Yellow Springs as well.
For her part, Dennis is appreciating the chance to use her skills to provide young learners with a fun and engaging experience.
"It has been exciting for me to work as an actor on this project," she said. "I am a trained actor and singer and it has been energizing to approach a project from the performer's side."
Schell said COVID-19 has significantly impacted ThinkTV PBS's summer camp programs. The shuttering of summer camps, he said, "creates a specific deficit of keeping kids learning during the summer, and that deficit goes beyond offerings of just 'something fun for kids.'"
Schell also cited a John Hopkins National Summer Learning Association report that, on average, youth can lose two months of learning, or 22 percent of the school year, during their summer break.
The fact that the Be My Neighbor Day Camp is being produced in such a tumultuous time also means that it is willing to address serious subjects that even younger children may be wondering about, and it can help families begin to discuss those subjects, Schell noted. And while aimed at all youth, the program, he added, gives specific attention to those living in underserved urban and rural areas.
As the program was also produced in cooperation with PBS Kids, the videos will feature appearances from PBS Kids mascot character Daniel Tiger. The character is also used in supplemental material designed to help in discussions with kids about serious topics, and Schell points out that with the camp, the ThinkTV Dayton team is "hoping to instill an interest in family viewing and engagement, not just focused on kids."
The first Be My Neighbor Day Camp video will be available on the ThinkTV PBS website and Facebook page on Friday, July 27, at 10 a.m., with the remaining videos available each subsequent day, but each video will remain online afterwards, allowing families to participate in the camp at any point in the future. Supplemental materials are also available at the site.
To participate, visit: https://thinktv.org/neighbordaycamp/
* Crawford is a summer intern with the News through the Miller Fellowship program.